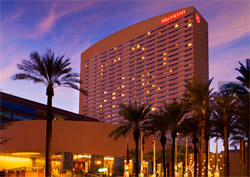 Sheraton Phoenix Downtown
Phoenix, AZ

Mark your calendar! The 2014 League Annual Conference will be held in Phoenix at the Sheraton Phoenix Downtown, August 19-22.

Hotel and conference registration information will be sent out to all cities and towns in May. This information will also be available online. Read more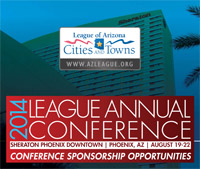 The League of Arizona Cities and Towns offers four levels of sponsorship through its annual conference. For more information on the sponsorship levels and benefits, please point your browser here.

For additional questions, please visit the Sponsor Information Kit or contact Matt Lore at mlore@azleague.org or by phone at 602-258-5786.
In preparation for the 2014 League Service Award Program at the Annual Conference in Phoenix, we are asking cities and towns to complete the 2014 League Service Award form. The lengths of service that qualify for recognition are:

8, 12, 16, 20 and 24 years, and every four-year increment thereafter

. Service may be consecutive or cumulative. Read more
The National League of Cities 2014 Congressional City Conference will be held March 8-12 in Washington, D.C. Listed below are two events planned specifically for the Arizona conference delegates. Read more

The nation's mayors are increasingly turning to national service as a cost effective strategy to address city challenges. By unleashing the power of citizens, AmeriCorps and Senior Corps programs have a positive and lasting impact - making our cities better places to live. To spotlight the impact of national service and thank those who serve, mayors across the country will participate in the second-annual Mayors Day of Recognition for National Service on April 1, 2014. On this day, mayors will hold public events and use traditional and social media to highlight the value and impact of national service to the nation's cities. Read more
An Arizona organization is providing a unique, high-level opportunity that exists for individuals to make a positive impact on children and families in our community.

First Things First partners with parents and communities to give more Arizona children the tools they need to start school healthy and ready to succeed! Decisions about which early education, health and family support programs to fund are made by local regional councils comprised of community volunteers. Read more
The Bureau of Land Management (BLM) is accepting nominations for the Arizona Resource Advisory Council (RAC) until March 27. The official call for nominations period for began Monday, February 10.

There are five vacancies, including the "Local Elected Official" effective September 21, 2014, and recruitment is ongoing to fill those vacancies within the three categories. Read more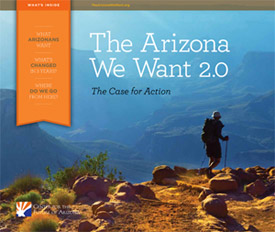 The League officers recently met with Dr. Lattie Coor, chairman and CEO of the Center for the Future of Arizona. Since the release of The Arizona We Want 2.0 report last year, he has moved forward rapidly with the Institute's Board of Advisors to launch a new initiative called AZ Advocates. Briefly, AZ Advocates is a network of partner organizations that are committed to making the eight goals identified by the Gallup Arizona Poll a key part of the public discussion that drives the 2014 election. Read more
Arizona Center for Afterschool Excellence, a statewide advocacy and resource center for out-of-school time programs, recently released School's Out, Make It Count!, a video promoting the benefits of quality out-of-school time programs. The video, available in both English and Spanish, is intended to capture the fun, exciting, and diverse enrichment opportunities offered outside the classroom. The video also highlights the Arizona Afterschool Program Directory, a resource for parents and caregivers to find nearby out-of-school time opportunities for their children. Read more
Sustainability. It can easily become overwhelming.

That's why the Sustainability Solutions Services (S3), one of the Walton Sustainability Solutions Initiatives at ASU, has launched a suite of services specifically focused on helping local governments advance their sustainability efforts with practical and affordable solutions that provide value to your community and a higher quality of life for your residents. Read more
Follow the League on Twitter to receive up-to-date information
Point your browser here
to start connecting with the League.
Each day, League staff posts city and town news from around the state on the homepage. We do our best to find articles in local newspapers that highlight municipalities. If you have a great story from your local paper that you would share, please send it to swomer@azleague.org. If you haven't seen the daily news, you may access our website here.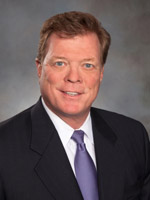 Town of Paradise Valley
Incorporated: 1961
Population: 12,820
Elevation: 1,165 ft.
County: Maricopa
Area within Limits: 16 sq. mi.

Why did you decide to serve in local government?
As a resident of the town of Paradise Valley for 37 years, I experienced the unique small-town character that makes Paradise Valley such an ideal place to raise a family. I was interested in serving the community and was appointed to the Board of Adjustment in 1989. After serving on the board for four years, I then became a member of the planning commission. During my eight years on the planning commission, I learned to value the concept of open space and helped author the Open Space Ordinance that was adopted in 2000. I also worked with other planning commissioners and was chair of the General Plan Advisory Committee. This committee was charged with making revisions to the town's general plan to comply with state mandated "growing smarter" requirements. Read more
Have news or photos to share?
If your city or town was recently featured in the news, has an interesting program or photos of events and travels to share, please send them our way! Story ideas and materials may be submitted to
swomer@azleague.org
.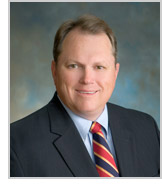 Scott Smith
USCM President and City of Mesa Mayor

The US Conference of Mayors leadership meeting was held in Arizona last week, where more than forty mayors, who hold leadership roles in the organization, met to determine the policy direction for the winter term. Read more
Below is a list of training opportunities that may be of interest in the coming months.

Elections Training
Thursday, March 6, 2014
9:00 a.m. - 4:00 p.m.
Rio Vista Community Center
Peoria, AZ

Arizona Council on Transportation Innovation
Tuesday, March 18, 2014
9:00-11:00 a.m.
ADOT Administration Building
Phoenix, AZ

Water Resources Research Center 2014 Annual Conference
Tuesday, April 8, 2014
10:00 a.m. - Noon
The University of Arizona Student Union Memorial Center
Tucson, AZ

ASU School of Public Affairs
Graduate Information Sessions Available
University Center Building at the ASU Downtown Phoenix campus
Phoenix, AZ

Ramsey Executive Education Program
Management & Leadership Institute
ASU Mercado
Phoenix, AZ

For more information and to register for these events, point your browser here.
For any training sessions that you have missed or cannot attend in the future, be sure to check our YouTube channel to stay in the loop.
---
Cities and towns across Arizona are accomplishing great things - read about cities and towns in the spotlight and their unique ideas to make their communities better by visiting the Arizona Cities @ Work Website. The blog is updated with articles that highlight the unique things happening in cities and towns every day.



League of Arizona Cities and Towns
1820 W. Washington St.
Phoenix, AZ 85007
Phone: 602-258-5786
Fax: 602-253-3874
http://www.azleague.org