Arizona Cities & Towns @ Work

Aug. 27-30, 2013
Hilton El Conquistador
Oro Valley, AZ

Final Program
To view a copy of the complete final program with full names and descriptions, point your browser here.

Mobile App
The League has created a mobile app so you can view the conference agenda on your mobile phone or tablet device. Point your browser here to access the mobile app.

Read more
Congratulations to those who will receive the 2013 League Service Award at the Annual Conference in Oro Valley! Award recipients will be recognized during our Thursday night dinner at the League Annual Conference. Service Awards are bestowed upon mayors and council members who have served their communities for 8, 12, 16, 20, 28 and 32 years of service. For a full list of the 2013 Service Award recipients, please point your browser here.
The League will honor several legislators on Thursday, Aug. 29 for their outstanding public service and dedication to local governance. These legislators are in touch with local leaders, understand the issues and willingly participate in each community within their legislative district. Throughout the legislative session, they are thoughtful advocates for local decision making, consistent mediators between other stakeholders, and are respected for their contributions statewide. We thank these legislators for working on behalf of cities and towns during the 2013 legislative session.

To view a full list of the 2013 Legislative Champions and Friends, please point your browser here.
The Gabe Zimmerman Award recipients will be honored during the luncheon on Thursday, Aug. 29. The Zimmerman awards were a statewide competition created to recognize those non-elected professional public servants who serve as the critical link between citizens and the people elected to represent them. They are named in honor of Gabrielle Giffords' director of community outreach, who lost his life on Jan. 8, 2011, while serving the citizens of Arizona. To view a full list of award recipients, please point your browser here.
In a recent report published by the National League of Cities, the NLC organization sought to identify public leadership roles necessary to build more sustainable and resilient communities, particularly in the face of cyclical volatility in the real estate and housing markets. This report was published using content from a Metropolitan Leadership Forum held in Phoenix on February 21, 2013. Read more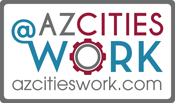 AZ Cities @ Work is a collaborative effort among Arizona's cities and towns to educate, inform and engage our residents to learn more about the vital work that local governments do each and every day. As the summer progresses, League staff will be sending out more information on this program and we encourage you to get involved. To learn more you can: Read more
The League of Arizona Cities and Towns publishes Arizona City & Town semi-annually as a key part of its communication and education programs. This full-color magazine is distributed to nearly 2,000 city and town officials who direct millions of dollars in buying power.

If you are interested in advertising opportunities in Arizona City & Town, point your browser here.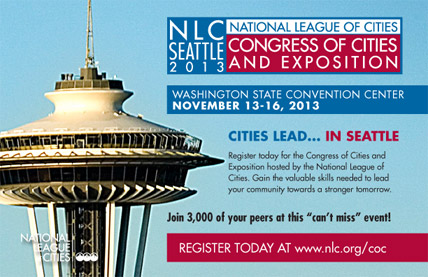 Follow the League on Twitter to receive up-to-date information
Point your browser here
to start connecting with the League.
Each day, League staff posts city and town news from around the state on the homepage. We do our best to find articles in local newspapers that highlight municipalities. If you haven't seen the daily news, you may access our website here.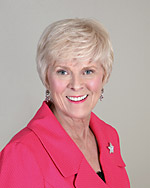 Name, title & city/town: Georgia Lord, Mayor, Goodyear, Arizona
Year elected to office: 2005 (city council); 2011 (mayor)
Years served as Mayor: 2 1/2 years (since 2011)
Hometown: Lansing, Michigan

City of Goodyear
Incorporated: 1946
Population: 65,275
Elevation: 969 ft.
County: Maricopa
Area within Limits: 190 sq. mi.

Why did you decide to serve in local government?
I was encouraged to attend the Goodyear Citizen Academy by the late Gary Gelzer, who I served with on the PebbleCreek HOA Architectural Committee. The Goodyear Citizen Academy is an opportunity to learn more about local government, and Gary, who I later would serve with on council, was also a graduate.

Upon completion of the Academy, city staff encouraged our class to apply to serve on boards or commissions for the city. Through this process, I was contacted by the mayor's office to interview with the mayor at the time, Jim Cavanaugh, to consider serving as chair of the City Center Committee. Read more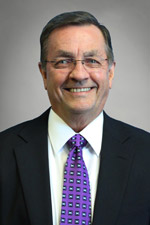 By: William Bock, General Counsel, League of Arizona Cities and Towns

August 2013

Some years ago I was teaching a business law class at a community college. We got to the chapter on contracts, and one of the students asked, "Why do we need all of you lawyers to do a contract? Whatever happened to the good old-fashioned handshake?"

That question was not unexpected. Most people don't see the need for all of the formality that comes with a contract. When they make a "deal" with someone, they know what they mean, or so they think. Read more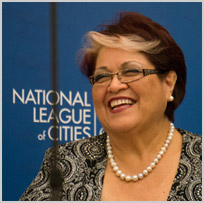 NLC President Marie Lopez Rogers

This section of the newsletter includes updates from National League of Cities President and Avondale Mayor Marie Lopez Rogers as she works in Washington D.C. and travels the U.S. promoting municipal issues. The article links below will feature monthly highlights and updates.

Why did President Obama Choose Phoenix to Talk about Housing?

Local Officials Continue to Advocate for Housing and Transportation Funding

Congress of Cities Workshops

Is your city or town a member of NLC? For benefits of membership and further information point your browser here.
Have news or photos to share?
If your city or town was recently featured in the news, has an interesting program or photos of events and travels to share, please send them our way! Story ideas and materials may be submitted to
swomer@azleague.org
.
Below is a list of training opportunities that may be of interest in the coming months.

Arizona Sci-Tech Festival Conference
Scottsdale Center for the Arts
Scottsdale, AZ
September 4, 2013

Arizona Graffiti Symposium
Casa Grande Public Safety Facility
Casa Grande, AZ
September 17 - 18, 2013

Arizona Tax Conference
Co-Sponsored by Arizona Association of Assessing Officers and Arizona Department of Revenue
Little America Hotel
Flagstaff, AZ
September 25 - 27, 2013

National League of Cities Congress of Cities and Exposition Conference
Seattle, WA
November 13 - 16, 2013

Ramsey Executive Education Program
Management & Leadership Institute
ASU Mercado
Phoenix, AZ

The Arizona Citizen Planner 101
University of Arizona's Cooperative Extension

2013 DOE Municipal Solid-State Street Lighting Consortium Annual Meeting
Marriott Desert Ridge
Phoenix, AZ

For more information and to register for these events, point your browser here.
For any training sessions that you have missed or cannot attend in the future, be sure to check our YouTube channel to stay in the loop.
---
Cities and towns across Arizona are accomplishing great things - read about cities and towns in the spotlight and their unique ideas to make their communities better by visiting the Arizona Cities @ Work Website. The blog is updated with articles that highlight the unique things happening in cities and towns every day.



League of Arizona Cities and Towns
1820 W. Washington St.
Phoenix, AZ 85007
Phone: 602-258-5786
Fax: 602-253-3874
http://www.azleague.org