We look forward to seeing you at the League's Annual Conference in Tucson, August 18-21.

Registration is now open. For hotel and conference registration information, point your browser here.

You must be registered for the conference to receive a room at the JW Marriott Starr Pass Resort.

If you have any questions, please contact League Staff at 602-258-5786.

See you in August!
Corporate Sponsorship Opportunities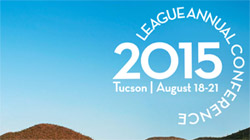 Don't miss out on the League sponsorship opportunities!

The League of Arizona Cities and Towns offers four levels of sponsorship through its annual conference.

For more information on the sponsorship levels and benefits, please point your browser here.

For additional questions, please visit the Sponsorship FAQ page or contact Amy Price or Matt Lore at (602) 258-5786.
During the summer months, the League's legislative staff will travel throughout the state to report on activities of the first regular session of Arizona's 52nd Legislature that have an impact on cities and towns. Presentations are scheduled in various locations throughout the state to give an update to elected officials, municipal staff and interested parties. Read more
Last year, the League Executive Committee approved a change in the resolutions process. The new system allows for more in-depth research and greater involvement by elected officials and staff in developing the League's Municipal Policy Statement.

There are five separate policy committees that are going to more thoroughly vet the issues. Each of the policy committees are chaired by a member of the Executive Committee, and consist of elected officials and municipal staff. At times, other stakeholders may be invited to participate to provide needed expertise and perspective. Read more
The League is seeking a dynamic, outgoing individual to guide the legislative program of the League.

Potential candidates should have detailed knowledge of the legislative process, excellent relationships with Arizona legislators, and a commitment to the mission of the League, among other requirements.

This individual will coordinate the collective efforts of League staff and other city lobbyists by facilitating development of consensus positions and assuring appropriate follow-through.

The first review of this position will be June 29, 2015. Interested candidates should visit the League's Municipal Employment Opportunities page for more information.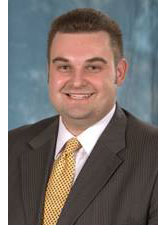 Josh Wright
President, ACMA
City Manager, Wickenburg

Josh Wright is the current president of the Arizona City/County Management Association (ACMA). ACMA is an association dedicated to increasing the knowledge and ability of city, town and county managers, as well as other local government administrators. With more than 250 members, ACMA works to strengthen the quality of local government in Arizona through professional management, education, training and mutual exchange of information.

To learn more about ACMA, visit their website.

Please tell us a little about your background.

I am an Arizona native, born and raised in Tempe. Like all good Tempe natives, I attended The University of Arizona in Tucson and got my first taste of public service working at the university. My first experience in local government was with the Town of Marana, starting in their management internship program and ending five and a half years later as a department head. Read more
Have news or photos to share?
If your city or town was recently featured in the news, has an interesting program or photos of events and travels to share, please send them our way! Story ideas and materials may be submitted to
swomer@azleague.org
.
The League of Arizona Cities and Towns publishes Arizona City & Town semi-annually as a key part of its communication and education programs. This full-color magazine is distributed to nearly 2,000 city and town officials who direct millions of dollars in buying power.

If you are interested in advertising opportunities in Arizona City & Town, point your browser here.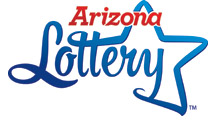 $3.3 Billion Given Back to the State Since 1981

People throughout Arizona recognize the Lottery through our products and the chance to win millions of dollars playing their favorite games. What many people don't realize is that funding from the Arizona Lottery is beneficial for many important programs and causes throughout the state.

Countless initiatives including cutting chronic homeless rates, saving endangered animals and providing healthcare to Arizona's women and their families have been made possible through Arizona Lottery funding for critical public programs. Read more
Each day, League staff posts city and town news from around the state on the homepage. We do our best to find articles in local newspapers that highlight municipalities. If you haven't seen the daily news, you may access our website here.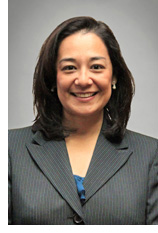 Christina Estes-Werther, League General Counsel

At the end of May, attorneys representing cities and towns across the state will gather for the annual Arizona City Attorneys' Conference. The first day of presentations will focus on "good governance" topics including open meeting law, public records, and ethics.

These topics were identified as important discussion items because local governments routinely address issues relating to open meetings and public records. Elected officials and staff interface with constituents, agencies, and the press on a daily basis relying on these laws to guide them in their professional responsibilities. Adherence to the open meeting law ensures that the public has a role in monitoring the process of government and can hold their elected officials accountable for actions in the community. Read more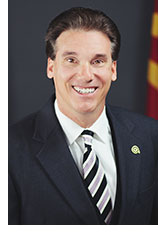 City of Avondale
Incorporated: 1946
Population: 76,238
Elevation: 968 ft.
County: Maricopa
Area within Limits: 54.8 sq. mi

Name, title & city/town: Kenn Weise, Mayor, City of Avondale
Year elected to office: 2006
Years served as Mayor: 1 year
Hometown: Oak Lawn, Illinois

Why did you decide to serve in local government?
I knew Avondale was where I wanted to raise my family, and I wanted my girls to love where they grew up, just like I did growing up in Oak Lawn. My reason for serving is simple - I wanted to do my part to make the city a better place for my daughters. Read more
Below is a list of training opportunities that may be of interest in the coming months.

The Basics of Developing and Reading a Municipal Budget
June 4, 2015
9:30 a.m. - 11:30 a.m.
Phoenix, AZ

Ethics for Attorneys
June 30, 2015
10:00 a.m. - 12:00 p.m.
Phoenix, AZ

Arizona City/County Management Association (ACMA) Summer Conference
July 22 - 24, 2015
Dove Mountain
Marana, AZ

Arizona Municipal Clerks Association (AMCA) Annual Conference/Elections Training
July 29 - 31, 2015
Fountain Hills Community Center
Fountain Hills, AZ

Government Finance Officers of Arizona (GFOAz) Summer Training
August 5 - 7, 2015
Westin La Paloma
Tucson, AZ

NLC Congress of Cities
November 4-7, 2015
Nashville, TN

ASU School of Public Affairs
Graduate Information Sessions Available
University Center Building - ASU Downtown Phoenix Campus
Phoenix, AZ

Ramsey Executive Education Program
Management & Leadership Institute
ASU Mercado
Phoenix, AZ

For more information and to register for these events, point your browser here.
For any training sessions that you have missed or cannot attend in the future, be sure to check our YouTube channel to stay in the loop.
---
Cities and towns across Arizona are accomplishing great things - read about cities and towns in the spotlight and their unique ideas to make their communities better by visiting the Arizona Cities @ Work Website. The blog is updated with articles that highlight the unique things happening in cities and towns every day.



League of Arizona Cities and Towns
1820 W. Washington St.
Phoenix, AZ 85007
Phone: 602-258-5786
Fax: 602-253-3874
http://www.azleague.org