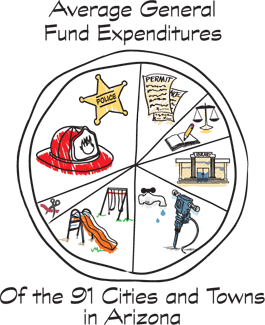 AZ Cities @ Work Budget Video

Every year by mid-July, each of our Arizona cities and towns are required by law to adopt a balanced budget that is open to citizen input and participation.

Every resident can have a voice in deciding what the budget will be spent on and how it will be paid for in the months before it is adopted. Read more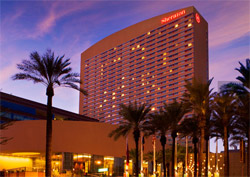 Sheraton Phoenix Downtown
Phoenix, AZ

Mark your calendar! The 2014 League Annual Conference will be held in Phoenix at the Sheraton Phoenix Downtown, August 19-22.

Hotel and conference registration information will be sent out to all cities and towns in May. This information will also be available online.

If you have any questions about the conference, please contact Matt Lore at mlore@azleague.org or 602-258-5786.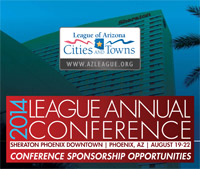 The League of Arizona Cities and Towns offers four levels of sponsorship through its annual conference. For more information on the sponsorship levels and benefits, please point your browser here.

For additional questions, please visit the Sponsor Information Kit or contact Matt Lore at mlore@azleague.org or by phone at 602-258-5786.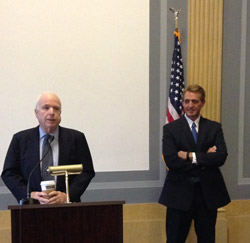 Arizona leaders attending the NLC Conference in Washington, D.C. had the opportunity to meet with Senators John McCain and Jeff Flake at an annual briefing. The meeting was held in the Russell Senate Office building on March 12.

More than 50 Arizona delegates attended; the Senators discussed a variety of issues including immigration and border issues, the Marketplace Fairness Act, preserving tax free municipal bonds, highway funding and support for Arizona's military bases. Point your browser here to view more pictures.

By Marc Shapiro

When it comes to public procurement, joining a cooperative purchasing program is an established best practice for cities and towns. But not all purchasing cooperatives are equal and U.S. Communities, created by public agencies for public agencies, offers more. In addition, U.S. Communities is the only purchasing cooperative sponsored by NLC and four other national organizations, along with more than 25 state municipal leagues. Read more
The Flinn-Brown Civic Leadership Academy is now accepting applications for its 2014 cohort. As you may know, the academy aims to expand the number of Arizonans who are dedicated to state-level public service and equipped to help make fact-driven decisions to benefit future Arizonans. We are searching for Arizonans from throughout the state, all walks of life, and all perspectives to join a prestigious network committed to state-level civic leadership. Read more
Follow the League on Twitter to receive up-to-date information
Point your browser here
to start connecting with the League.
The League of Arizona Cities and Towns publishes Arizona City & Town semi-annually as a key part of its communication and education programs. This full-color magazine is distributed to nearly 2,000 city and town officials who direct millions of dollars in buying power.

If you are interested in advertising opportunities in Arizona City & Town, point your browser here.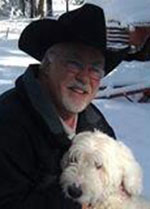 Name, title & city/town: Roger Williams, Mayor, Pinetop-Lakeside
Year elected to office: 2013
Years served as Mayor: A little less than one year
Hometown: Menlo Park, California; spent most of my life in Phoenix and Scottsdale

Town of Pinetop-Lakeside
Incorporated: 1984
Population: 4,282
Elevation: 7,200 ft.
County: Navajo
Area within Limits: 13.5 sq. mi.

Why did you decide to serve in local government?
I have an extensive business background and felt that I could use my business acumen to address some of the challenges that our community faces. I feel strongly that a government, big or small, should be run based on sound business principles. Read more
Have news or photos to share?
If your city or town was recently featured in the news, has an interesting program or photos of events and travels to share, please send them our way! Story ideas and materials may be submitted to
swomer@azleague.org
.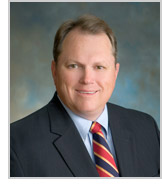 Scott Smith
USCM President and City of Mesa Mayor

I was honored to be invited as US Conference of Mayors President to speak at the National League of Cities Congressional Cities Conference in March. The US Conference of Mayors and National League of Cities work together closely to help connect City Hall to Capitol Hill, which was the theme of this year's meeting. The executives and members of both organizations have been collaborating on legislative priorities and aligning our agendas to have a strong unified voice on the issues that matter most to cities. Read more
Below is a list of training opportunities that may be of interest in the coming months.

Water Resources Research Center 2014 Annual Conference
Tuesday, April 8, 2014
10:00 a.m. - Noon
The University of Arizona Student Union Memorial Center
Tucson, AZ

ASU Annual Public Finance Conference: Understanding Options and Disclosure Requirements for Local Governments
May 8-9, 2014
Phoenix Convention Center
Phoenix, AZ

GFOAz Quarterly Training: Government Finance Fundamentals
Thursday, May 15, 2014
Surprise Communiversity
Surprise, AZ

2014 ACAA Summer Conference
May 29-30, 2014
Little America Hotel
Flagstaff, AZ

ASU School of Public Affairs
Graduate Information Sessions Available
University Center Building at the ASU Downtown Phoenix campus
Phoenix, AZ

Ramsey Executive Education Program
Management & Leadership Institute
ASU Mercado
Phoenix, AZ

For more information and to register for these events, point your browser here.
For any training sessions that you have missed or cannot attend in the future, be sure to check our YouTube channel to stay in the loop.
---
Cities and towns across Arizona are accomplishing great things - read about cities and towns in the spotlight and their unique ideas to make their communities better by visiting the Arizona Cities @ Work Website. The blog is updated with articles that highlight the unique things happening in cities and towns every day.



League of Arizona Cities and Towns
1820 W. Washington St.
Phoenix, AZ 85007
Phone: 602-258-5786
Fax: 602-253-3874
http://www.azleague.org