Arizona Cities & Towns @ Work

August 27-30, 2013
Hilton El Conquistador
Oro Valley, AZ

We look forward to seeing you at the League's Annual Conference. It is shaping up to be a great event in Oro Valley. To view the agenda and variety of concurrent workshops and sessions planned for the League of Arizona Cities and Towns Annual Conference, please point your browser here.

Point your browser here to register for the Annual Conference.

Point your browser here to register for the League Golf Tournament.

If you have any questions about the conference, please contact league@azleague.org or 602-258-5786. Read more
Youth delegates from your city or town are invited to join us at the 8th Annual League Youth Program to be held during the Conference on Wednesday, Aug. 28. Attendees will participate in their own sessions and activities, and will also have the opportunity to interact with local elected officials.

To learn more about this program, please point your browser here.
The 2013 Showcase of Cities and Towns will be held on Wednesday, Aug. 28 at the Hilton El Conquistador. This is traditionally the most popular event at the Annual Conference. A 24-year tradition, it is truly a unique and special event - one of a kind in the nation. Please make sure to register and reserve your spot.

We would also like to invite each city and town with a municipal flag to join the Opening General Session 14th Annual Parade of Flags.

Point your browser here to register for the Showcase of Cities and Towns and/or Parade of Flags.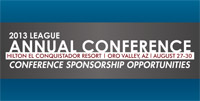 The League of Arizona Cities and Towns offers four levels of sponsorship through its annual conference. For more information on the sponsorship levels and benefits available, please point your browser here.
Congratulations to those who will receive the 2013 League Service Award at the Annual Conference in Oro Valley! Each year, the League recognizes 8, 12, 16, 20, 28 and 32 years of service. Stay tuned for the September newsletter that will feature those who received their award at the conference.

Point your browser here to view the 2013 League Service Award list.
In a recent report published by the National League of Cities, the NLC organization sought to identify public leadership roles necessary to build more sustainable and resilient communities, particularly in the face of cyclical volatility in the real estate and housing markets. This report was published using content from a Metropolitan Leadership Forum held in Phoenix on February 21, 2013. Read more
During July and August, the League's legislative staff will travel throughout the state to report on events of the first regular session of Arizona's 51st Legislature.

Presentations are scheduled in various locations throughout the state where legislative and league staff will deliver presentations to elected officials, municipal staff and other interested parties. The full schedule is below: Read more
The League's 2013 New Laws Report is now completed and ready for use by city and town officials. The Report summarizes significant legislation affecting Arizona cities and towns and identifies actions that municipalities may need to take to comply with new statutory law.

The Report is available here.

If you have any questions or comments, please contact any member of the League's legislative staff at 602-258-5786.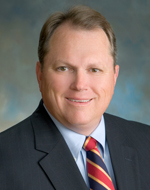 Mesa Mayor Scott Smith was inaugurated as the 71st President of the US Conference of Mayors on Monday, June 24 at the annual USCM conference.

USCM President Philadelphia Mayor Michael A. Nutter appointed Smith as the newly elected President at the 81st Annual Meeting of the United States Conference of Mayors in Las Vegas.

During the gathering of more than 200 mayors, city leaders met to discuss a broad range of policy issues impacting America's cities, including the immigration, school safety, municipal bonds, energy efficiency, infrastructure investment, housing and the economic health of America's cities. Read more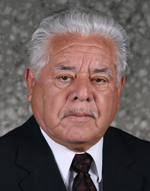 Long-time Surprise Councilmember Roy Villanueva died on Monday, July 22. The 71-year-old had been admitted to John C. Lincoln Hospital - Deer Valley with heart complications.

Villanueva, first sworn into city office in June 1979, brought more than 34 years of experience having served as Surprise Mayor, Vice Mayor and Councilmember.

"Roy's passing is a tremendous loss for our community," says Mayor Sharon Wolcott. "For decades he worked so very hard to help build our city and thanks to his leadership we are better off today. My heartfelt condolences to his wife Rachel, his children and grandsons. Please know that your Mayor and City Council are here for you." Read more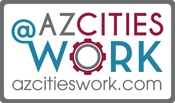 AZ Cities @ Work is a collaborative effort among Arizona's cities and towns to educate, inform and engage our residents to learn more about the vital work that local governments do each and every day. As the summer progresses, League staff will be sending out more information on this program and we encourage you to get involved. To learn more you can: Read more
The League of Arizona Cities and Towns publishes Arizona City & Town semi-annually as a key part of its communication and education programs. This full-color magazine is distributed to nearly 2,000 city and town officials who direct millions of dollars in buying power.

If you are interested in advertising opportunities in Arizona City & Town, point your browser here.
Follow the League on Twitter to receive up-to-date information
Point your browser here
to start connecting with the League.
Each day, League staff posts city and town news from around the state on the homepage. We do our best to find articles in local newspapers that highlight municipalities. If you haven't seen the daily news, you may access our website here.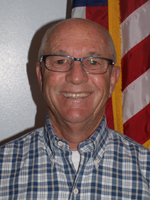 Name, title & city/town: Steven Holt, Mayor, town of Gila Bend
Year elected to office: 2013
Served on Town Council for past 20 years with two terms as vice mayor
Hometown: Gila Bend

Town of Gila Bend
Incorporated: 1962
Population: 1,922
Elevation: 737 ft.
County: Maricopa
Area within Limits: 21 sq. mi.

Why did you decide to serve in local government?
The town of Gila Bend is my hometown. I have lived here for 58 years and my family came to this area for work just after WWII. My friends and family are here in Gila Bend and I feel a very strong sense of responsibility to try and help the community in any way that I can. Read more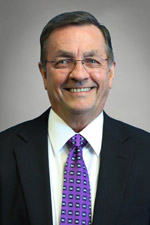 By: William Bock, General Counsel, League of Arizona Cities and Towns

July 2013

Every city and town in Arizona has either a city or town attorney. Sometimes, the attorney is a contracted attorney in private practice. In other cities or towns, there is an in-house attorney who is likely working under a contract with the city or town council.

In some of the larger cities, there is a city attorney, and a staff of assistant city attorneys. There are no statutory duties set forth for municipal attorneys. It is possible that your city charter, or your city or town ordinances may have the duties and responsibilities of your attorney spelled out. Read more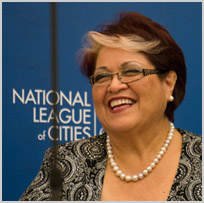 NLC President Marie Lopez Rogers

This new section of the newsletter will include updates from National League of Cities President and Avondale Mayor Marie Lopez Rogers as she works in Washington D.C. and travels the U.S. promoting municipal issues. The article links below will feature monthly highlights and updates.

National League of Cities joins First Lady at the White House in Celebrating Success of Let's Move Cities, Towns & Counties

City Leaders Meet in DC to Debate Federal Policy

NLC's Mayor Rogers Partners with USCM to Advocate Support for City Priorities

Is your city or town a member of NLC? For benefits of membership and further information point your browser here.
Have news or photos to share?
If your city or town was recently featured in the news, has an interesting program or photos of events and travels to share, please send them our way! Story ideas and materials may be submitted to
swomer@azleague.org
.
Below is a list of training opportunities that may be of interest in the coming months.

ASU School of Public Affairs
Graduate Information Sessions Available

7th Annual Rural Policy Forum: Empowering Rural Communities
National Bank of Arizona Headquarters
Phoenix, AZ
August 8 - 9, 2013

League of Arizona Cities and Towns 2013 Annual Conference
Hilton El Conquistador
Oro Valley, AZ
August 27 - 30, 2013

Arizona Sci-Tech Festival Conference
Scottsdale Center for the Arts
Scottsdale, AZ
September 4, 2013

Arizona Graffiti Symposium
Casa Grande Public Safety Facility
Casa Grande, AZ
September 17 - 18, 2013

Arizona Tax Conference
Co-Sponsored by Arizona Association of Assessing Officers and Arizona Department of Revenue
Little America Hotel
Flagstaff, AZ
September 25 - 27, 2013

National League of Cities Congress of Cities and Exposition Conference
Earlybird Registration ends July 31!
Seattle, WA
November 13 - 16, 2013

Ramsey Executive Education Program
Management & Leadership Institute
ASU Mercado
Phoenix, AZ

The Arizona Citizen Planner 101
University of Arizona's Cooperative Extension

For more information and to register for these events, point your browser here.
For any training sessions that you have missed or cannot attend in the future, be sure to check our YouTube channel to stay in the loop.
---
Cities and towns across Arizona are accomplishing great things - read about cities and towns in the spotlight and their unique ideas to make their communities better by visiting the Arizona Cities @ Work Website. The blog is updated with articles that highlight the unique things happening in cities and towns every day.



League of Arizona Cities and Towns
1820 W. Washington St.
Phoenix, AZ 85007
Phone: 602-258-5786
Fax: 602-253-3874
http://www.azleague.org