2017 League Annual Conference: We Need Your Input!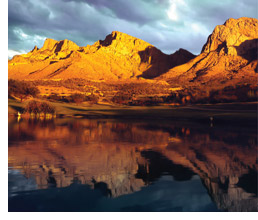 As we start to gear up for the 2017 League Annual Conference, we are seeking your input for conference session topics, speakers and events. If you have ideas or suggestions, please send them to lact17@azleague.org.

Mark your calendars for the 2017 conference that will be August 22-25 at the El Conquistador Resort in Oro Valley.

The Annual Conference Planning Committee will meet on March 22 to discuss ideas and develop session topics for the annual event.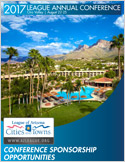 The League of Arizona Cities and Towns offers four levels of sponsorship through its annual conference.

For more information on the sponsorship levels and benefits, please point your browser here.

For additional questions, please visit the Sponsorship FAQ page or contact Amy Price or Matt Lore at (602) 258-5786.
Cell Towers: Leases and Sales for Municipalities and Changes/FCC Wireless Siting Order


When:

Tuesday, March 7


Location:

League of Arizona Cities and Towns, Room 101


Time:

9:30 a.m. - 11:30 a.m.

Municipal Grant Seeking 101


When:

Thursday, April 6


Location:

League of Arizona Cities and Towns, Room 103


Time:

9:00 a.m. - 3:00 p.m.

Read more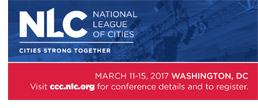 Arizona Events at 2017 NLC Congressional City Conference

When you are in Washington D.C. for the NLC Congressional City Conference, please make plans to attend two events planned specifically for Arizona conference delegates.

The League of Arizona Cities and Towns will host our annual Arizona Reception during the conference. All Arizona delegates, spouses and guests are invited to attend. The reception will take place: Read more
NLC & State Municipal League Report Examines Preemption in Seven Critical Policy Areas

National League of Cities (NLC) in partnership with the state municipal leagues released a new report entitled, "City Rights in an Era of Preemption." The report examines the prevalence of state preemption across the country in seven key policy areas: minimum wage, paid leave, anti-discrimination, home sharing, ride sharing, municipal broadband, and tax and expenditure limitations (TELs). Read more

Announcing the 2018 All-America City Award Application

Theme: Promoting Equity Through Inclusive Civic Engagement

In 2018 the spotlight for the All-America City Awards will be on inclusive civic engagement practices that promote equity and bring all voices to the table to address important issues. With this spotlight, the National Civic League hopes to learn more about the inclusive decision-making processes that communities use to solve complex problems and move toward more equitable communities. Read more
Have news or photos to share?
If your city or town was recently featured in the news, has an interesting program or photos of events and travels to share, please send them our way! Story ideas and materials may be submitted to
swomer@azleague.org
.
Registration is now open for Catalyzing Action: The WaterNow Alliance Annual Summit in Boulder, CO on April 20-21, 2017.

This event is free and travel funding is available for WaterNow Alliance Members (Tip: if you're not a member yet, joining the alliance is easy and free)

Communities across the nation face a new water reality. With increased drought and a changing climate, there is both an urgent need and tremendous opportunity for water leaders to accelerate the adoption of sustainable water solutions and create more resilient cities and towns. Register today and be a part of the solution. Read more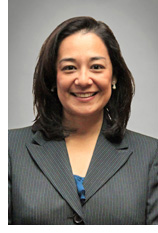 Christina Estes-Werther, League General Counsel

The U.S. Supreme Court has begun hearing oral arguments on cases that may impact local governments. This article will highlight three cases that will be heard this month and describe the potential impact on municipalities.

First Amendment

On June 18, 2015, in Reed v. Gilbert, the U.S. Supreme Court found that Town of Gilbert's sign code was unconstitutional because it regulated speech based on the content of the sign and the message it was conveying. Fast forward 18 months and the country is still trying to understand the scope of the Reed decision and its implications on matters

unrelated

to sign codes. This term the U.S. Supreme Court accepted a case for review that may provide an opportunity for the Court to further explain its interpretation of content-based speech as it relates to government restrictions on an individual's right to free speech. Read more
Below is a list of training opportunities that may be of interest in the coming months.

League Training: Cell Towers: Leases and Sales for Muncipalities and Changes/FCC Wireless Siting Order
March 7, 2017
Phoenix, AZ

NLC Congressional City Conference
March 11-15, 2017
Washington, DC

AMCA Spring Training
March 30, 2017
Peoria, AZ

League Training: Municipal Grant Seeking 101
April 6, 2017
Phoenix, AZ

ACAA Summer Meeting
June 1-2, 2017
Flagstaff, AZ

ASU School of Public Affairs
Graduate Information Sessions Available
Phoenix, AZ

Citizen Planner
University of Arizona
Tucson, AZ

Certified Public Manager® Program
Arizona State University
Choice of Venue: Classroom or Online

Executive Master of Public Administration
Arizona State University
First cohort will begin May 2017

For more information and to register for these events, point your browser here.
For any training sessions that you have missed or cannot attend in the future, be sure to check our YouTube channel to stay in the loop.
Cities and towns across Arizona are accomplishing great things - read about cities and towns in the spotlight and their unique ideas to make their communities better by visiting the Arizona Cities @ Work Website. The blog is updated with articles that highlight the unique things happening in cities and towns every day.
Throwback: AZ Cities Edition
What were cities and towns celebrating this time last year? Five years ago? 50 years ago?

We're introducing a new feature for the League Connection newsletter where we take a look at some city/town stories from years past. If your city or town has a memorable success story, anniversary to celebrate, or timeless photo to share for a particular month, please feel free to send them to swomer@azleague.org. We'd love to feature your city or town in an upcoming issue!


---

Four Years Ago:
As current president of the National League of Cities, Avondale Mayor Marie Lopez-Rogers was invited by First Lady Michelle Obama to attend President Obama's 2013 State of the Union address. Read the full story here.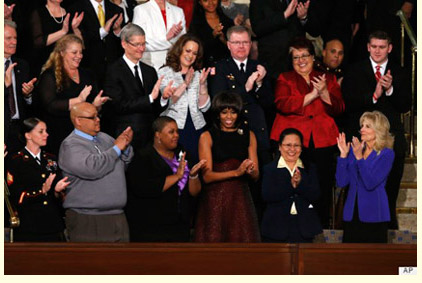 Five Years Ago:
The city of Scottsdale's Granite Reef Senior Center was honored as "Most Outstanding Senior Center in the Nation" when they received the NuStep prestigious Pinnacle Award. Read the full story here.



League of Arizona Cities and Towns
1820 W. Washington St.
Phoenix, AZ 85007
Phone: 602-258-5786
Fax: 602-253-3874
http://www.azleague.org