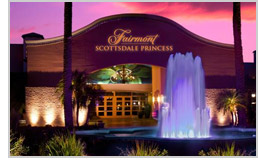 As we start to gear up for the 2016 League Annual Conference, we are seeking your input for conference session topics, speakers and events. If you have ideas or suggestions, please forward them to Matt Lore at mlore@azleague.org.

The Annual Conference Planning Committee will meet on March 30 to discuss ideas and develop session topics for the annual event. Read more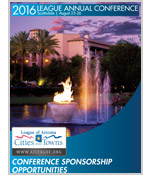 League Corporate Sponsorship Opportunities
The League of Arizona Cities and Towns offers four levels of sponsorship through its annual conference.

For more information on the sponsorship levels and benefits, please point your browser here.

For additional questions, please visit the Sponsorship FAQ page or contact Amy Price or Matt Lore at (602) 258-5786.
In preparation for the 2016 League Service Award Program at the Annual Conference in Scottsdale, we are asking cities and towns to complete the 2016 League Service Award form. The lengths of service that qualify for recognition are:

8, 12, 16, 20 and 24 years, and every four-year increment thereafter

. Service may be consecutive or cumulative. Read more

The first 2016 edition of Arizona City & Town magazine is now available!

This edition of the magazine is called "The Men and Women that Make Arizona's Cities and Towns Work," and features profiles of the individuals who work in Arizona's municipalities. It takes many people to make a city or town run successfully and this feature showcases just a few of the many who keep their municipalities running each day. Read more
Have news or photos to share?
If your city or town was recently featured in the news, has an interesting program or photos of events and travels to share, please send them our way! Story ideas and materials may be submitted to
swomer@azleague.org
.
Arizona Events at 2016 NLC Congressional City Conference
When you are in Washington D.C. for the NLC Congressional City Conference, please make plans to attend these two events planned specifically for Arizona conference delegates.

The League of Arizona Cities and Towns will host our annual Arizona Reception during the conference. All Arizona delegates, spouses and guests are invited to attend. The reception will take place: Read more
Every day, in cities and counties across America, national service is tackling tough problems and strengthening communities. On April 5, mayors across the country will thank those who serve and recognize their impact on the Mayor and County Recognition Day for National Service. Last year 2,786 mayors and county officials representing nearly 150 million Americans participated in this day. Read more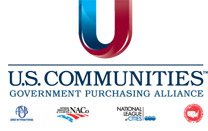 Did you know as an Arizona city or town you are already a member of a national government purchasing cooperative that could save your community money?

U.S. Communities was founded in 1996 as a partnership between the Association of School Business Officials, the National Association of Counties, the National League of Cities and the United States Conference of Mayors.

U.S. Communities is the leading national government purchasing cooperative, providing world class government procurement resources and solutions to local and state government agencies, school districts (K-12), higher education institutions, and nonprofits looking for the best overall supplier government pricing. Read more
Applications are now being accepted for the $100,000 Innovations in American Government Awards.

Offered by Harvard Kennedy School's Ash Center for Democratic Governance and Innovation, the Innovations Award is the nation's premier award for the public sector. It recognizes programs that demonstrate creative and effective government at its best. Read more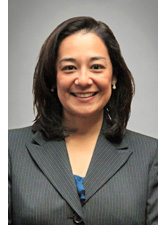 Christina Estes-Werther, League General Counsel

When we hear the phrase "conflict of interest" in the news, it is often about a potential violation, which leads many to believe that they must avoid having a conflict altogether. But conflicts are a part of life as we develop relationships in personal and professional capacities with various members of our neighborhoods and communities. The key to avoiding a violation is to be able to recognize a conflict and follow the proper procedure if a conflict exists. Read more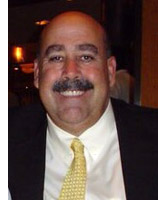 Name, title & city/town: Chuck Turner, Mayor, Town of Gila Bend
Year elected to office: 1992 (Councilmember); 1995-1996 (Vice Mayor); 1996-2003 (Mayor); 2003-2011 (Councilmember); 2011-2014 (Vice Mayor); 2014-Present (Mayor)
Years served as Mayor: 9

Town of Gila Bend
Incorporated: 1962
Population: 1,960
Elevation: 737 ft.
County: Maricopa
Area within Limits: 64 sq. mi.

Why did you decide to serve in local government?
Having moved to Gila Bend as a youngster in 1969, and, having made the decision to make this my home and raise my family here, I felt an obligation to bring solutions to the table and not sit idly by. As a career firefighter and elected official, service to community has always driven me. Read more
Below is a list of training opportunities that may be of interest in the coming months.

NLC Congressional City Conference
March 5-9, 2016
Washington, DC

League Training: Recent Developments in Appellate Case Law
March 24, 2016
League of Arizona Cities and Towns, Room 101
Phoenix, AZ

WaterNow Alliance Inaugural Summit
March 30-31, 2016
Arizona State University Memorial Union
Tempe, AZ

AMCA Spring Training: City/Town Clerk Best Practices
March 31, 2016
Communiversity
Surprise, AZ

ASU Annual Public Finance Conference
March 31-April 1, 2016
Arizona State University SkySong
Scottsdale, AZ

APA National Planning Conference
April 2-5, 2016
Phoenix Convention Center
Phoenix, AZ

GFOAz May Training
May 12, 2016
High Country Conference Center
Flagstaff, AZ

ACAA Summer Conference
May 19-20, 2016
Hilton Scottsdale Resort & Villas
Scottsdale, AZ

ASU School of Public Affairs
Graduate Information Sessions Available
University Center Building - ASU Downtown Phoenix Campus
Phoenix, AZ

Citizen Planner
College of Agriculture and Life Sciences-Cooperative Extension
University of Arizona
Tucson, AZ

Ramsey Executive Education Program
Management & Leadership Institute
ASU Mercado
Phoenix, AZ

For more information and to register for these events, point your browser here.
For any training sessions that you have missed or cannot attend in the future, be sure to check our YouTube channel to stay in the loop.
---
Cities and towns across Arizona are accomplishing great things - read about cities and towns in the spotlight and their unique ideas to make their communities better by visiting the Arizona Cities @ Work Website. The blog is updated with articles that highlight the unique things happening in cities and towns every day.



League of Arizona Cities and Towns
1820 W. Washington St.
Phoenix, AZ 85007
Phone: 602-258-5786
Fax: 602-253-3874
http://www.azleague.org