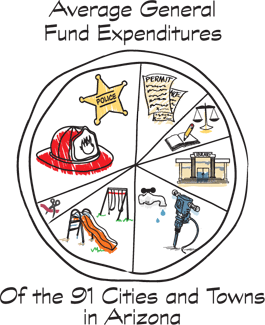 Every year by mid-July, each of our Arizona cities and towns are required by law to adopt a balanced budget that is open to citizen input and participation.

Every resident can have a voice in deciding what the budget will be spent on and how it will be paid for in the months before it is adopted.

To help ensure your city or town residents understand the budget process and to foster increased resident participation, AZ Cities @ Work once again presents Your Input Matters!, a short and fun video primer on the city and town budget process, demonstrating why it is important for residents to get involved. Read more
2015 League Annual Conference: August 18-21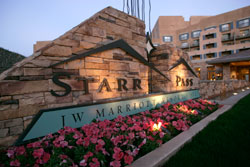 The 2015 conference will be held in Tucson at the JW Marriott Star Pass Resort, August 18-21. Hotel registration information will be sent out to all cities and towns in May.

If you have any questions, please contact League Staff at 602-258-5786.
Corporate Sponsorship Opportunities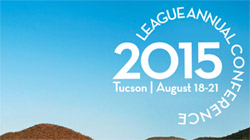 The League of Arizona Cities and Towns offers four levels of sponsorship through its annual conference.

For more information on the sponsorship levels and benefits, please point your browser here.

For additional questions, please visit the Sponsorship FAQ page or contact Amy Price or Matt Lore at (602) 258-5786.
Arizona leaders attending the NLC Conference in Washington, D.C. had the opportunity to meet with Senators John McCain and Jeff Flake at an annual briefing. The meeting was held in the Russell Senate Office building on March 11. Read more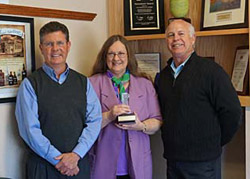 The City of Cottonwood won the Inaugural 2015 Sustainable Economic Growth City of the Decade Award from the VerdeXchange and the Arizona Commerce Authority. Cottonwood Mayor Diane Joens, City Manager Doug Bartosh and Economic Development Director Casey Rooney accepted the award. Sixteen other Arizona cities and towns were considered for this award including large, urban cities and small, rural communities similar to Cottonwood. Read more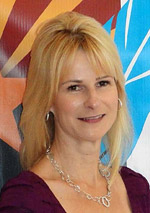 Marla Paddock
President, AMCA
City Clerk, Chandler

Marla Paddock is the current president of the Arizona Municipal Clerks' Association (AMCA). The AMCA is an association made of up municipal, county, and special district clerks and assistant clerks whose mission is to develop, maintain, and refine the knowledge base required to serve their communities through training, information sharing and communication. Read more
Have news or photos to share?
If your city or town was recently featured in the news, has an interesting program or photos of events and travels to share, please send them our way! Story ideas and materials may be submitted to
swomer@azleague.org
.
The League of Arizona Cities and Towns publishes Arizona City & Town semi-annually as a key part of its communication and education programs. This full-color magazine is distributed to nearly 2,000 city and town officials who direct millions of dollars in buying power.

If you are interested in advertising opportunities in Arizona City & Town, point your browser here.
Though its main campus is based in southern Arizona, the University of Arizona has wide-ranging impact across the state as Arizona's only land-grant university. Now, a new tool demonstrates the effects of the UA's impact in the form of an online, interactive map.

Overview
The UA's Impact Map was designed to demonstrate the UA's commitment to serving the entire state of Arizona. This new tool visualizes the UA's statewide impact in a variety of areas. For example, it includes data on the number of UA students, alumni and employees in Arizona, as well as the number of degrees awarded throughout the state. Read more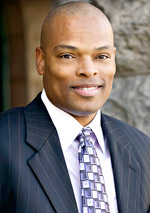 The Arizona Lottery is pleased to share the news of the appointment of Tony V. Bouie as the new executive director. Governor Doug A. Ducey announced the appointment on January 30, 2015.

"I'm thankful for the legacy Jeff Hatch-Miller left behind and appreciate the impressive sales results that were achieved under his leadership," said Tony V. Bouie. "I'm honored to have responsibility for ensuring the maximization of net revenue to support great causes in the beautiful state of Arizona." Read more
Each day, League staff posts city and town news from around the state on the homepage. We do our best to find articles in local newspapers that highlight municipalities. If you haven't seen the daily news, you may access our website here.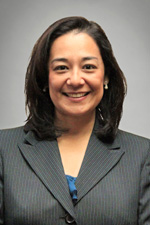 Christina Estes-Werther, League General Counsel

A frequently asked question is whether a municipality may impose its own income tax or luxury tax, such as a tax on cigarettes or alcohol. The short answer is no, but in order to understand the reason we must turn back the clock over four decades.

In 1972 a citizen's initiative promoted by the League established the urban revenue sharing structure that provides fifteen percent of the state income tax to cities and towns based on population. The initiative, Proposition 200, resulted after failed legislative attempts to create a sound, balanced tax structure for local governments. Without legislative action, municipalities were seeking to implement or increase local sales and use taxes due to population growth and inflation in order to maintain basic public services. Read more
Below is a list of training opportunities that may be of interest in the coming months.

AMCA 2015 Spring Training City/Town Clerk Best Practices
April 1, 2015
10:00 a.m. - 4:15 p.m.
Tempe, AZ

Webinar - Walkable, Bikeable Communities in Arizona: What's Happening and What's at Stake
April 2, 2015
10:00 a.m. MST
Duration: 1 hour 30 minutes

Community Water Forum with Senator Jeff Flake
April 7, 2015
9:30 - 10:30 a.m.
Phoenix, AZ

League Training - Public Records Law
April 8, 2015
9:30 - 11:30 a.m.
Phoenix, AZ

Stand Up for Transportation
April 9, 2015
10:00 a.m.
Phoenix, AZ

Water Policy Forum: Arizona Solutions to Colorado River Supply Challenges - with Senator Jeff Flake
April 10, 2015
10:00 - 11:00 a.m.
Tucson, AZ

Transforming Local Government Conference
April 13-15, 2015
Phoenix, AZ

League Training - Open Meeting Law
April 29, 2015
9:30 - 11:30 a.m.
Phoenix, AZ

GFOAz Training - Learning to Use U.S. Census Data & Grants Lifecycle Management
May 7, 2015
8:30 a.m. - 3:00 p.m.
Peoria, AZ

ASU Law Presents The Wildfire Menace: Will the West Learn or Burn? How to Learn From History Instead of Repeating it
May 7-8, 2015
Tempe, AZ

Arizona City Attorneys (ACAA) Summer Meeting
May 27-29, 2015
Flagstaff, AZ

ASU School of Public Affairs
Graduate Information Sessions Available
University Center Building - ASU Downtown Phoenix Campus
Phoenix, AZ

Ramsey Executive Education Program
Management & Leadership Institute
ASU Mercado
Phoenix, AZ

For more information and to register for these events, point your browser here.
For any training sessions that you have missed or cannot attend in the future, be sure to check our YouTube channel to stay in the loop.
---
Cities and towns across Arizona are accomplishing great things - read about cities and towns in the spotlight and their unique ideas to make their communities better by visiting the Arizona Cities @ Work Website. The blog is updated with articles that highlight the unique things happening in cities and towns every day.



League of Arizona Cities and Towns
1820 W. Washington St.
Phoenix, AZ 85007
Phone: 602-258-5786
Fax: 602-253-3874
http://www.azleague.org