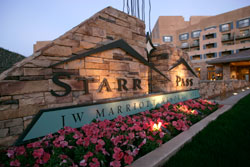 As we start to gear up for the 2015 League Annual Conference, we are seeking your input for conference session topics, speakers and events. If you have ideas or suggestions, please forward them to Matt Lore at mlore@azleague.org.

Mark your calendars for the 2015 conference that will be August 18-21 at the JW Marriott Starr Pass in Tucson.
League Corporate Sponsorship Opportunities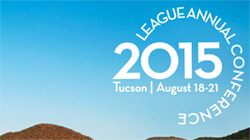 The League of Arizona Cities and Towns offers four levels of sponsorship through its annual conference.

For more information on the sponsorship levels and benefits, please point your browser here.

For additional questions, please visit the Sponsorship FAQ page or contact Amy Price or Matt Lore at (602) 258-5786.
The League has created a city/town data sheet with facts, information and statistics about the 91 cities and towns in Arizona. We have provided this information in an excel format so the data can be utilized for research and information gathering purposes.

Download the document here.

This is a living document that will continue to be updated. If you have any questions or recommend any changes to the information, please contact us at league@azleague.org.
In 2013, Lawmakers passed HB 2111 to streamline Arizona's Transaction Privilege Tax (TPT) system. The bill established the Arizona Department of Revenue (DOR) as the sole collection agency for municipal and state TPT. The bill also changed the way businesses that do repair and maintenance work pay TPT. Finally, the bill integrated municipal and state TPT audits into a program that all taxing agencies will use to ensure taxpayer compliance. The League has been working on the implementation of this legislation for two years. Point your browser here to learn about the latest updates on the TPT process.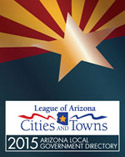 The 2015 Local Government Directory is now available and complimentary copies of the annual directory have been mailed to all member cities and towns.

As a reminder, in addition to the hard copy directory, the League also has an online version of the directory, which is updated throughout the year. To view the online directory, please point your browser here.

The winter 2015 edition of Arizona City & Town focusing on Arizona's Copper Corridor is now available. Copies are being mailed to all cities and towns. To view a copy of the magazine, point your browser here.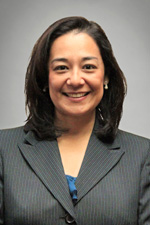 Please join the League in welcoming our new general counsel Christina Estes-Werther! Christina started at the League on January 2. We had a chance to sit down with her and ask her some questions.

Where were you born and where did you go to school?
I am a native of Arizona and was born in Tucson. I moved to the Phoenix area when I was in grade school and returned to Tucson to attend the University of Arizona where I earned my bachelor's degree in family studies and human development. My husband and I moved to Phoenix briefly before heading to Spokane, Washington where I earned my Juris Doctor from Gonzaga University School of Law in 2006. Read more
Each session the League staff prepares "Your Municipal Voice at the Capitol," which in addition to containing a listing of state legislators by district, their contact information, and the cities and towns they represent, provides helpful tips for navigating the legislative process and being effective at the Capitol. To view "Your Municipal Voice at the Capitol," point your browser here.
• Arizona Events at 2015 NLC Congressional City Conference
• NLC Research on Water Policy in Western US

Read more
Each day, League staff posts city and town news from around the state on the homepage. We do our best to find articles in local newspapers that highlight municipalities. If you haven't seen the daily news, you may access our website here.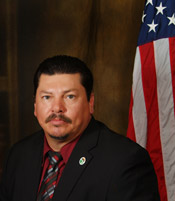 Name, title & city/town: Martin Porchas, Mayor, City of Somerton
Year elected to office: 2005
Years served as Mayor: 5
Hometown: Somerton, Arizona

City of Somerton
Incorporated: 1918
Population: 14,287
Elevation: 103 ft.
County: Yuma
Area within Limits: 5 sq. mi.

Why did you decide to serve in local government?
I decided to serve in local government as a way to give back to my community.

What are the biggest challenges facing your town today?
Our biggest challenges are maintaining streets and keeping our rate affordable to our residents. Read more
Have news or photos to share?
If your city or town was recently featured in the news, has an interesting program or photos of events and travels to share, please send them our way! Story ideas and materials may be submitted to
swomer@azleague.org
.
Below is a list of training opportunities that may be of interest in the coming months.

ACMA Winter Conference
February 4-6, 2015
Sedona, AZ

GFOAz Winter Conference
February 18-20, 2015
Prescott, AZ

Finding and Writing Competitive Grant Applications
February 20, 2015
League Office
Phoenix, AZ

Arizona State University Annual Public Finance Conference
March 12-13, 2015
Phoenix, AZ

Alliance for Innovation: Transforming Local Government Conference
April 12-15, 2015
Phoenix, AZ

NAU Management Program
The MBA-h program will begin January 5, 2015.
Flagstaff, AZ

Arizona Citizen Planner 101
Online course

ASU School of Public Affairs
Graduate Information Sessions Available
University Center Building - ASU Downtown Phoenix Campus
Phoenix, AZ

Ramsey Executive Education Program
Management & Leadership Institute
ASU Mercado
Phoenix, AZ

ASU Certified Public Manager Program
Management & Leadership Institute
ASU Mercado
Phoenix, AZ

For more information and to register for these events, point your browser here.
For any training sessions that you have missed or cannot attend in the future, be sure to check our YouTube channel to stay in the loop.
---
Cities and towns across Arizona are accomplishing great things - read about cities and towns in the spotlight and their unique ideas to make their communities better by visiting the Arizona Cities @ Work Website. The blog is updated with articles that highlight the unique things happening in cities and towns every day.



League of Arizona Cities and Towns
1820 W. Washington St.
Phoenix, AZ 85007
Phone: 602-258-5786
Fax: 602-253-3874
http://www.azleague.org