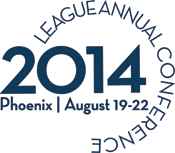 August 19-22, 2014
Sheraton Phoenix Downtown
Phoenix, AZ

We look forward to seeing you at the League's Annual Conference. It is shaping up to be a great event in Phoenix. To view the agenda and variety of concurrent workshops and sessions planned for the League of Arizona Cities and Towns Annual Conference, please point your browser here.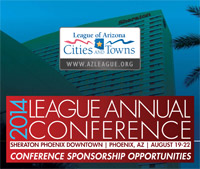 The League of Arizona Cities and Towns offers four levels of sponsorship through its annual conference. For more information on the sponsorship levels and benefits, please point your browser here.

For additional questions, please view the Sponsor Information Kit.

If you have any questions or suggestions, please contact League staff at league@azleague.org or 602-258-5786.
Youth delegates from your city or town are invited to join us at the 9th Annual League Youth Program to be held during the conference on Wednesday, August 20. Attendees will participate in their own sessions and activities, and will also have the opportunity to interact with local elected officials.

To learn more about this program, please point your browser here.
The 2014 Showcase of Cities and Towns will be held on Thursday, August 21 at the Sheraton Phoenix Downtown. This is traditionally the most popular event at the Annual Conference. A 25-year tradition, it is truly a unique and special event - one of a kind in the nation. Please make sure to register and reserve your spot.

We would also like to invite each city and town with a municipal flag to join the Opening General Session 15th Annual Parade of Flags. The Opening General Session will be held on Wednesday, August 20 at the Sheraton.

Point your browser here to register for the Showcase of Cities and Towns and/or Parade of Flags.
Are community gardens a fad or the future? An opportunity or a challenge? Join Payson Mayor Kenny Evans, Flagstaff Planning and Code Administrator Roger Eastman and Former Phoenix Principal Planner Dean Brennan as well as representatives from St. Luke's Health Initiatives for an exploration of what's going on, issues that can arise, and lessons already learned that you can use. Read more

The League's 2014 New Laws Report is now available. It summarizes significant legislation affecting Arizona cities and towns and identifies actions that municipalities may need to take to comply with new statutory law.

The report is available here.

If you have any questions or comments, please contact any member of the League's legislative staff at 602-258-5786.
During the summer months, the League's legislative staff will travel throughout the state to report on activities of the second regular session of Arizona's 51st Legislature that have an impact on cities and towns. Presentations are scheduled in various locations throughout the state to give an update to elected officials, municipal staff and interested parties. Read more
Nominations are still being accepted for the 2014 Gabe Zimmerman Public Service Awards, a statewide competition created to recognize non-elected public servants who serve as a critical link between citizens and the people elected to represent them.

The awards are named in honor of Gabrielle Giffords' director of community outreach who lost his life on Jan. 8, 2011, while serving the citizens of Arizona. Arizona-based public servants who are employed by cities and towns; counties; special districts; agencies of the executive and legislative branches of state governments; tribal governments; and staffs employed by members of the Arizona Congressional Delegation are eligible. Read more
Arizona Department of Transportation (ADOT) is now beginning local outreach efforts related to its upcoming Statewide Freight Plan. Strongly encouraged by recent federal transportation legislation, these statewide plans assess the current capacity for freight movement across Arizona's modes: highway, rail, and air cargo and determine the location and priority of future investments in the state's freight movement system. Read more
The Arizona Department of Transportation Motor Vehicle Division is pleased to introduce Arizona's newly redesigned driver license/identification card. Enhanced security features have been incorporated into the DL/ID credential to safeguard personal information and help prevent identity theft.

Customers will receive a temporary credential before leaving an MVD or authorized third party office, and they will receive the permanent credential in the mail within 15 days. The temporary contains a photo and the basic information that appears on the actual credential. It is printed on security paper for added customer protection. Read more
There is still time to apply for the $100,000 Innovations in American Government Awards!

The deadline has been extended to June 27.

Offered by Harvard Kennedy School's Ash Center for Democratic Governance and Innovation, the Innovations Award is the nation's premier award for the public sector. It recognizes programs that demonstrate creative and effective government at its best. Read more
Follow the League on Twitter to receive up-to-date information
Point your browser here
to start connecting with the League.
Each day, League staff posts city and town news from around the state on the homepage. We do our best to find articles in local newspapers that highlight municipalities. If you haven't seen the daily news, you may access our website here.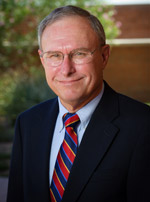 Name, title & city/town: Duane Blumberg, mayor, town of Sahuarita
Year elected to office: Elected to town council in May 2009; re-elected in May 2013. Selected by council as mayor in June 2011; selected for second term in June 2013.
Years served as Mayor: Three years
Hometown: Lafayette, Louisiana

Town of Sahuarita
Incorporated: 1994
Population: 25,259
Elevation: 2,844 ft.
County: Pima
Area within Limits: 30.83 sq. mi.

Why did you decide to serve in local government?
My professional career was spent as a faculty member and administrator in higher education, and in economic development. I came to Sahuarita in 2005 (to retire!) and found the town's economy to be heavily concentrated in the retail and service sectors, and in construction and construction-related activities. Town officials and staff recognized that a more diverse economy would be better for long-term financial health, but also realized the vital importance of retail and construction sales taxes to provide public services and infrastructure. (Sahuarita does not levy property taxes and has no impact/development fees.) So I volunteered to work with the economic development director and other members of the staff on strategies for continued retail growth and the attraction of primary businesses. Then a few years later, one of the members persuaded me to run for a council seat, and I found myself in my first elected office. Read more
Have news or photos to share?
If your city or town was recently featured in the news, has an interesting program or photos of events and travels to share, please send them our way! Story ideas and materials may be submitted to
swomer@azleague.org
.
Below is a list of training opportunities that may be of interest in the coming months.

Webinar - Community Gardens: Fad or Future?
July 10, 2014
10 a.m. MST
Duration: 1 hour 30 minutes
Cost: Free

ACMA 2014 Summer Conference
July 23-25, 2014
Dove Mountain
Marana, AZ

GFOAz 2014 Summer Conference
August 6-8, 2014
Westin La Paloma
Tucson, AZ

2014 Rural Policy Forum: Empowering Rural Arizona
August 7-8, 2014
Bullion Plaza Cultural Center
Globe/Miami, AZ

Blinded by the Light: Night Skies Conference
August 18-20, 2014
High Country Conference Center
Flagstaff, AZ

League of Arizona Cities and Towns 2014 Annual Conference
August 19-22, 2014
Sheraton Phoenix Downtown
Phoenix, AZ

ASU School of Public Affairs
Graduate Information Sessions Available
University Center Building at the ASU Downtown Phoenix Campus
Phoenix, AZ

Ramsey Executive Education Program
Management & Leadership Institute
ASU Mercado
Phoenix, AZ

For more information and to register for these events, point your browser here.
For any training sessions that you have missed or cannot attend in the future, be sure to check our YouTube channel to stay in the loop.
---
Cities and towns across Arizona are accomplishing great things - read about cities and towns in the spotlight and their unique ideas to make their communities better by visiting the Arizona Cities @ Work Website. The blog is updated with articles that highlight the unique things happening in cities and towns every day.



League of Arizona Cities and Towns
1820 W. Washington St.
Phoenix, AZ 85007
Phone: 602-258-5786
Fax: 602-253-3874
http://www.azleague.org