| | |
| --- | --- |
| | August is Child Support Awareness Month |

75 Years: Building on the Past, Preparing for the Future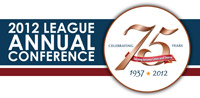 August 28-31, 2012
Hyatt Gainey Ranch
Scottsdale, AZ

We look forward to seeing you at the League's Annual Conference. It is shaping up to be a great event in Scottsdale. To view the agenda and variety of concurrent workshops and sessions planned for the League of Arizona Cities and Towns Annual Conference in Scottsdale, point your browser here. Read more

Youth delegates from your city or town are invited to join us at the 7th Annual League Youth Program to be held during the Conference, Wednesday, August 29. Attendees will participate in their own sessions and activities, and will also have the opportunity to interact with local elected officials.

To learn more about this program and to register, point your browser here.

Space is limited, so please be sure to register your youth councils before the Monday, August 6th deadline!

The 2012 Showcase of Cities and Towns will be held on Wednesday, August 29 at the Hyatt Gainey Ranch. This is traditionally the most popular event at the Annual Conference. A 23-year tradition, it is truly a unique and special event - one of a kind in the nation. Please make sure to register and reserve your spot. We would also like to invite each city and town with a municipal flag to join in the Opening General Session 13th Annual Parade of Flags.

Point your browser here to register for the Showcase of Cities and Towns and/or Parade of Flags.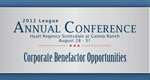 Sponsorship opportunities are still available for the League of Arizona Cities and Towns Annual Conference. The League offers four levels of sponsorship through its annual conference. For more information on the sponsorship levels and benefits available, please point your browser here.


Follow us on Twitter!
Follow the League on Twitter to receive up-to-date information.
Point your browser here
to start connecting with the League.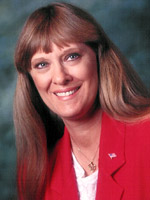 Name & city/town:
Diane Joens, Mayor
Cottonwood, Arizona

Year elected: Cottonwood City Council in 2003
Elected as Mayor: in 2007 and 2011 for four-year terms
Years served as Mayor: Five
Hometown: Sierra Vista, Arizona

Why did you decide to serve in local government?
City government has always piqued my interest. In the late 1980s I served on the Cottonwood Planning and Zoning Commission and later the Parks and Recreation Commission. In 2003 a friend encouraged me to run for City Council, and the rest is history. I didn't - and still don't - have a personal agenda. I do have a vision for now and the next 25 years, and Cottonwood has an excellent city council and staff that works together with a shared vision. We collaborate as we strive to serve our citizenry in the best possible manner. Read more


League Staff Traveled The State To Give Legislative Update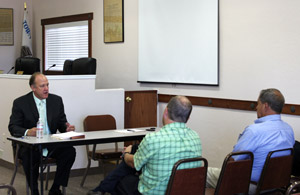 During July, the League's legislative staff traveled throughout the state to report on the events of the second regular session of Arizona's Fiftieth Legislature. Ken Strobeck, Jim Ogsbury and Rene Guillen traveled for three weeks, logging hundreds of miles and delivering presentations to elected officials, municipal staff and other interested parties. The League's "road trip" took the team to Prescott, Cottonwood, Williams, Bullhead City, Yuma, Florence, Marana, Bisbee, Willcox, Winslow and Taylor. The League appreciates the hospitality of the hosting communities, as well as the interest and participation of those who attended. A final legislative report will be presented during the League's Annual Conference, August 28-31, in Scottsdale.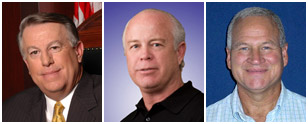 David Byers, Doug Bartosh and Michael Hemesath have been named winners of the 2012 Gabe Zimmerman Public Service Awards, a statewide competition created to recognize non-elected public servants.

Winners will be honored at the League of Arizona Cities and Towns Annual Meeting on Aug. 30. For more information, point your browser here.


League's 75th Anniversary: A Look at the Past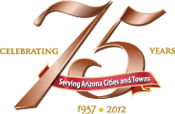 Interesting fact

Prior to the first permanent League office in 1948, Executive Committee meetings were held at various locations, including the Adams Hotel in downtown Phoenix and offices of the current League president.



The summer 2012 edition of Arizona City & Town focusing on the League's 75th anniversary is now available. Copies have been mailed to all cities and towns. If you did not receive a copy or would like additional copies, please contact the League and we will mail them to you. To view a copy of the magazine, point your browser here.

Below is a list of training opportunities that may be of interest in the coming months.

GFOAz 2012 Summer Training
August 8-10, 2012

Ramsey Executive Education Program
Management & Leadership Institute
Multiple dates

Arizona Town Hall Forum
September 13, 2012

Growth & Infrastructure Consortium
October 3-5, 2012

International City/County Management Association (ICMA) 98th Annual Conference
October 7-10, 2012

ULI: The Annual Boards and Commissions Conference
December 7, 2012

Read more


Have news or photos to share?
If your city or town was recently featured in the news, has an interesting program or photos of events and travels to share, please send them our way! Story ideas and materials may be submitted to

aprice@azleague.org

.


For any training sessions that you have missed or cannot attend in the future, be sure to check our YouTube channel to stay in the loop.


August is Child Support Awareness Month
Governor Brewer has proclaimed August Child Support Awareness Month. Spread the word and help promote Child Support Awareness throughout August. Post the Proclamation in your offices and share it with the people in your community.

Point your browser here to view the Proclamation.
Point your browser here to view a letter to the Child Support Community.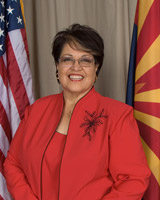 Avondale Mayor Marie Lopez Rogers recently received the 2012 Maricopa Association of Governments' (MAG) Regional Excellence Award. Mayor Rogers has dedicated herself to guiding the transformation of not only her own community of Avondale, but also the entire region through her engagement in a number of national and regional leadership roles. She was recently named the incoming Chair of the MAG Regional Council, and currently serves as the Vice President of the National League of Cities. Read more



League of Arizona Cities and Towns
1820 W. Washington St.
Phoenix, AZ 85007
Phone: 602-258-5786
Fax: 602-253-3874
http://www.azleague.org