2017 League Annual Conference: August 22-25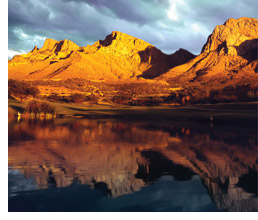 The 2017 League Annual Conference will be held in Oro Valley at the Hilton El Conquistador, August 22-25. Hotel and registration information will be sent out to all cities and towns in May.

If you have any questions, please contact League Staff at 602-258-5786.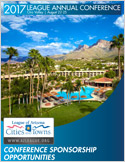 The League of Arizona Cities and Towns offers four levels of sponsorship through its annual conference.

For more information on the sponsorship levels and benefits, please point your browser here.

For additional questions, please visit the Sponsorship FAQ page or contact Amy Price or Matt Lore at (602) 258-5786.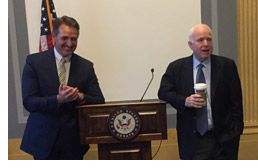 Arizona's US Senators Jeff Flake and John McCain meet with city officials in Washington DC on March 15th during the National League of Cities conference. The senators discussed a variety of federal issues impacting Arizona including border issues, water policy, changes in federal regulations, infrastructure spending and defense installations. Read more
In preparation for the 2017 League Service Award Program at the Annual Conference in Oro Valley, we are asking cities and towns to complete the 2017 League Service Award form. Read more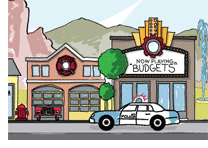 Every year by mid-July, each of our Arizona cities and towns are required by law to adopt a balanced budget that is open to citizen input and participation.

Every resident can have a voice in deciding what the budget will be spent on and how it will be paid for in the months before it is adopted. Read more
When:

Thursday, April 6


Location:

League of Arizona Cities and Towns, Room 103


Time:

9:00 a.m. - 3:00 p.m.

This comprehensive training will cover the basics of seeking, finding and securing grants for municipalities including: Read more

Municipal clerks perform some of the most important tasks in a city or town, though many people might not know what exactly it is they do! A municipal clerk ensures that citizens can participate in elections, request copies of public documents, learn about the proceedings of their city and town council, understand the history of their community, and feel confident that the day to day work of a city or town is done with professionalism and care. Read more
Have news or photos to share?
If your city or town was recently featured in the news, has an interesting program or photos of events and travels to share, please send them our way! Story ideas and materials may be submitted to
swomer@azleague.org
.
Every day, in cities and counties across America, national service is tackling tough problems and strengthening communities. On April 4th, mayors across the country will thank those who serve and recognize their impact on the Mayor and County Recognition Day for National Service. Last year over 3,500 mayors and county officials representing nearly 175 million Americans participated in this day! Read more

Announcing the 2018 All-America City Award Application

Theme: Promoting Equity Through Inclusive Civic Engagement

In 2018 the spotlight for the All-America City Awards will be on inclusive civic engagement practices that promote equity and bring all voices to the table to address important issues. With this spotlight, the National Civic League hopes to learn more about the inclusive decision-making processes that communities use to solve complex problems and move toward more equitable communities. Read more
Hosted by Next Century Cities in Partnership with the City of Mesa, Arizona

April 17-18, 2017
Mesa Convention Center
Mesa, Arizona

REGISTER HERE

Welcome Reception: Monday, April 17, 2017 from 5:30 to 7pm at the Mesa Arts Center

Conference: Tuesday, April 18, 2017 from 8:30 to 5pm at the Mesa Convention Center

Register now for Next Century Cities' third regional broadband summit, Digital Southwest, in Mesa, AZ. This conference is an opportunity for cities from the state and region to learn about successful models for ensuring that all have access to fast, affordable, reliable broadband access. Read more
Registration is now open for Catalyzing Action: The WaterNow Alliance Annual Summit in Boulder, CO on April 20-21, 2017.

This event is free and travel funding is available for WaterNow Alliance Members (Tip: if you're not a member yet, joining the alliance is easy and free)

Communities across the nation face a new water reality. With increased drought and a changing climate, there is both an urgent need and tremendous opportunity for water leaders to accelerate the adoption of sustainable water solutions and create more resilient cities and towns. Register today and be a part of the solution. Read more
Christina Estes-Werther, League General Counsel

Last month's Legal Corner discussed cases before the U.S. Supreme Court that may impact local governments. In Arizona, our highest state court continues to decide matters that directly affect Arizona municipalities, including a recent oral argument in State ex rel Brnovich v. City of Tucson/DeWit relating to the S.B. 1487 legislation that threatens the shared revenue of cities or towns. Since our state supreme court issues decisions that affect local governance, this article explains the structure of the state supreme court and how the justices who make these important decisions are appointed to the bench. Read more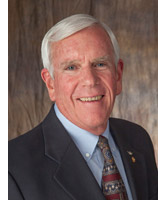 Name, title & city/town: Mayor Harry Oberg, Prescott
Years served as Mayor: Elected August 2015
Years served on Executive Committee: New member of the Executive Committee as of February 2017
Hometown: Prescott, Arizona

Why did you decide to serve in local government?
My desire to serve in local government stemmed from several experiences. During my 33 years of military service, I served both on Active Duty and in the Army National Guard overseas and in many states. My National Guard assignments involved working with local municipalities, county and state officials, as well as state Congressional representatives. Read more
Below is a list of training opportunities that may be of interest in the coming months.

AMCA Spring Training
March 30, 2017
Peoria, AZ

League Training: Municipal Grant Seeking 101
April 6, 2017
Phoenix, AZ

GFOAz May Training
May 11, 2017
Surprise, AZ

ACAA Summer Meeting
June 1-2, 2017
Flagstaff, AZ

ASU School of Public Affairs
Graduate Information Sessions Available
Phoenix, AZ

Citizen Planner
University of Arizona
Tucson, AZ

Certified Public Manager® Program
Arizona State University
Choice of Venue: Classroom or Online

Executive Master of Public Administration
Arizona State University
First cohort will begin May 2017

For more information and to register for these events, point your browser here.
For any training sessions that you have missed or cannot attend in the future, be sure to check our YouTube channel to stay in the loop.
Cities and towns across Arizona are accomplishing great things - read about cities and towns in the spotlight and their unique ideas to make their communities better by visiting the Arizona Cities @ Work Website. The blog is updated with articles that highlight the unique things happening in cities and towns every day.
Throwback: AZ Cities Edition
What were cities and towns celebrating this time last year? Five years ago? 50 years ago?

We're introducing a new feature for the League Connection newsletter where we take a look at some city/town stories from years past. If your city or town has a memorable success story, anniversary to celebrate, or timeless photo to share for a particular month, please feel free to send them to swomer@azleague.org. We'd love to feature your city or town in an upcoming issue!


---

Five Years Ago:
The National League of Cities created the "State of the Cities 2012 Project" which featured a series of mayors' speeches from cities and towns across the nation. Tucson Mayor Jonathan Rothschild's 2012 State of the City speech was featured as part of the series.



Twelve Years Ago:
The City of Bisbee was named to the National Trust for Historic Preservation's 2005 list of America's Dozen Distinctive Destinations. It was the first Arizona community to make the annual list of "unique and lovingly preserved" communities.



League of Arizona Cities and Towns
1820 W. Washington St.
Phoenix, AZ 85007
Phone: 602-258-5786
Fax: 602-253-3874
http://www.azleague.org