Quit-2-Win: Arizona's Smoking Cessation Awareness Week, Nov. 14 - 18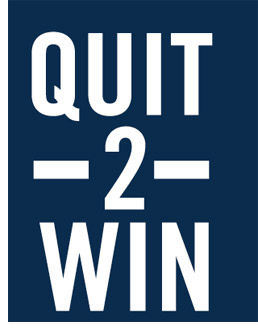 The Arizona Department of Health Services has been bringing the message of smoking cessation to the state for years. The iconic "tumor-causing, teeth-staining, smelly, puking habit" campaign will long be remembered as bringing awareness to the reality of tobacco use and the social impact.

This year, in a public-private partnership with more than 25 Arizona-based organizations and companies coming together the campaign will recognize Nov. 14-18 as Quit-2-Win Week in the state of Arizona.

The chances of successfully quitting tobacco use 'can be doubled with the help of coaching', such as the kind available free of charge by the professionals from the Arizona Smokers' Helpline (ASHLine), referred to as "quit coaches". Understanding that encouragement from healthcare professionals and the community at large is very helpful, local professional sports coaches have offered their voices at no cost for a public service announcement campaign to encourage residents to quit tobacco use. The professional coaches who have volunteered to help with this campaign include:



Legendary University of Arizona basketball coach Lute Olson; former MLB baseball player and Arizona Diamondback's Chief Baseball Officer Tony La Russa; Phoenix Mercury head coach Sandy Brondello; Arizona State University football head coach Todd Graham; Arizona Coyotes head coach Dave Tippet; Arizona United head coach Frank Yallop and Phoenix Suns head coach Earl Watson.



There are a variety of activities planned as part of Smoking Cessation Awareness Week (Nov. 14-18) that will be hosted by campaign partners, with the Great American Smokeout (Nov. 17) serving as a high point of the week.

Additionally, this statewide initiative will be far more successful if citizens from around the state recognize we all play a part in the successful decrease of smoking among Arizona residents. We are asking the mayors and councils of cities and towns across Arizona to join the unified effort in signing onto an Op-Ed that we will submit for publication to the local papers in their communities on Nov. 17, or within that week for weekly and bi-weekly papers.

Please consider joining this campaign and adding the name of your elected leadership, in this unified effort to stop the leading cause of preventable death in the U.S. If you are interested, please contact Kim Owens, Gordon C. James Public Relations, at kowens@gcjpr.com for a draft of the Op-Ed and continued information on how your community can support Quit-2-Win.