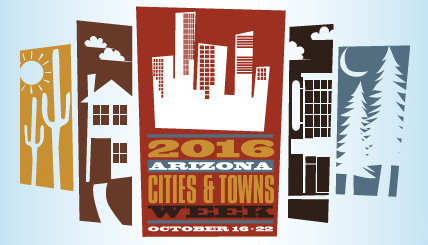 Thank you to all of the municipalities that celebrated cities and towns last week! This week is set aside each year to recognize the services that cities and towns provide, as well as to honor those who serve at all levels of municipal government. Cities & Towns Week was held October 16-22, and many cities held events or issued proclamations to celebrate. Read more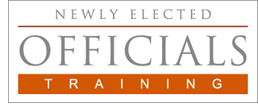 December 8-9, 2016
Mesa Convention Center
Palo Verde Room

The League of Arizona Cities and Towns is pleased to announce the 19th Annual Newly Elected Officials Program. The program will be held Thursday, December 8 and Friday, December 9 at the Mesa Convention Center. It will begin at 8:30 a.m. on Thursday and will conclude at 12:00 p.m. on Friday. Read more

Friday, November 18, 2016
NLC City Summit
Pittsburgh, PA

If you are attending the NLC City Summit, we hope you will join us for our special state-specific event-the annual League of Arizona Cities and Towns Reception to be held on Friday evening, November 18. All delegates and guests from Arizona are invited. The reception will take place: Read more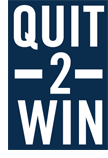 The Arizona Department of Health Services has been bringing the message of smoking cessation to the state for years. The iconic "tumor-causing, teeth-staining, smelly, puking habit" campaign will long be remembered as bringing awareness to the reality of tobacco use and the social impact.

This year, in a public-private partnership with more than 25 Arizona-based organizations and companies coming together the campaign will recognize Nov. 14-18 as Quit-2-Win Week in the state of Arizona. Read more
Have news or photos to share?
If your city or town was recently featured in the news, has an interesting program or photos of events and travels to share, please send them our way! Story ideas and materials may be submitted to
swomer@azleague.org
.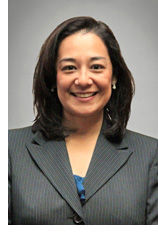 Christina Estes-Werther, League General Counsel

Have you seen a self-driving car in your neighborhood? These vehicles have been spotted in Chandler when Google introduced its self-driving car this year. As more autonomous vehicles begin sharing the road with traditional motorists, a number of practical, safety and legal questions arise. This article will discuss some of these questions and highlight the recent guidance issued by the National Highway Traffic Safety Administration. Read more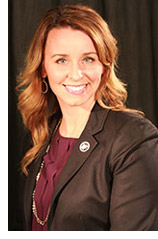 Name, title & city/town: Jenn Daniels, Mayor, Town of Gilbert
Year elected to office: 2009
Years served as Mayor: Appointed mayor July 2016 by the Gilbert Town Council and elected to a full term in August 2016
Years served on Executive Committee: New member of the Executive Committee as of August 2016
Hometown: Danville, California

Why did you decide to serve in local government?
I was looking for that direct connection to the people of my town. I love that as a council we get to focus our efforts on solutions to make the lives of our residents, businesses and visitors better.

What are your biggest challenges facing your town today?
Gilbert is rapidly approaching a population of almost a quarter of a million people and will ultimately top out at 330,000 at full build. We are working on how to manage our explosive growth to meet the needs of our residents while still retaining our small town feel and heritage. Read more
Below is a list of training opportunities that may be of interest in the coming months.

AMCA 2016 Fall Training: Implications of the New Campaign Finance Law
November 14, 2016
Phoenix, AZ

2016 Newly Elected Officials Training
December 8-9, 2016
Mesa, AZ

ASU School of Public Affairs
Graduate Information Sessions Available
University Center Building - ASU Downtown Phoenix Campus
Phoenix, AZ

Citizen Planner
College of Agriculture and Life Sciences-Cooperative Extension
University of Arizona
Tucson, AZ

Certified Public Manager® Program
Arizona State University
Choice of Venue: Classroom or Online

Executive Master of Public Administration
Arizona State University
First cohort will begin May 2017

For more information and to register for these events, point your browser here.
For any training sessions that you have missed or cannot attend in the future, be sure to check our YouTube channel to stay in the loop.
Cities and towns across Arizona are accomplishing great things - read about cities and towns in the spotlight and their unique ideas to make their communities better by visiting the Arizona Cities @ Work Website. The blog is updated with articles that highlight the unique things happening in cities and towns every day.
Throwback: AZ Cities Edition
What were cities and towns celebrating this time last year? Five years ago? 50 years ago?

We're introducing a new feature for the League Connection newsletter where we take a look at some city/town stories from years past. If your city or town has a memorable success story, anniversary to celebrate, or timeless photo to share for a particular month, please feel free to send them to swomer@azleague.org. We'd love to feature your city or town in an upcoming issue!


---

Five Years Ago:
Lake Havasu City was named by WanderLust as the number one "non-ocean" destination. The city was recognized for being a family-friendly destination with activities for all ages. Read the full article here.




Eleven Years Ago:
On Friday, September 30, 2005, the Town of Dewey-Humboldt held a ribbon cutting ceremony for their new Town Hall. Approximately 180 people attended the event; citizens, representatives from the Fire District and the Sheriff's Office and local dignitaries joined with the town council, staff and volunteers who made the incorporation of the Town of Dewey-Humboldt a reality!



League of Arizona Cities and Towns
1820 W. Washington St.
Phoenix, AZ 85007
Phone: 602-258-5786
Fax: 602-253-3874
http://www.azleague.org