We look forward to seeing you at the League's Annual Conference in Scottsdale August 23-26.

Registration is now open. For hotel and conference registration information, point your browser here.

You must be registered for the conference to receive a room at the Fairmont Scottsdale Princess.

If you have any questions, please contact League Staff at 602-258-5786.

See you in August!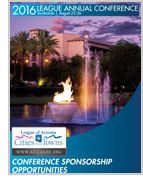 League Corporate Sponsorship Opportunities
The League of Arizona Cities and Towns offers four levels of sponsorship through its annual conference.

For more information on the sponsorship levels and benefits, please point your browser here.

For additional questions, please visit the Sponsorship FAQ page or contact Amy Price or Matt Lore at (602) 258-5786.
In preparation for the 2016 League Service Award Program at the Annual Conference in Scottsdale, we are asking cities and towns to complete the 2016 League Service Award form.

The League is changing its policy regarding the service date. Previously, the elected official must have reached the required level of service by August 28, 2016. NOW, it is changing through the

end of the year

. Read more
During the summer months, the League's legislative staff will travel throughout the state to report on activities of the second regular session of Arizona's 52nd Legislature that have an impact on cities and towns. Presentations are scheduled in various locations throughout the state to give an update to elected officials, municipal staff and interested parties. Read more
2016 New Laws Report
The League's 2016 New Laws Report will soon be sent out for use by city and town officials. The report summarizes significant legislation affecting Arizona cities and towns and identifies actions that municipalities may need to take to comply with new statutory law.

The report will be available on the League website and sent to city and town officials in June.

If you have any questions or comments, please contact any member of the League's legislative staff at 602-258-5786.
The League of Arizona Cities and Towns publishes Arizona City & Town semi-annually as a key part of its communication and education programs. This full-color magazine is distributed to nearly 2,000 city and town officials who direct millions of dollars in buying power. If you are interested in advertising opportunities in Arizona City & Town, point your browser here.
Have news or photos to share?
If your city or town was recently featured in the news, has an interesting program or photos of events and travels to share, please send them our way! Story ideas and materials may be submitted to
swomer@azleague.org
.
Declining funding, increasing mandates and misaligned priorities at the federal and state levels have placed responsibility squarely on local governments to maintain roads, upgrade water and wastewater systems and accommodate growing transit ridership.

But do cities have the authority to raise the revenue needed to maintain aging infrastructure and to make new investments that support growing populations? Read more

NLC's City Summit (formerly Congress of Cities) is coming to Pittsburgh, Pennsylvania, November 16-19, 2016. See how this once-industrial town has transformed into a beautiful and vibrant city. Its architecture, food, artists, museums, and universities are attracting young professionals and creating a place where people love to live. Read more
The Gabe Zimmerman Public Service Awards are a statewide competition created to recognize those non-elected, professional public servants who serve as the critical link between citizens and the people elected to represent them.

Named in honor of Gabe Zimmerman, director of community outreach for Congresswoman Gabrielle Giffords, the awards are an opportunity to recognize the commitment and dedication of more than 100,000 professional public servants who exemplify the importance and impact of public service. Read more
The City of Phoenix would like to introduce you to procurePHX! Formerly known as eProcurement, the city's electronic procurement system is now in its next phase. Gone are the days of businesses trying to figure out what services the city needs and searching for projects to bid on. Read more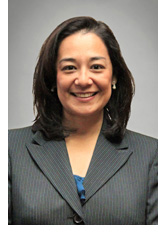 Christina Estes-Werther, League General Counsel

In March of this year the Legislature passed Senate Bill 1516, which repeals and rewrites Arizona's campaign finance laws. On the final day of session this May, two bills amending parts of S.B. 1516 were also passed - House Bills 2296 and 2297. These three bills make significant changes to all aspects of campaign finance including redefining a political committee, applying contribution limits to a two-year election cycle instead of the term of office, restricting or limiting transfers of monies from city and town candidate committees to state or county committees for the same candidate, and establishing new reporting cycles and filing deadlines. In addition, filing officers will have to offer electronic filing for campaign registration and reporting for the November general election. Read more
Below is a list of training opportunities that may be of interest in the coming months.

Women In Local Government Kickoff Symposium
June 9, 2016
Ak-Chin Conference Center
Maricopa, AZ

ACMA Summer Conference
July 20-22, 2016
Marana, AZ

AMCA Training: Athenian Dialogue
July 25, 2016
Fountain Hills Community Center
Fountain Hills, AZ

2016 Arizona Municipal Clerks' Annual Conference and Elections Training
July 26-28, 2016
Fountain Hills Community Center
Fountain Hills, AZ

ASU School of Public Affairs
Graduate Information Sessions Available
University Center Building - ASU Downtown Phoenix Campus
Phoenix, AZ

Citizen Planner
College of Agriculture and Life Sciences-Cooperative Extension
University of Arizona
Tucson, AZ

Ramsey Executive Education Program
Management & Leadership Institute
ASU Mercado
Phoenix, AZ

For more information and to register for these events, point your browser here.
For any training sessions that you have missed or cannot attend in the future, be sure to check our YouTube channel to stay in the loop.
Cities and towns across Arizona are accomplishing great things - read about cities and towns in the spotlight and their unique ideas to make their communities better by visiting the Arizona Cities @ Work Website. The blog is updated with articles that highlight the unique things happening in cities and towns every day.
Throwback: AZ Cities Edition
What were cities and towns celebrating this time last year? Five years ago? 50 years ago?
We're introducing a new feature for the League Connection newsletter where we take a look at some city/town stories from years past. If your city or town has a memorable success story, anniversary to celebrate, or timeless photo to share for a particular month, please feel free to send them to
swomer@azleague.org
. We'd love to feature your city or town in an upcoming issue!
---
Three Years Ago:
The Town of Gilbert was recognized as the First Arizona Economic Development Organization to be accredited by the International Economic Development Council.
Five Years Ago:
Former League Executive Director Jack DeBolske received an Arizona Transportation Legacy Award.



League of Arizona Cities and Towns
1820 W. Washington St.
Phoenix, AZ 85007
Phone: 602-258-5786
Fax: 602-253-3874
http://www.azleague.org