We look forward to seeing you at the League's Annual Conference in Tucson, August 18-21.

Registration is now open. For hotel and conference registration information, point your browser here.

You must be registered for the conference to receive a room at the JW Marriott Starr Pass Resort.

If you have any questions, please contact League Staff at 602-258-5786.

See you in August!
In addition to the regular conference sessions, receptions and meal functions, there are several extra events you might be interested in attending at the League Annual Conference in August. Read more
Corporate Sponsorship Opportunities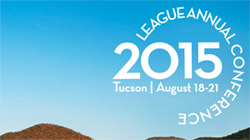 Don't miss out on the League sponsorship opportunities!

The League of Arizona Cities and Towns offers four levels of sponsorship through its annual conference.

For more information on the sponsorship levels and benefits, please point your browser here.

For additional questions, please visit the Sponsorship FAQ page or contact Amy Price or Matt Lore at (602) 258-5786.
Last year, the League Executive Committee approved a change in the resolutions process. The new system allows for more in-depth research and greater involvement by elected officials and staff in developing the League's Municipal Policy Statement.

There are five separate policy committees thoroughly vetting the issues. All submitted ideas were assigned to relevant committees by League President Mark Mitchell, mayor of Tempe. These committees have been meeting this month to discuss and process these ideas and an actual resolution will be crafted and submitted to the Resolutions Subcommittee. Read more
Each day, League staff posts city and town news from around the state on the homepage. We do our best to find articles in local newspapers that highlight municipalities. If you haven't seen the daily news, you may access our website here.
The following material was provided by the Arizona State University Walton Global Solutions Services and the Resource Innovation and Solutions Network. This is the first in a three-part series about resource management.

Managing waste is becoming an increasingly significant challenge for municipalities around the globe. As landfills fill up and resource extraction becomes more costly both financially and environmentally, cities and regions are in need of alternative solutions to the existing waste system. Fortunately, the waste challenge has also opened up new opportunities for innovation, economic development and creating positive impact through leading-edge resource management strategies. Three concepts that are changing the way societies dispose their waste and reuse their materials are net positive, zero waste, and the circular economy. Net positive and zero waste describe more general goals, defined as creating an overall positive impact in society and diverting at least 95% of waste, respectively. The circular economy is a philosophy that prescribes a new approach to the creation and disposal of products by encouraging a transition from linear production and waste processes to circular processes, mirroring the condition of nature that there is no waste. Read more
Have news or photos to share?
If your city or town was recently featured in the news, has an interesting program or photos of events and travels to share, please send them our way! Story ideas and materials may be submitted to
swomer@azleague.org
.
The following material was provided by Big Brothers Big Sisters of Central Arizona

Have you ever considered ways that you can strengthen your local community? As leaders of your cities, I would venture that the answer is, "Yes, of course!" One of the most profound -yet simple ways- to better our towns is by investing in the future of the children in our communities. To which you may respond, "Sure, that seems simple, but how do we really create sustaining change?" The answer is mentoring. By spending a few hours a month with a local child, you not only directly impact their life, but also the future success and strength of your city. Read more
The following material was provided by the Water Infrastructure Finance Authority (WIFA)

The American Society of Civil Engineers recently published their 2015 Report Card for America's Infrastructure. While there were "satisfactory" marks for much of Arizona's infrastructure, there were also many areas that "need improvement." In its comprehensive assessment of current infrastructure conditions, the American Society of Civil Engineers (ASCE) assigned grades to Arizona in the categories represented in wastewater, rail, transit, aviation, roads, and bridges, to name a few. Read more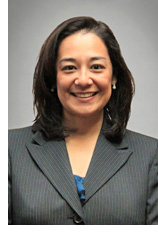 Christina Estes-Werther, League General Counsel

This past year there have been numerous articles and publications that highlight the advantages and disadvantages of police officers wearing body cameras. Unlike dash cams or other recording devices, body cameras are mobile and provide a closer vantage point of developing situations. This proximity to an incident can provide greater transparency as events unfold but these close encounters also present new challenges to law enforcement agencies and the public. Read more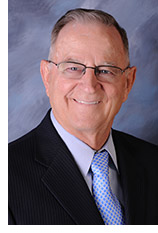 City of Buckeye
Incorporated: 1929
Population: 50,876
Elevation: 888 ft.
County: Maricopa
Area within Limits: 374 sq. mi

Name, title & city/town: Jackie Meck, Mayor of Buckeye
Year elected to office: 2008
Years served as Mayor: 7 years
Hometown: Buckeye, AZ

Why did you decide to serve in local government?
The City of Buckeye has been home for my entire life. I believe Buckeye is a blank canvas and council and staff are the painters. We want future generations to be proud of their community. Being able to serve the residents has been a true honor. Read more
Below is a list of training opportunities that may be of interest in the coming months.

Arizona City/County Management Association (ACMA) Summer Conference
July 22 - 24, 2015
Dove Mountain
Marana, AZ

Arizona Municipal Clerks Association (AMCA) Annual Conference/Elections Training
July 29 - 31, 2015
Fountain Hills Community Center
Fountain Hills, AZ

Government Finance Officers of Arizona (GFOAz) Summer Training
August 5 - 7, 2015
Westin La Paloma
Tucson, AZ

2015 League Annual Conference
August 18 - 21, 2015
JW Marriott Starr Pass Resort
Tucson, AZ

NLC Congress of Cities
November 4-7, 2015
Nashville, TN

ASU School of Public Affairs
Graduate Information Sessions Available
University Center Building - ASU Downtown Phoenix Campus
Phoenix, AZ

Ramsey Executive Education Program
Management & Leadership Institute
ASU Mercado
Phoenix, AZ

For more information and to register for these events, point your browser here.
For any training sessions that you have missed or cannot attend in the future, be sure to check our YouTube channel to stay in the loop.
---
Cities and towns across Arizona are accomplishing great things - read about cities and towns in the spotlight and their unique ideas to make their communities better by visiting the Arizona Cities @ Work Website. The blog is updated with articles that highlight the unique things happening in cities and towns every day.



League of Arizona Cities and Towns
1820 W. Washington St.
Phoenix, AZ 85007
Phone: 602-258-5786
Fax: 602-253-3874
http://www.azleague.org