2015 League Annual Conference: August 18-21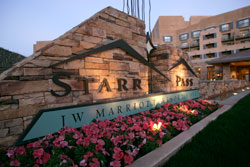 The 2015 conference will be held in Tucson at the JW Marriott Star Pass Resort, August 18 -21. The hotel block at the League conference rate of $112 plus tax will open on the week of May 25. You must be registered for the conference to receive a room at the JW Marriott Star Pass Resort.

Information will be sent to all cities and towns when the room block and registration opens during the week of May 25.

If you have any questions, please contact League Staff at 602-258-5786.

See you in August!
Corporate Sponsorship Opportunities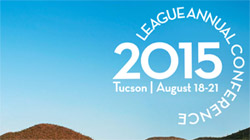 The League of Arizona Cities and Towns offers four levels of sponsorship through its annual conference.

For more information on the sponsorship levels and benefits, please point your browser here.

For additional questions, please visit the Sponsorship FAQ page or contact Amy Price or Matt Lore at (602) 258-5786.

The League's 2015 New Laws Report is now available. It summarizes significant legislation affecting Arizona cities and towns and identifies actions that municipalities may need to take to comply with new statutory law.

The report is available here.

If you have questions or comments, please contact any member of the League's legislative staff at 602-258-5786.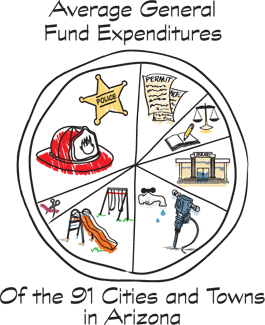 To help ensure your city or town residents understand the budget process and to foster increased resident participation, AZ Cities @ Work once again presents Your Input Matters!, a short and fun video primer on the city and town budget process, demonstrating why it is important for residents to get involved.

Put a link to this video on your city or town website or in your electronic newsletters, share it via your social media accounts, or play it on your public access channels and at community meetings. Read more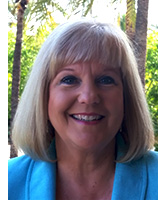 Mindy Russell
President, GFOAz
Finance & Budget Assistant, Peoria

Mindy Russell is the current president of the Government Finance Officers Association of Arizona (GFOAz). GFOAz is an association that serves the government finance profession of Arizona and is made up of nearly 300 individuals who practice governmental finance. Their mission is to provide networking, training, and information sharing to develop and enhance the knowledge, skills and performance of those responsible for local government fiscal policy and management. Read more
Have news or photos to share?
If your city or town was recently featured in the news, has an interesting program or photos of events and travels to share, please send them our way! Story ideas and materials may be submitted to
swomer@azleague.org
.
The League of Arizona Cities and Towns publishes Arizona City & Town semi-annually as a key part of its communication and education programs. This full-color magazine is distributed to nearly 2,000 city and town officials who direct millions of dollars in buying power.

If you are interested in advertising opportunities in Arizona City & Town, point your browser here.
Each day, League staff posts city and town news from around the state on the homepage. We do our best to find articles in local newspapers that highlight municipalities. If you haven't seen the daily news, you may access our website here.
Christina Estes-Werther, League General Counsel

"How long do I retain information posted on the city's website?"

"Do I have to print and save screenshots of the city's Facebook page to comply with a public records request?"

"How do I produce a public record of an elected official's blog post when the town doesn't manage it?"

These were just a few of the questions raised at a recent League training presented by Kathryn Marquoit from the Arizona Ombudsman Citizens' Aide Office and Jerry Lucente-Kirkpatrick from the Arizona State Library, Archives and Public Records. The training provided guidance on how to apply Arizona's public records and retention laws to social media and other emerging technology. Read more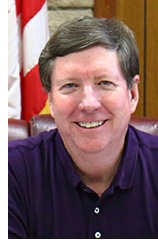 City of Winslow
Incorporated: 1900
Population: 9,655
Elevation: 4,880 ft.
County: Navajo
Area within Limits: 11.2 sq. mi

Name, title & city/town: Robin Boyd, Mayor of Winslow

Year elected to office: Elected to the City Council in May, 1997 to May, 2008, when I was elected as mayor in June of 2008. I've held that position for the last seven years.

Hometown: Tempe, AZ (Harry Mitchell was my government teacher at Tempe High.)

Why did you decide to serve in local government?
While serving on the Winslow Unified School District governing board for seven years, the city was going through a lot of conflict. One council member was recalled and another resigned. I was asked to submit an application to replace the council member that resigned. I did and was selected by the council to replace him. I was hoping to be a calming presence on the council. Read more
Below is a list of training opportunities that may be of interest in the coming months.

GFOAz May Training
Learning to Use U.S. Census Data & Grants Lifecycle Management
May 7, 2015
8:30 a.m. - 3:00 p.m.
Peoria, AZ

ASU Law Presents The Wildfire Menace: Will the West Learn or Burn? How to Learn From History Instead of Repeating it
May 7-8, 2015
Tempe, AZ

Arizona Veteran Supportive Employer
May 13-July 21, 2015
Various locations throughout the state

Arizona City Attorneys (ACAA) Summer Meeting
May 27-29, 2015
Flagstaff, AZ

NLC Congress of Cities
November 4-7, 2015
Nashville, TN

ASU School of Public Affairs
Graduate Information Sessions Available
University Center Building - ASU Downtown Phoenix Campus
Phoenix, AZ

Ramsey Executive Education Program
Management & Leadership Institute
ASU Mercado
Phoenix, AZ

For more information and to register for these events, point your browser here.
For any training sessions that you have missed or cannot attend in the future, be sure to check our YouTube channel to stay in the loop.
---
Cities and towns across Arizona are accomplishing great things - read about cities and towns in the spotlight and their unique ideas to make their communities better by visiting the Arizona Cities @ Work Website. The blog is updated with articles that highlight the unique things happening in cities and towns every day.



League of Arizona Cities and Towns
1820 W. Washington St.
Phoenix, AZ 85007
Phone: 602-258-5786
Fax: 602-253-3874
http://www.azleague.org