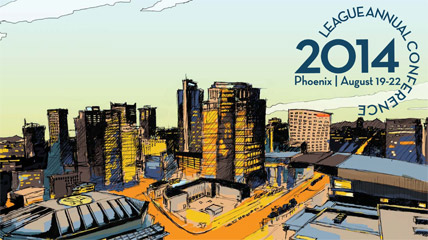 The League thanks this year's attendees and sponsors for helping to make the 2014 Annual Conference in Phoenix a success.

To help us improve our conference, please point your browser here to fill out the 2014 Annual Conference Survey. Thank you in advance for your feedback.

To view the conference program, download session presentations and listen to audio from conference presentations, point your browser here.

Thank you to our sponsors
The Conference would not have been possible without your support. To view the sponsors, point your browser here.

We look forward to seeing you next year!

August 18-21, 2015
JW Marriott Star Pass
Tucson, AZ
Congratulations to those who received the 2014 League Service Award at the Annual Conference in Phoenix! Award recipients were recognized during our Wednesday night dinner at the League Annual Conference. Service Awards are bestowed upon mayors and council members who have served their communities for eight, 12, 16, 20, 28 and 32 years of service. For a full list of the 2014 Service Award recipients, please point your browser here.
Congratulations to the 2014 Gabe Zimmerman Award recipients! The winners were honored during the League Annual Conference Luncheon on Thursday, Aug. 20. The Zimmerman awards are a statewide competition created to recognize those non-elected professional public servants who serve as the critical link between citizens and the people elected to represent them. They are named in honor of Gabrielle Giffords' director of community outreach, who lost his life on Jan. 8, 2011, while serving the citizens of Arizona. Read more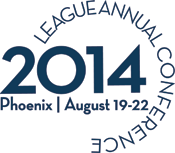 The League honored several Arizona legislators at the Annual Conference for their outstanding public service and dedication to local governance. These legislators are in touch with local leaders, understand the issues and willingly participate in each community within their legislative district. Throughout the legislative session, they are thoughtful advocates for local decision making, consistent mediators between other stakeholders and are respected for their contributions statewide. We thank these legislators for working on behalf of cities and towns during the 2014 legislative session.

To view a full list of the 2014 Legislative Champions and friends, please point your browser here.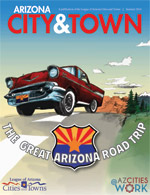 The summer 2014 edition of Arizona City & Town featuring the "Great Arizona Road Trip" is now available!

This edition of the magazine is called the "Great Arizona Road Trip," a feature dedicated to celebrating summer in Arizona's cities and towns. A compilation of some of the best ways to enjoy the outdoors, learn about our state's history and rediscover the beauty and uniqueness of Arizona, the pages of this magazine celebrates Arizona's cities and towns by serving as a guide for the ultimate Arizona "staycation." Read more
Save the Date - Arizona Cities & Towns Week 2014
The League's 13th annual Cities & Towns Week will be October 19 - 25, 2014. This week is set aside each year to recognize the services that cities and towns provide, as well as to honor those who serve at all levels of municipal government.

The League will be sending materials to assist your organization in promoting the annual event.
By: Lisa Soronen, State and Local Legal Center, Washington, D.C.

The State and Local Legal Center (SLLC) files Supreme Court amicus briefs on behalf of the Big Seven national organizations representing state and local governments. Read more
---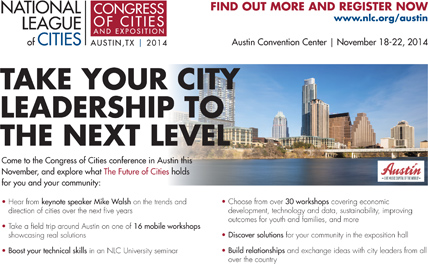 ---
Follow the League on Twitter to receive up-to-date information
Point your browser here
to start connecting with the League.
Each day, League staff posts city and town news from around the state on the homepage. We do our best to find articles in local newspapers that highlight municipalities. If you haven't seen the daily news, you may access our website here.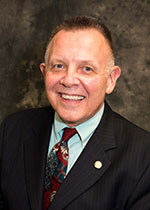 Name, title & city/town: Mayor Michael LeVault, Town of Youngtown
Year elected to office: 2006
Years served as Mayor: 8
Hometown: Chicago Heights, IL

Town of Youngtown
Incorporated: 1960
Population: 6,156
Elevation: 1,150 ft.
County: Maricopa
Area within Limits: 1.12 sq. mi.

Why did you decide to serve in local government?
I have always paid attention to what government is up to. In the past, I had been involved in several legislative and state-wide campaigns as an organizer but never as a candidate. When I moved to Youngtown, I began attending town council meetings paying close attention to the town's deteriorating fiscal condition. Read more
Have news or photos to share?
If your city or town was recently featured in the news, has an interesting program or photos of events and travels to share, please send them our way! Story ideas and materials may be submitted to
swomer@azleague.org
.
Below is a list of training opportunities that may be of interest in the coming months.

Open Data Roadshow
September 4, 2014
8:30 a.m. - 1 p.m.
Mesa Arts Center
Mesa, AZ

Newly Elected Officials Training
December 4-5, 2014
Location and more information to come soon

ASU School of Public Affairs
Graduate Information Sessions Available
University Center Building at the ASU Downtown Phoenix Campus
Phoenix, AZ

Ramsey Executive Education Program
Management & Leadership Institute
ASU Mercado
Phoenix, AZ

For more information and to register for these events, point your browser here.
For any training sessions that you have missed or cannot attend in the future, be sure to check our YouTube channel to stay in the loop.
---
Cities and towns across Arizona are accomplishing great things - read about cities and towns in the spotlight and their unique ideas to make their communities better by visiting the Arizona Cities @ Work Website. The blog is updated with articles that highlight the unique things happening in cities and towns every day.



League of Arizona Cities and Towns
1820 W. Washington St.
Phoenix, AZ 85007
Phone: 602-258-5786
Fax: 602-253-3874
http://www.azleague.org