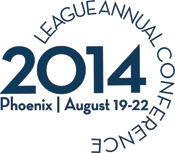 Sheraton Phoenix Downtown
Phoenix, AZ

The 2014 League Annual Conference will be held in Phoenix at the Sheraton Phoenix Downtown, August 19-22.

Hotel and conference registration information is available here.

If you have any questions about the conference, please contact Matt Lore at mlore@azleague.org or 602-258-5786.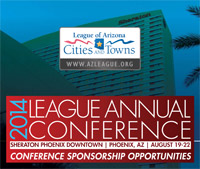 The League of Arizona Cities and Towns offers four levels of sponsorship through its annual conference. For more information on the sponsorship levels and benefits, please point your browser here.

For additional questions, please visit the Sponsor Information Kit or contact Matt Lore at mlore@azleague.org or by phone at 602-258-5786.
The Center for the Future of Arizona has announced that nominations are being accepted for the 2014 Gabe Zimmerman Public Service Awards, a statewide competition created to recognize non-elected public servants who serve as a critical link between citizens and the people elected to represent them. Read more
2014 New Laws Report
The League's 2014 New Laws Report will soon be sent out for use by city and town officials. The report summarizes significant legislation affecting Arizona cities and towns and identifies actions that municipalities may need to take to comply with new statutory law.

The report will be available on the League website and sent to city and town officials in early June.

If you have any questions or comments, please contact any member of the League's legislative staff at 602-258-5786.
League Staff to Travel the State to Give Legislative Update
During the summer months, the League's legislative staff will travel throughout the state to report on events of the second regular session of Arizona's 51st Legislature.

Legislative and league staff will deliver presentations to elected officials, municipal staff and other interested parties. A full schedule will be included in the June edition of the League Connection E-Newsletter.

If you would like the League to visit your city or town for a presentation, please contact the League Offices at 602-258-5786.
Follow the League on Twitter to receive up-to-date information
Point your browser here
to start connecting with the League.
Guidelines and applications are now available for the Arizona Office of Tourism's FY15 Marketing Cooperative program.

Over the last couple of years, AOT's co-op program has become an important tool for Destination Marketing Organizations (DMOs) to enhance their overall marketing programs. Designed for rural Arizona destinations to attract visitors from major metropolitan areas, the program features a media plan with a variety of options including online, print, outdoor, and AOT publications. Trade and media opportunities will also continue to be available. New to this year's program is a visitor intercept study, which can provide communities with valuable data about visitor activity in their area. Read more

As part of our commitment to professional development, NLC University is excited to partner with top universities to provide our members - including state municipal league staff - with opportunities to earn graduate degrees online. Any elected official or municipal employee from an NLC member city or staff from an NLC member state league who is accepted into and enrolls in either the University of North Carolina School of Government's online Master of Public Administration (MPA) program or the online Master of Public Health (MPH) program from the George Washington University Milken Institute School of Public Health (MISPH) will receive a $5,000 academic award to help finance their education. Read more
The League of Arizona Cities and Towns publishes Arizona City & Town semi-annually as a key part of its communication and education programs. This full-color magazine is distributed to nearly 2,000 city and town officials who direct millions of dollars in buying power.

If you are interested in advertising opportunities in Arizona City & Town, point your browser here.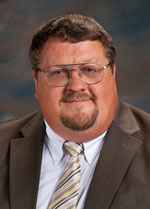 Name, title & city/town: Mayor Chris Gibbs of Safford
Year elected to office: 2010
Years served as Mayor: 4

City of Safford
Incorporated: 1901
Population: 9,566
Elevation: 2,900 ft.
County: Graham
Area within Limits: 6.2 sq. mi.

Why did you decide to serve in local government?
A 23-year US Air Force career emphasized serving for the common good and I had a desire to continue my service to others. Public service is both a personal need and a privilege in my life. Read more
Have news or photos to share?
If your city or town was recently featured in the news, has an interesting program or photos of events and travels to share, please send them our way! Story ideas and materials may be submitted to
swomer@azleague.org
.
Below is a list of training opportunities that may be of interest in the coming months.

Arizona City Government 101: What Every Municipal Official Needs to Know
June 6, 2014
Mesa Convention Center
Mesa, AZ

Water Reuse 2014 Conference
June 20, 2014
Yavapai College
Prescott, AZ

ACMA 2014 Summer Conference
July 23-25, 2014
Dove Mountain
Marana, AZ

GFOAz 2014 Summer Conference
August 6-8, 2014
Westin La Paloma
Tucson, AZ

League of Arizona Cities and Towns 2014 Annual Conference
August 19-22, 2014
Sheraton Phoenix Downtown
Phoenix, AZ

ASU School of Public Affairs
Graduate Information Sessions Available
University Center Building at the ASU Downtown Phoenix campus
Phoenix, AZ

Ramsey Executive Education Program
Management & Leadership Institute
ASU Mercado
Phoenix, AZ

For more information and to register for these events, point your browser here.
For any training sessions that you have missed or cannot attend in the future, be sure to check our YouTube channel to stay in the loop.
---
Cities and towns across Arizona are accomplishing great things - read about cities and towns in the spotlight and their unique ideas to make their communities better by visiting the Arizona Cities @ Work Website. The blog is updated with articles that highlight the unique things happening in cities and towns every day.



League of Arizona Cities and Towns
1820 W. Washington St.
Phoenix, AZ 85007
Phone: 602-258-5786
Fax: 602-253-3874
http://www.azleague.org