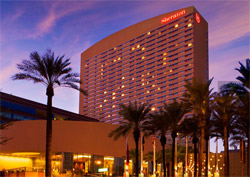 As we start to gear up for the 2014 League Annual Conference, we are seeking your input for conference session topics, speakers and events. If you have ideas or suggestions, please forward them to Matt Lore at mlore@azleague.org.

Mark your calendars for the 2014 conference that will be August 19 -22 at the Sheraton Phoenix Downtown.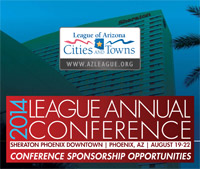 The League of Arizona Cities and Towns offers four levels of sponsorship through its annual conference. For more information on the sponsorship levels and benefits, please point your browser here.

For additional questions, please visit the Sponsor Information Kit or contact Matt Lore at mlore@azleague.org or by phone at 602-258-5786.
The League has created a city/town data sheet with facts, information and statistics about the 91 cities and towns in Arizona. We have provided this information in an excel format so the data can be utilized for research and information gathering purposes.

Download the document here.

This is a living document that will continue to be updated. If you have any questions or recommend any changes to the information, please contact us at league@azleague.org.

The 2014 Local Government Directory is now available and complimentary copies of the annual directory have been mailed to all member cities and towns.

As a reminder, in addition to the hard copy directory, the League also has an online version of the directory, which is updated throughout the year. To view the online directory, please point your browser here.

The winter 2014 edition of Arizona City & Town focusing on the city of Tolleson is now available. Copies have been mailed to all cities and towns. If you did not receive a copy or would like additional copies, please contact the League and we will mail them to you. To view a copy of the magazine, point your browser here.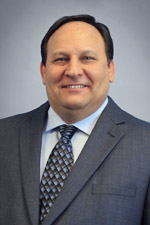 Lee Grafstrom has joined the League of Arizona Cities and Towns as the new Tax Policy Analyst. Lee previously worked as the Tax Audit Supervisor for the city of Chandler and brings extensive knowledge on tax issues, especially the Model City Tax Code. Lee will serve as the League's leading representative with the state Department of Revenue to implement the provisions of HB2111, the TPT (Sales Tax) Reform bill, from the 2013 session. In addition, Lee will serve as a resource to all 91 cities and towns on questions pertaining to tax law, budget and finance. If you have questions in these areas, do not hesitate to contact him at lgrafstrom@azleague.org or 602-258-5768.
The second regular session of Arizona's 51st Legislature commenced on January 13, 2014.

Throughout the 2014 legislative session, the League offers a full suite of services and publications to assist Arizona cities and towns in communicating more effectively with their legislative delegation in monitoring issues that affect Arizona communities. Read more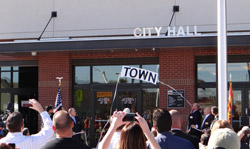 Congratulations to the City of Buckeye, who officially transitioned from a town to a city this month! More than 200 people helped the city celebrate its new title and city officials unveiled the "City" portion of the new city hall sign in downtown Buckeye. To learn more go to www.buckeyeaz.gov.
Congratulations to the many Arizona mayors, vice mayors and councilmembers who will be representing their cities and towns at the national level. Listed below are individuals who have been appointed to serve on the organization's committees and advisory councils. Read more
Each day, League staff posts city and town news from around the state on the homepage. We do our best to find articles in local newspapers that highlight municipalities. If you have a great story from your local paper that you would share, please send it to swomer@azleague.org. If you haven't seen the daily news, you may access our website here.
Follow the League on Twitter to receive up-to-date information
Point your browser here
to start connecting with the League.
National League of Cities Update

If you are planning on going to the March NLC Conference, point your browser to the link below for information on Arizona specific events.
Arizona Events at 2014 NLC Congressional City Conference

Driving Change: A Bold New Approach; Clarence Anthony's Three Year Strategic Plan
A Letter from NLC Executive Director Clarence Anthony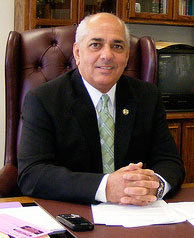 Name, title & city/town: Arturo R. Garino, Mayor, City of Nogales
Year elected to office: 2010
Years served as Mayor: 3
Hometown: Nogales, Arizona

City of Nogales
Incorporated: 1893
Population: 20,837
Elevation: 3,865 ft.
County: Santa Cruz
Area within Limits: 20.25 sq. mi.

Why did you decide to serve in local government?
I was born and raised in Nogales and felt there was a commitment on my part to give back to the community. With my knowledge and experience in other levels of city government, I knew that I could make a difference in helping improve the quality of life for members of our community. Read more
Have news or photos to share?
If your city or town was recently featured in the news, has an interesting program or photos of events and travels to share, please send them our way! Story ideas and materials may be submitted to
swomer@azleague.org
.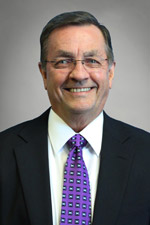 By William Bock, General Counsel, League of Arizona Cities and Towns

Jan. 2014

Recently I was asked by a city in Arizona if I could give them some ideas as to what they can do as a city to provide economic incentives to developers to get them to build projects in their community.

After the economic downturn, most everyone has been trying to survive dwindling budgets, cutbacks, layoffs, furloughs, and the like. Not much attention has been paid to development, because there hasn't been any. Read more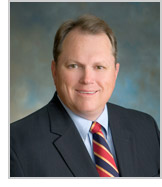 Scott Smith
USCM President and City of Mesa Mayor

Each January, the U.S. Conference of Mayors gathers in Washington, D.C. for the annual winter meeting. We meet in Washington, D.C. so we can interact with Congressional Leaders, White House officials, and Cabinet Secretaries to discuss issues, develop relationships, develop objectives and lobby Washington on behalf of America's cities. Read more
Below is a list of training opportunities that may be of interest in the coming months.

Urban Land Institute Trends Day
Wednesday, Feb. 19, 2014
7:30 a.m. - 4:00 p.m.
Sheraton Phoenix Downtown
Phoenix, AZ

Elections Training
Thursday, March 6, 2014
9:00 a.m. - 4:00 p.m.
Rio Vista Community Center
Peoria, AZ

Water Resources Research Center 2014 Annual Conference
Tuesday, April 8, 2014
10:00 a.m. - Noon
The University of Arizona Student Union Memorial Center
Tucson, AZ

ASU Annual Public Finance Conference
May 8 - 9, 2014
Phoenix Convention Center
Phoenix, AZ

ASU School of Public Affairs
Graduate Information Sessions Available
University Center Building at the ASU Downtown Phoenix campus
Phoenix, AZ

Ramsey Executive Education Program
Management & Leadership Institute
ASU Mercado
Phoenix, AZ

League Executive Committee Meetings
For upcoming meeting information or past meeting minutes, point your browser here.

For more information and to register for these events, point your browser here.
For any training sessions that you have missed or cannot attend in the future, be sure to check our YouTube channel to stay in the loop.
---
Cities and towns across Arizona are accomplishing great things - read about cities and towns in the spotlight and their unique ideas to make their communities better by visiting the Arizona Cities @ Work Website. The blog is updated with articles that highlight the unique things happening in cities and towns every day.



League of Arizona Cities and Towns
1820 W. Washington St.
Phoenix, AZ 85007
Phone: 602-258-5786
Fax: 602-253-3874
http://www.azleague.org