Thank you to all of the municipalities that celebrated cities and towns last week! This week is set aside each year to recognize the services that cities and towns provide, as well as to honor those who serve at all levels of municipal government. Cities and Towns Week was held October 20-26, and many cities held events or issued proclamations to celebrate. Read more
The League honored several legislators at the Annual Conference in August for their outstanding public service and dedication to local governance.

For those unable to attend the Annual Conference or those wishing to accept the awards within their districts, the League of Arizona Cities and Towns visited several council meetings to award these legislators with their Friends and Champions Awards. Read more
The League of Arizona Cities and Towns publishes Arizona City & Town semi-annually as a key part of its communication and education programs. This full-color magazine is distributed to nearly 2,000 city and town officials who direct millions of dollars in buying power.

If you are interested in advertising opportunities in Arizona City & Town, point your browser here.
Follow the League on Twitter to receive up-to-date information
Point your browser here
to start connecting with the League.
Each day, League staff posts city and town news from around the state on the homepage. We do our best to find articles in local newspapers that highlight municipalities. If you haven't seen the daily news, you may access our website here.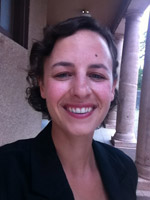 Name, title & city/town: Nikki Check, Town of Jerome, Arizona
Year elected to office: 2012
Years served as Mayor: 1 1/2 years
Hometown: Prescott, Arizona

Town of Jerome
Incorporated: 1899
Population: 444
Elevation: 5,435 ft.
County: Yavapai
Area within Limits: 1.5 sq. mi.

Why did you decide to serve in local government?
Jerome, having a volunteer council and being a perennial hotbed of issues, generally does not have a long line of folks wanting to serve on council or its various boards. In the truest form of democracy, I was asked by several long-term residents to please consider being on council. Surprisingly, when I ran for the first time after serving an interim council appointment for 3 months, I received the most votes and was appointed as Mayor. Though I did not begin with a burning desire to serve in local government, it has become a wonderful and engaging part of my life. Read more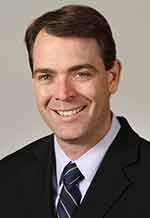 By: William Bock, General Counsel, League of Arizona Cities and Towns

Oct. 2013

Andrew McGuire was just elected president of the Arizona City Attorney's Association (ACAA). The ACAA is an association of all municipal attorneys in the state of Arizona-both in-house attorneys, as well as attorneys representing cities and towns on a contract. The ACAA has an annual conference where city and town attorneys can get together and discuss current municipal legal issues, and get CLE credits. The ACAA also has a roundtable discussion at the Annual League of Cities and Towns Conference.

As Andrew begins his year-long term as president, we asked him some questions. Read more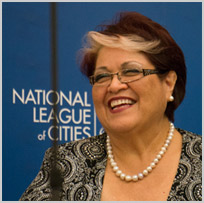 NLC President Marie Lopez Rogers

This new section of the newsletter will include updates from National League of Cities President and Avondale Mayor Marie Lopez Rogers as she works in Washington D.C. and travels the U.S. promoting municipal issues. The articles below will feature monthly highlights and updates.

2014 NLC Nominating Committee Includes Two Arizona Representatives

City Fiscal Conditions in 2013

"Communities are Assets to Be Built on"

Arizona Reception at NLC Conference in Seattle
We hope you will be able to join the League of Arizona Cities and Towns for our special state-specific reception to be held on Friday evening, November 15. Read more
Have news or photos to share?
If your city or town was recently featured in the news, has an interesting program or photos of events and travels to share, please send them our way! Story ideas and materials may be submitted to
swomer@azleague.org
.
Below is a list of training opportunities that may be of interest in the coming months.

Arizona Municipal Clerks' Association Fall Training City/Town Clerk Best Practices
Fountain Hills Community Center
Fountain Hills, AZ
November 14, 2013

Arizona Passenger Rail Conference
Tucson Marriott University Park
Tucson, AZ
November 14-15, 2013

Rising out of the Ashes: Land Development Post-Recession
Co-Sponsored by the State Bar of Arizona Public Lawyers Section
McAuliffe CLE Center
Phoenix, AZ
November 15, 2013

ASU School of Public Affairs
Graduate Information Sessions Available
University Center Building at the ASU Downtown Phoenix campus
Phoenix, AZ

Ramsey Executive Education Program
Management & Leadership Institute
ASU Mercado
Phoenix, AZ

For more information and to register for these events, point your browser here.
For any training sessions that you have missed or cannot attend in the future, be sure to check our YouTube channel to stay in the loop.
---
Cities and towns across Arizona are accomplishing great things - read about cities and towns in the spotlight and their unique ideas to make their communities better by visiting the Arizona Cities @ Work Website. The blog is updated with articles that highlight the unique things happening in cities and towns every day.



League of Arizona Cities and Towns
1820 W. Washington St.
Phoenix, AZ 85007
Phone: 602-258-5786
Fax: 602-253-3874
http://www.azleague.org