October 20-26, 2013

This week is set aside each year to recognize the services cities and towns provide, as well as honor those elected officials, staff and volunteers who serve in municipal government.

If you plan to participate in Arizona Cities & Towns Week or will be hosting any events during the week, please let us know! We would love to hear about the ways you are promoting this week dedicated to celebrating our cities and towns. Read more
Annual Conference Wrap-Up
The League thanks this year's attendees and sponsors for helping to make the 2013 Annual Conference in Oro Valley a success.

To help us improve our conference, please point your browser here to fill out the 2013 Annual Conference Survey. Thank you in advance for your feedback.

To download conference presentations, speaker bios or an attendee list, point your browser here.

To view the conference sponsors, point your browser here.

To view and purchase photos from the event, point your browser here.

We look forward to seeing you next year!
Congratulations to those who received the 2013 League Service Award at the Annual Conference in Oro Valley! Award recipients were recognized during our Thursday night dinner at the League Annual Conference. Service Awards are bestowed upon mayors and council members who have served their communities for 8, 12, 16, 20, 28 and 32 years of service. For a full list of the 2013 Service Award recipients, please point your browser here.
The National Civic League (NCL) today announced the 2014 All-America City Award will spotlight healthy communities. The year-round program will culminate in a multi-day peer learning forum and competition for civic activists and community problem-solvers to be held June, 2014 in Denver, Colorado.

"We're very excited about the spotlight on healthy communities," said NCL President Gloria Rubio-Cortes. "It will highlight the important issues of our time and how people come together to address health issues." Read more
The League of Arizona Cities and Towns publishes Arizona City & Town semi-annually as a key part of its communication and education programs. This full-color magazine is distributed to nearly 2,000 city and town officials who direct millions of dollars in buying power.

If you are interested in advertising opportunities in Arizona City & Town, point your browser here.
Follow the League on Twitter to receive up-to-date information
Point your browser here
to start connecting with the League.
Each day, League staff posts city and town news from around the state on the homepage. We do our best to find articles in local newspapers that highlight municipalities. If you haven't seen the daily news, you may access our website here.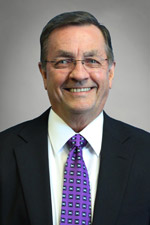 By: William Bock, General Counsel, League of Arizona Cities and Towns

September 2013

You have probably heard that Arizona is a "Property Rights" state. I'm not exactly sure what that means, but I guess that means that our citizens want to protect their property rights. In my experience in the legal world it means that people assert their rights vigorously, especially if government is trying to interfere with those rights.

But what are those rights? Read more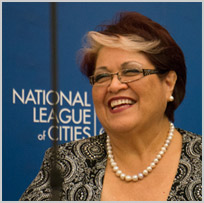 NLC President Marie Lopez Rogers

This new section of the newsletter will include updates from National League of Cities President and Avondale Mayor Marie Lopez Rogers as she works in Washington D.C. and travels the U.S. promoting municipal issues. The articles below will feature monthly highlights and updates.

Leadership Opportunities with National League of Cities

4 Ways Cities are Putting Innovative Ideas into Action

Cities Lead: Recipes for Local Success

NLC Congress of Cities Ad

Read more
Have news or photos to share?
If your city or town was recently featured in the news, has an interesting program or photos of events and travels to share, please send them our way! Story ideas and materials may be submitted to
swomer@azleague.org
.
Below is a list of training opportunities that may be of interest in the coming months.

Taking your Grant Research & Writing Skills to the Next Level
HOPE VI Emmett McLoughlin Community Training and Education Center
Phoenix, AZ
October 4, 2013

ASU School of Public Affairs
Graduate Information Sessions Available
University Center Building at the ASU Downtown Phoenix campus
Phoenix, AZ

National League of Cities Congress of Cities and Exposition Conference
Seattle, WA
November 13 - 16, 2013

Ramsey Executive Education Program
Management & Leadership Institute
ASU Mercado
Phoenix, AZ

For more information and to register for these events, point your browser here.
For any training sessions that you have missed or cannot attend in the future, be sure to check our YouTube channel to stay in the loop.
---
Cities and towns across Arizona are accomplishing great things - read about cities and towns in the spotlight and their unique ideas to make their communities better by visiting the Arizona Cities @ Work Website. The blog is updated with articles that highlight the unique things happening in cities and towns every day.



League of Arizona Cities and Towns
1820 W. Washington St.
Phoenix, AZ 85007
Phone: 602-258-5786
Fax: 602-253-3874
http://www.azleague.org