| | |
| --- | --- |
| | A Look at the Past |




Happy Holidays from the League!
The League would like to wish you happy holidays and a prosperous New Year.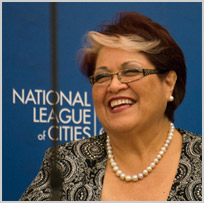 During the NLC Congress of Cities in Boston, Avondale Mayor and League Executive Committee Member Marie Lopez Rogers was elected the NLC president. Mayor Lopez Rogers is the first Latina NLC president and the first Arizonan to hold the position in nearly 25 years. Lopez Rogers served on the NLC Board of Directors from 2001-2003 and was elected as the organization's second vice president in 2010. She is past president of Women in Municipal Government and Hispanic Elected Local Officials, both NLC constituency groups. As NLC president, Mayor Lopez Rogers will work to promote municipal issues and draw more attention to Western issues. Read more

The 2013 legislative session is rapidly approaching. The first regular session of Arizona's 51st Legislature is scheduled to commence on January 14, 2013. On that same day, Governor Brewer will deliver her State of the State address from the floor of the House of Representatives.

Throughout the session, the League will offer a full suite of services and publications to assist Arizona cities and towns in communicating more effectively with their legislative delegation and in monitoring issues that affect Arizona communities. Read more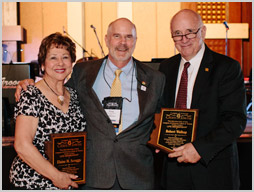 Life membership in the League of Arizona Cities and Towns is the highest honor that can be paid to any city or town official by the League. Life membership is bestowed by resolution of League conference delegates. There are only 17 individuals that have received life membership in the League. Read more


2013 Calendars and Legislative Posters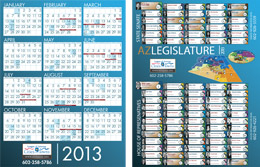 The 2013 calendars and legislative posters will be available soon. Copies will be sent to all cities and towns. Included in the legislative poster are pictures and the e-mail addresses of all legislators for your reference.


League's 75th Anniversary: A Look at the Past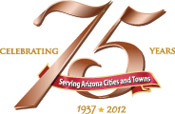 Interesting fact

League activities are directed by a 25-member Executive Committee, consisting of mayors and councilmembers from across the state. This governing structure remains intact from the very early years of the League, though the size of the committee has changed. In the 1940s, there were eight members and three officers. By 1979, this number had increased to 22 members and three officers, which remains in place today.


Follow us on Twitter!
Follow the League on Twitter to receive up-to-date information.
Point your browser here
to start connecting with the League.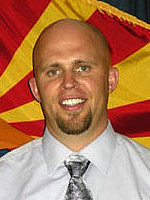 Name & city/town:
Bryce Hamblin
Mayor, Town of Eagar

Year elected to office: 2012
Years served as Mayor: Newly elected as of June 2012
Hometown: Eagar, AZ

Incorporated: 1948
Population: 4,885 (2010 census)
Elevation: 7,090 ft.
County: Apache
Area within Limits: 15 sq. mi.

Why did you decide to serve in local government?
Eagar is my home town. As an attorney and father of a growing family with deep roots in the area, I have a vested interest in both wanting to preserve Eagar's heritage and comfortable small town feel while also helping it grow and prosper. In deciding to run for mayor, my hope was that by employing my familiarity with our community's people and heritage along with my business background, I could contribute toward both of these goals. Read more


Have news or photos to share?
If your city or town was recently featured in the news, has an interesting program or photos of events and travels to share, please send them our way! Story ideas and materials may be submitted to

aprice@azleague.org

.


Below is a list of training opportunities that may be of interest in the coming months.

League Legislative 101: How to Build Relationships and Make an Impact at the State Capitol
Friday, January 18, 2013
League of Arizona Cities and Towns, Room 101
Phoenix, AZ

2013 PACE Conference on Civic Engagement
February 7, 2013
Peoria, AZ

The Arizona Citizen Planner 101
Please see website for dates
University of Arizona's Cooperative Extension

Ramsey Executive Education Program
Management & Leadership Institute
Please see website for dates
ASU Mercado
Phoenix, AZ

National League of Cities Congressional City Conference
March 10-13, 2013
Marriott Wardman Park Hotel
Washington, DC

Read more

For any training sessions that you have missed or cannot attend in the future, be sure to check our YouTube channel to stay in the loop.

The Verde Valley was recently listed as Lonely Planet's Top 10 U.S. travel destinations for 2013. According to The Bugle, Lonely Planet's U.S. travel editor easily chose the Verde Valley because in the last decade or so the wineries have given folks a new reason to be going there. Additionally, it's a nice place for people to visit after the Grand Canyon. Read more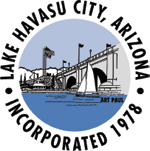 Travel and Leisure magazine recently noted the London Bridge in Lake Havasu City as one of the world's strangest bridges. The reason this bridge is unique is that it originally spanned across the River Thames in London, England. However, in 1968, the bridge was taken apart piece by piece and then transported to Lake Havasu City where it stands today. To view all bridges that made the list, point your browser here.



League of Arizona Cities and Towns
1820 W. Washington St.
Phoenix, AZ 85007
Phone: 602-258-5786
Fax: 602-253-3874
http://www.azleague.org