The League's 11th annual Cities & Towns Week will be October 22-26, 2012. This week is set aside each year to recognize the services that cities and towns provide, as well as to honor those who serve at all levels of municipal government. If your city or town is interested in participating, there are materials included below to assist you in organizing an event and promoting it to the media. Read more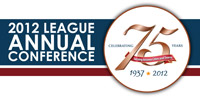 The League thanks this year's attendees and sponsors for helping to make the 2012 Annual Conference in Scottsdale a success. Point your browser here to access conference presentations and audio recordings, surveys, photos, and sponsors.

Members of the League of Arizona Cities and Towns selected two new members for its policy-making Executive Committee at the organization's annual conference in Scottsdale, Ariz. They are: John Lewis, mayor of Gilbert; and Ed Honea, mayor of Marana.

Point your browser here to see the attached release for more information, including the election of officers and other members re-elected for two-year terms on the League Executive Committee.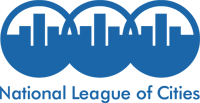 Be sure not to miss this year's National League of Cities, Congress of Cities and Exposition, November 28 - December 1, 2012 in Boston. During the Congress of Cities and Exposition, Avondale Mayor and League Executive Committee Member Marie Lopez Rogers will assume the Presidency of the National League of Cities. In addition, the conference will offer a range of learning and networking opportunities to city officials including mobile tours highlighting successful programs from the city of Boston, along with the traditional keynote speakers, workshops and peer networking sessions. Point your browser here to visit the National League of Cities website to learn more about the conference topics, exhibiting, and to register. Read more


Follow us on Twitter!
Follow the League on Twitter to receive up-to-date information.
Point your browser here
to start connecting with the League.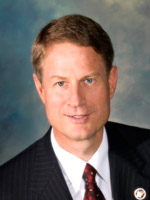 Name & city/town:
John W. Lewis
Mayor, Town of Gilbert

Year elected to office: 2009

Years served on Executive Committee: New member of the Executive Committee as of August 2012

Hometown: Provo, Utah

Why did you decide to serve in local government?
The town of Gilbert's website focuses on three important words: "A Service Organization." City/town elected officials understand that when we run for office we are offering our time and talents to join great service teams. Gilbert is an example of an outstanding group of public servants who give their all to provide core services to a community in an efficient, cost-effective, and customer service friendly way. You might say that I decided to run for mayor to have a chance to participate in a service-opportunity of a lifetime! Read more


League's 75th Anniversary: A Look at the Past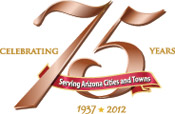 Interesting fact

When former League Executive Director Jack DeBolske retired in 1997, his tenure as director spanned 40 years - the second longest tenure as a director in municipal league history. The only director to have served longer is Franklin G. Pierce of the Iowa league, who served as director from that league's founding in 1898 until 1946.


Have news or photos to share?
If your city or town was recently featured in the news, has an interesting program or photos of events and travels to share, please send them our way! Story ideas and materials may be submitted to

aprice@azleague.org

.


Below is a list of training opportunities that may be of interest in the coming months.

The Arizona Citizen Planner 101
Please see website for dates
University of Arizona's Cooperative Extension

Ramsey Executive Education Program
Management & Leadership Institute
Please see website for dates
ASU Mercado, Phoenix

Growth & Infrastructure Consortium
October 3-5, 2012
Georgian Terrace Hotel, Atlanta, GA

International City/County Management Association (ICMA) 98th Annual Conference
October 7-10, 2012
Phoenix Convention Center, Phoenix

Arizona's Digital Connections Summit 2012: Strategy To Action
November 13, 2012
Mesa Convention Center, Mesa

National League of Cities, Congress of Cities and Exposition
November 28 - December 1, 2012
Boston Convention & Exhibition Center, Boston, MA

ULI: The Annual Boards and Commissions Conference
December 7, 2012
Black Canyon Conference Center, Phoenix

Read more

For any training sessions that you have missed or cannot attend in the future, be sure to check our YouTube channel to stay in the loop.

"An International Celebration" - that's the theme of the second annual exciting, family-focused celebration planned for Saturday, February 16, 2013 at Estrella Mountain Community College. Save the date, vendors, businesses, community groups and organizations are invited to participate! Point your browser here to read more about the festival and parade, to fill out a parade entry form, or to fill out sponsorship or exhibitor applications.

Chandler and Gilbert have both ranked in the top 100 best places to live in 2012, according to CNN and Money Magazine. Gilbert came in at No. 33 and Chandler followed at No. 50. To read more, point your browser here. To view the top 100 list, point your browser here.



The city of Chandler's website has been named a 2012 finalist in the annual "Best of the Web" and Digital Government Achievement Awards by e.Republic's Center for Digital Government. To read more, point your browser here. The Best of the Web Awards (BOW) contest has recognized excellence of official Web portals of United States cities, counties and states for the past 15 years. To read more about the Center for Digital Government or the results of the 2012 Best of the Web and Digital Government Achievement Awards, point your browser here.

America's Promise Alliance has named Scottsdale and Flagstaff among the "100 Best Communities for Young People." This year, more than 320 communities from all 50 states, Washington, D.C., Puerto Rico and the U.S. Virgin Islands were nominated for the "100 Best" distinction. The winners are a diverse group, ranging from small communities like Lamoni, Iowa, to large cities like New York City. To view a list of all 2012 winners point your browser here.



League of Arizona Cities and Towns
1820 W. Washington St.
Phoenix, AZ 85007
Phone: 602-258-5786
Fax: 602-253-3874
http://www.azleague.org