75 Years: Building on the Past, Preparing for the Future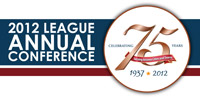 Tuesday, August 28 - Friday, August 31, 2012
Hyatt Gainey Ranch
Scottsdale, AZ

Final Program
To view a copy of the complete final program with full names and descriptions, point your browser here.

To view the one page conference-at-a-glance, point your browser here.

Mobile App
New this year, the League has created a mobile app so you can view the conference agenda on your phone or iPad. Look for the app in your mobile device's app store by searching for "2012 AZ League Conference," clicking here

from your mobile device

, or scanning the QR code in the "General Information" section of the full conference program.

Registration
Online registration is now closed. Any registrations received will be processed on site.

On-site registration will open at 9:30 a.m. on Tuesday, August 28. Registration will be in the Arizona/Vaquero Foyer of the Hyatt Gainey Ranch. Read more

The League congratulates its 2012 Service Award recipients, who will be recognized during our Thursday night dinner at the League Annual Conference next week. Service Awards are bestowed upon those mayors and council members who have served their communities for eight years, 12 years, 16 years, 20 years and every four-year increment thereafter. For a full list of the 2012 Service Award recipients, please point your browser here.

The League will honor several legislators on Thursday, August 30 for their outstanding public service and dedication to local governance. These legislators are in touch with local leaders, understand the issues, and willingly participate in each community within their legislative district. Throughout the legislative session they are thoughtful advocates for local decision making, consistent mediators between other stakeholders, and are respected for their contributions statewide. We thank these legislators for working on behalf of cities and towns during the 2012 legislative session.

To view a full list of League Heroes, please point your browser here.

The Gabe Zimmerman Award recipients will be honored during the luncheon on Thursday, August 30. The Zimmerman awards were a statewide competition created to recognize those non-elected professional public servants who serve as the critical link between citizens and the people elected to represent them. They are named in honor of Gabrielle Giffords' director of community outreach, who lost his life on January 8, 2011, while serving the citizens of Arizona. To view a full list of award recipients, please point your browser here.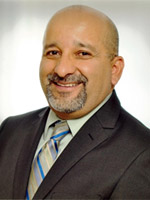 Name & city/town:
Danny Ortega, Mayor, Douglas

Year elected to office: June 2012
Years served as Mayor: June 2012 - Present
Hometown: Douglas, Arizona

Why did you decide to serve in local government?
My family has been actively involved in Douglas since 1923 and having served on the school board for 12 years and the Lions Club for more than 20 years, I see the need for positive community involvement. I have become familiar with the strengths of our community and hope to maximize those, as well as looking at our weaknesses and improving upon them. Read more


Follow us on Twitter!
Follow the League on Twitter to receive up-to-date information.
Point your browser here
to start connecting with the League.
League's 75th Anniversary: A Look at the Past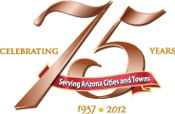 Interesting fact

There has been at least one annual meeting of the League members since the organization's inception, save the WWII years of 1942-1946, during which time conventions were banned by the Federal Office of Defense Transportation. A tally of the League's records indicates that 85 semi-annual or annual conferences have been held.

By Joni Hoffman, League General Counsel

As a result of recent legislation, some city and town council members are facing the possibility that their terms could be cut short by approximately six months. How is that possible and would it even be legal? The answer is the subject of a recent General Counsel opinion issued by the League.

During the 2012 legislative session, H.B. 2826 was passed that requires, beginning in 2014, most city and town candidate elections to be held in the fall of even-numbered years. Depending on when a city or town currently holds its regular candidate elections, cities and towns may have to decide whether to shorten the terms of office of duly elected council members or allow council members to serve beyond the normal ending date for their terms of office. Read more


Have news or photos to share?
If your city or town was recently featured in the news, has an interesting program or photos of events and travels to share, please send them our way! Story ideas and materials may be submitted to

aprice@azleague.org

.


Below is a list of training opportunities that may be of interest in the coming months.

Arizona SciTech Festival Kickoff Conference
September 10, 2012
ASU Skysong

Ramsey Executive Education Program
Management & Leadership Institute
Please see website for dates
ASU Mercado, Phoenix

Arizona Town Hall Forum
September 13, 2012
Central High School, Phoenix

Growth & Infrastructure Consortium
October 3-5, 2012
Georgian Terrace Hotel, Atlanta, Georgia

International City/County Management Association (ICMA) 98th Annual Conference
October 7-10, 2012
Phoenix Convention Center

ULI: The Annual Boards and Commissions Conference
December 7, 2012
Black Canyon Conference Center, Phoenix

Read more

For any training sessions that you have missed or cannot attend in the future, be sure to check our YouTube channel to stay in the loop.



League of Arizona Cities and Towns
1820 W. Washington St.
Phoenix, AZ 85007
Phone: 602-258-5786
Fax: 602-253-3874
http://www.azleague.org