75 Years: Building on the Past, Preparing for the Future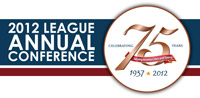 August 28-31, 2012
Hyatt Gainey Ranch
Scottsdale, AZ

We look forward to seeing you at the League's Annual Conference. It is shaping up to be a great event in Scottsdale. To view the agenda and variety of concurrent workshops and sessions planned for the League of Arizona Cities and Towns Annual Conference in Scottsdale, point your browser here. Read more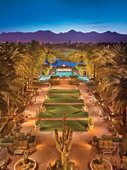 Please Note: You MUST be registered for the full conference in order to reserve a room at the Scottsdale Hyatt Gainey Ranch. Only one hotel room per registrant will be allowed. This special conference rate is available through Monday, July 30. To reserve your hotel room, please proceed to the conference registration page.

*The conference host hotel is currently sold out. To be placed on a waiting list, please call the League at 602-258-5786. If a room opens up, we will contact you with availability. Read more

Youth delegates from your city or town are invited to join us at the 7th Annual League Youth Program to be held during the Conference, Wednesday, August 29. Attendees will participate in their own sessions and activities, and will also have the opportunity to interact with local elected officials.

To learn more about this program and to register, point your browser here.

Space is limited, so please be sure to register your youth councils before the Monday, August 6th deadline!

The 2012 Showcase of Cities and Towns will be held on Wednesday, August 29 at the Hyatt Gainey Ranch. This is traditionally the most popular event at the Annual Conference. A 23-year tradition, it is truly a unique and special event - one of a kind in the nation. Please make sure to register and reserve your spot. We would also like to invite each city and town with a municipal flag to join in the Opening General Session 13th Annual Parade of Flags.

Point your browser here to register for the Showcase of Cities and Towns and/or Parade of Flags.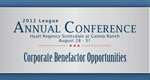 Sponsorship opportunities are still available for the League of Arizona Cities and Towns Annual Conference. The League offers four levels of sponsorship through its annual conference. For more information on the sponsorship levels and benefits available, please point your browser here.


Follow us on Twitter!
Follow the League on Twitter to receive up-to-date information.

Point your browser here

to start connecting with the League.


Recently, the League of Arizona Cities and Towns Executive Committee passed a Resolution of Support for Arizona's Port of Entry with Mexico. This resolution, from the Maricopa Association of Governments (MAG), is intended to communicate to federal policymakers the importance of streamlining commercial traffic across the Arizona border crossing. For more information about the resolution, point your browser here.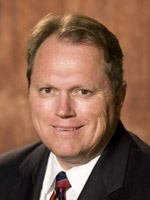 Mesa Mayor Scott Smith was elected U.S. Conference of Mayors Vice President this month. The election was held during the Conference's 80th annual meeting in Orlando, Florida. Mayor Smith will become the organization's president next year and the first Arizona mayor to serve as president of the organization. Also taking office was Philadelphia Mayor Michael Nutter as President. Read more


League's 75th Anniversary: A Look at the Past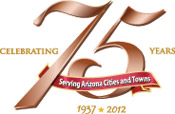 Interesting fact

The League of Arizona Cities and Towns was originally called the "Arizona Municipal League." In 1957, then League President Don Hummel, mayor of Tucson, led a successful effort to change the organization's name.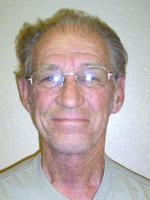 Bob Burnside, Mayor of Camp Verde

My name is Bob Burnside and I'm fortunate to be the current mayor of the town of Camp Verde in Yavapai County. Camp Verde town limits cover 42 square miles, include 18 miles of the Verde River and about 11,000 residents. Some of our residents are members of the Yavapai Apache Nation and proud owners and operators of Cliff Castle Casino, voted number 1 in Arizona for the 13th year. Fort Verde State Park is situated in our town center and provides insight into the history of territorial Arizona. Montezuma Castle, a national monument, takes visitors back to the days of the Sinagua, who were the original farmers along the banks of Beaver Creek and the Verde, a tradition that continues into the present day. Read more

By Joni Hoffman, League General Counsel

During the 2011 legislative session, S.B. 1318 was enacted that changed how vacancies on a general law city or town council, including the office of mayor, will be filled. Before the law was passed, a city or town council could fill a vacancy by either appointing someone to serve until the term expired or appointing someone to serve until the next regularly scheduled city or town election. S.B. 1318 changed that law to require that the person may only serve until the next regularly scheduled election unless the vacancy occurs too close to the time that nomination petitions are due for the next regularly scheduled election. The sponsor of the bill, Senator Gail Griffin (R-Hereford), stated that the reason she sought this change was to promote the election rather than the appointment of city and town council members. She would rather have individuals in office who were elected by constituents, especially for longer periods of time. Read more


Have news or photos to share?
If your city or town was recently featured in the news, has an interesting program or photos of events and travels to share, please send them our way! Story ideas and materials may be submitted to

aprice@azleague.org

.


Below is a list of training opportunities that may be of interest in the coming months:



July 9-10, 2012


Grant Management Class



July 18-19, 2012


2012 AMCA Municipal Elections Conference



October 3-5, 2012


Growth & Infrastructure Consortium



October 7-10, 2012


International City/County Management Association (ICMA) 98th Annual Conference



December 7, 2012


ULI: The Annual Boards and Commissions Conference

Read more

For any training sessions that you have missed or cannot attend in the future, be sure to check our YouTube channel to stay in the loop.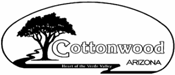 Of the Arizona cities and towns, only a few are recognized as "bicycle-friendly." Now, Cottonwood has joined that exclusive club at bronze entry level, the first of four steps of achievement. The Coalition of Arizona Bicyclist has recently awarded Cottonwood City Council and Verde Valley Cyclists Coalition for the community's commitment to an alternative mode of transportation. Only eight other Arizona cities and towns have received this award. Point your browser here to read the full article in the Verde News.



League of Arizona Cities and Towns
1820 W. Washington St.
Phoenix, AZ 85007
Phone: 602-258-5786
Fax: 602-253-3874
http://www.azleague.org