We look forward to seeing you at the League's Annual Conference in Scottsdale August 23-26.

Registration is now open. For hotel and conference registration information, point your browser here.

You must be registered for the conference to receive a room at the Fairmont Scottsdale Princess.

If you have any questions, please contact League Staff at 602-258-5786.

See you in August!
In addition to the regular conference sessions, receptions, and meal functions there are several extra events you might be interested in attending at the League Conference in August. Please see below for more information.

Please note: Most of the events have a separate registration and cost. Read more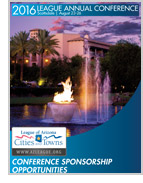 League Corporate Sponsorship Opportunities
The League of Arizona Cities and Towns offers four levels of sponsorship through its annual conference.

For more information on the sponsorship levels and benefits, please point your browser here.

For additional questions, please visit the Sponsorship FAQ page or contact Amy Price or Matt Lore at (602) 258-5786.

NLC's City Summit (formerly Congress of Cities) is coming to Pittsburgh, Pennsylvania, November 16-19, 2016. See how this once-industrial town has transformed into a beautiful and vibrant city. Its architecture, food, artists, museums, and universities are attracting young professionals and creating a place where people love to live. Read more
Have news or photos to share?
If your city or town was recently featured in the news, has an interesting program or photos of events and travels to share, please send them our way! Story ideas and materials may be submitted to
swomer@azleague.org
.
Register today for FBC 201: Placemaking with Form-Based Codes. The course gives an in-depth understanding of the regulatory framework to shape good urban form. The course combines presentations, discussion, case studies and a hands-on participatory exercise to create the basic elements of a code.

Please consult the course page on the FBCI website for additional information, registration details, lodging options, the draft agenda and the instructors.

Early-bird discount ends August 15. For registration assistance, contact Jason Baker at 202-644-8224.
by Service Line Warranties of America

Identified by VisitPhoenix as "the cosmopolitan heart of Arizona and the soul of the American Southwest," Phoenix, Arizona, is a longtime partner with Utility Service Partners (USP). The sixth largest city in the United States by population, Phoenix has plenty of things both residents and visitors alike can enjoy. For this Flashback Friday, we explore some of the fun and exciting things Phoenix has to offer! Read more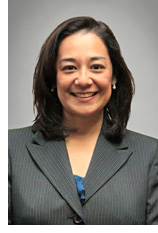 Christina Estes-Werther, League General Counsel

Music is an integral part of our daily life. From telephone hold music to an Academy Award winning score from your favorite movie, our society encounters numerous styles and forms of music each day. But have you ever considered that most of the music that is publicly broadcast in restaurants, hotels and airports in your community must be licensed? And if your city or town is hosting an event that will feature music, a license is required prior to the first note played by a cover band or song from the radio. Read more
Below is a list of training opportunities that may be of interest in the coming months.

GFOAz Summer Training
August 3-5, 2016
Tucson, AZ

Placemaking with Form-Based Codes
September 29-30, 2016
Phoenix, AZ

ASU School of Public Affairs
Graduate Information Sessions Available
University Center Building - ASU Downtown Phoenix Campus
Phoenix, AZ

Citizen Planner
College of Agriculture and Life Sciences-Cooperative Extension
University of Arizona
Tucson, AZ

Ramsey Executive Education Program
Management & Leadership Institute
ASU Mercado
Phoenix, AZ

For more information and to register for these events, point your browser here.
For any training sessions that you have missed or cannot attend in the future, be sure to check our YouTube channel to stay in the loop.
Cities and towns across Arizona are accomplishing great things - read about cities and towns in the spotlight and their unique ideas to make their communities better by visiting the Arizona Cities @ Work Website. The blog is updated with articles that highlight the unique things happening in cities and towns every day.
Throwback: AZ Cities Edition
What were cities and towns celebrating this time last year? Five years ago? 50 years ago?
We're introducing a new feature for the League Connection newsletter where we take a look at some city/town stories from years past. If your city or town has a memorable success story, anniversary to celebrate, or timeless photo to share for a particular month, please feel free to send them to
swomer@azleague.org
. We'd love to feature your city or town in an upcoming issue!
---

Eight Years Ago:
Phoenix Mayor Phil Gordon was named the "Best Mayor in North America." The World Mayor Award is given every two years by City Mayors, an international network of professionals working to promote strong and prosperous cities.
Nine Years Ago:
The City of Yuma received an Alliance for Innovation Award for Outstanding Achievement in Local Innovation for its program "A Community of Master Thinkers." The award was presented at the 2007 Transforming Local Government Conference held in Bellevue, Washington.



League of Arizona Cities and Towns
1820 W. Washington St.
Phoenix, AZ 85007
Phone: 602-258-5786
Fax: 602-253-3874
http://www.azleague.org