We look forward to seeing you at the League's Annual Conference in Scottsdale August 23-26.

Registration is now open. For hotel and conference registration information, point your browser here.

You must be registered for the conference to receive a room at the Fairmont Scottsdale Princess.

If you have any questions, please contact League Staff at 602-258-5786.

See you in August!
In addition to the regular conference sessions, receptions, and meal functions there are several extra events you might be interested in attending at the League Conference in August. Please see below for more information.

Please note: Most of the events have a separate registration and cost. Read more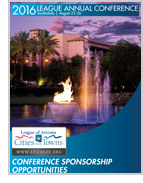 League Corporate Sponsorship Opportunities
The League of Arizona Cities and Towns offers four levels of sponsorship through its annual conference.

For more information on the sponsorship levels and benefits, please point your browser here.

For additional questions, please visit the Sponsorship FAQ page or contact Amy Price or Matt Lore at (602) 258-5786.
During the summer months, the League's legislative staff will travel throughout the state to report on activities of the second regular session of Arizona's 52nd Legislature that have an impact on cities and towns. Presentations are scheduled in various locations throughout the state to give an update to elected officials, municipal staff and interested parties.

Upcoming presentation dates: Read more

The 2016 New Laws Report is now available. It summarizes significant legislation affecting Arizona cities and towns and identifies actions that municipalities may need to take to comply with new statutory law.

The report is available here.

If you have any questions or comments, please contact any member of the League's legislative staff at 602-258-5786.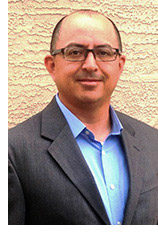 Please tell us a little about your background.
I'm a third-generation Arizonan. A true Valley of the Sun native born in Phoenix and raised in the West Valley. This means that I'm pretty much immune to the summer heat! I've seen the entire Valley go through tremendous change over the years, and have seen many "small towns" on the edges of Phoenix grow into thriving, vibrant communities with strong commercial and industrial centers. I graduated from Carl Hayden High School in west Phoenix and went on to receive an accounting degree from ASU and an MBA from Western International University. I love Arizona and have settled into the West Valley with my wife and four kids. I started my finance career as a senior in high school when I was hired part-time at a local bank which led to positions in various administrative areas including their corporate accounting and financial analysis groups. Read more

NLC's City Summit (formerly Congress of Cities) is coming to Pittsburgh, Pennsylvania, November 16-19, 2016. See how this once-industrial town has transformed into a beautiful and vibrant city. Its architecture, food, artists, museums, and universities are attracting young professionals and creating a place where people love to live. Read more
Have news or photos to share?
If your city or town was recently featured in the news, has an interesting program or photos of events and travels to share, please send them our way! Story ideas and materials may be submitted to
swomer@azleague.org
.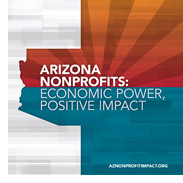 "Decision makers need to recognize the significant economic impact nonprofits have on our communities. When they understand the facts, elected officials will help bring nonprofits out of the shadows and into the full light so they participate fully in future economic discussions." Charles German, Mayor of Camp Verde

"When powerful facts about the nonprofit sector's economic contribution in terms of job creation, wages, and even taxes were presented to me, I thought that all members of the League of Arizona Cities and Towns should hear these impressive figures about the ways nonprofits strengthen our economy." Diane Joens, Mayor of Cottonwood

Such are the reactions heard across the state to the recently released report, "Arizona Nonprofits: Economic Power, Positive Impact." The report shows that the state's nonprofit sector is not only a critical contributor to Arizona's social fabric and shared quality of life, it is also a powerful economic driver and job creator. Read more
The Arizona State Retirement System (ASRS), with the support of select state legislators, multiple police and fire associations, the League of Cities and Towns (League), and several ASRS employer-partners, sought a review by the Internal Revenue Service (IRS) as to the eligibility of certain police and fire employees who were potentially misenrolled in the ASRS. Read more
Arizona Forward in partnership with SRP is now accepting nominations for its 36th Annual Environmental Excellence Awards, the state's oldest and largest competition of its kind. The event - known as the Academy Awards of the environmental community - recognizes contributions to the sustainability of the Grand Canyon State. Read more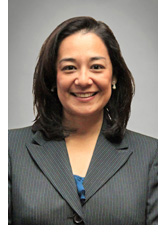 Christina Estes-Werther, League General Counsel

Over the past year the Legal Corner highlighted the emerging technology of drones and police body cameras and its impact on cities and towns. Significant changes have occurred in these two issue areas within the past six months and this article provides an update on the recent changes and the current status of the law relating to the operation of drones and the use of policy body cameras in Arizona. Read more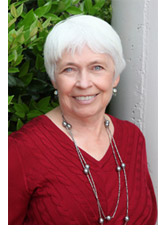 Name, title & city/town: Sandy Moriarty, Mayor, City of Sedona
Year elected to office: 2014
Years served as Mayor: 1.5 years
Hometown: Born and raised in Seattle, Washington, where I lived for 25 years. I have lived in Sedona for 44 years, so I now consider Sedona my hometown.

Town of Sedona
Incorporated: 1988
Population: 10,031
Elevation: 4,240 ft.
County: Yavapai/Coconino
Area within Limits: 19 sq. mi.

Why did you decide to serve in local government?
I was involved in three different committees over a fifteen year period to get Sedona incorporated, finally succeeding in 1988 after a successful election in December 1987. I served on the first appointed city council from January - May of 1988. I have volunteered for many non-profits, not just locally but regionally and statewide, but did not run for elective office until I ran for mayor in 2014. I strongly believe in service to the community, and have always found that I get back more than I give, in so many ways. Read more
Below is a list of training opportunities that may be of interest in the coming months.

ACMA Summer Conference
July 20-22, 2016
Marana, AZ

AMCA Training: Athenian Dialogue
July 25, 2016
Fountain Hills Community Center
Fountain Hills, AZ

AMCA Conference & Elections Training
July 26-28, 2016
Fountain Hills Community Center
Fountain Hills, AZ

GFOAz Summer Training
August 3-5, 2016
Tucson, AZ

ASU School of Public Affairs
Graduate Information Sessions Available
University Center Building - ASU Downtown Phoenix Campus
Phoenix, AZ

Citizen Planner
College of Agriculture and Life Sciences-Cooperative Extension
University of Arizona
Tucson, AZ

Ramsey Executive Education Program
Management & Leadership Institute
ASU Mercado
Phoenix, AZ

For more information and to register for these events, point your browser here.
For any training sessions that you have missed or cannot attend in the future, be sure to check our YouTube channel to stay in the loop.
Cities and towns across Arizona are accomplishing great things - read about cities and towns in the spotlight and their unique ideas to make their communities better by visiting the Arizona Cities @ Work Website. The blog is updated with articles that highlight the unique things happening in cities and towns every day.
Throwback: AZ Cities Edition
What were cities and towns celebrating this time last year? Five years ago? 50 years ago?
We're introducing a new feature for the League Connection newsletter where we take a look at some city/town stories from years past. If your city or town has a memorable success story, anniversary to celebrate, or timeless photo to share for a particular month, please feel free to send them to
swomer@azleague.org
. We'd love to feature your city or town in an upcoming issue!
---
Three Years Ago:
Former Mesa Mayor and League Executive Committee Member Scott Smith was the first Arizona mayor to lead the United States Conference of Mayors, a non-partisan organization that unites the mayors of America's largest cities.
Seven Years Ago:
A deck of cards decided a Cave Creek City Council election. The New York Times featured a story on a Cave Creek election that was decided by the luck of the draw. Incumbent Thomas McGuire and Adam Trenk both ran for a seat on the seven-member Cave Creek Town Council. Both received the same amount of votes: 660. After a recount, the results remained the same. Because the Arizona Constitution allows a game of chance to break a tie in an election, McGuire and Trenk each drew a card to settle the deadlock. Adam Trenk won with the higher of the two cards, drawing a king of hearts. To read the full story, please
point your browser here
.



League of Arizona Cities and Towns
1820 W. Washington St.
Phoenix, AZ 85007
Phone: 602-258-5786
Fax: 602-253-3874
http://www.azleague.org