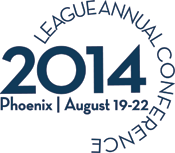 August 19-22, 2014
Sheraton Phoenix Downtown
Phoenix, AZ

We look forward to seeing you at the League's Annual Conference. It is shaping up to be a great event in Phoenix. To view the agenda and variety of concurrent workshops and sessions planned for the League of Arizona Cities and Towns Annual Conference, please point your browser here.

Can't wait for the conference? Start interacting with the League via social media as we prepare for the annual event:

Twitter: @AZCities
Instagram: @AZCities
Official League Annual Conference Hashtag: #LACT14
In addition to the regular conference general sessions, concurrent sessions, receptions, lunches and dinners there is a variety of important extra activities you might be interested in attending.

Point your browser here for a list of the extra events taking place in conjunction with the Annual Conference. Please note: These events do have separate registration and costs. Read more
Youth delegates from your city or town are invited to join us at the 9th Annual League Youth Program to be held during the conference on Wednesday, August 20. Attendees will participate in their own sessions and activities, and will also have the opportunity to interact with local elected officials.

To view the agenda and learn more about the day's program point your browser here.
The League would like to thank the following sponsors who are supporting the League of Arizona Cities & Towns Annual Conference: Read more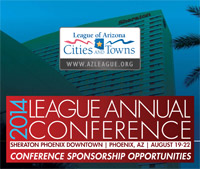 The League of Arizona Cities and Towns offers four levels of sponsorship through its annual conference. For more information on the sponsorship levels and benefits, please point your browser here.

For additional questions, please view the Sponsor Information Kit.

If you have any questions or suggestions, please contact League staff at league@azleague.org or 602-258-5786.
The Great Arizona Road Trip
The Summer 2014 edition of Arizona City & Town is on its way to a mailbox near you!

This edition of the magazine is called the "Great Arizona Road Trip," a feature dedicated to celebrating summer in Arizona's cities and towns. A compilation of some of the best ways to enjoy the outdoors, learn about our state's history and rediscover the beauty and uniqueness of Arizona. The pages will serve a guide for the ultimate Arizona "staycation."

Keep your eyes out for the magazine, which will be mailed to all cities and towns in early August.
Save the Date - Arizona Cities & Towns Week 2014
The League's 13th annual Cities & Towns Week will be October 19 - 25, 2014. This week is set aside each year to recognize the services that cities and towns provide, as well as to honor those who serve at all levels of municipal government.

The League will be sending materials to assist your organization in promoting the annual event.
Did you miss the July 10 Community Gardens webinar? No problem, you can point your browser here to listen to the recording as well as view presentations from the training.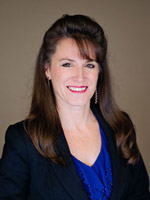 Online shopping has increased in popularity over the last several years, creating a new marketplace that promises promptness and ease with the purchase of items. However, it has also put traditional brick and mortar retailers at a disadvantage with its current tax and regulatory environments that don't require online retailers to collect tax at the time of a purchase.

The traditional retail outlets are important to communities. Mom-and-pop stores provide employment to residents, contribute to local causes and charities and keep communities running. The passing of the Marketplace Fairness Act would create balance between online and traditional retailers, providing fiscal relief for state and local governments by collecting sales taxes that are already legally owed on most retail purchases. Read more, including an article from Councilmember Joanne Osborne, Goodyear City Council
In the event of a system failure, fire, flood or other emergency, what group is free for a water or wastewater utility to join, and has the potential to provide significant resources for those same utilities? Arizona Water/Wastewater Agency Response Network also known as "AZWARN." AZWARN is a voluntary mutual aid and assistance program that participating municipal utilities can use to obtain timely and comprehensive assistance during emergencies. When a municipality runs out of immediate and contracted resources to support their utility, there is a significant pool of equipment and staff that may be available through other agencies via the AZWARN agreement. Water and wastewater utilities are best suited to assist with the properly credentialed personnel and appropriate specialized equipment needed by another utility. Read more
Follow the League on Twitter to receive up-to-date information
Point your browser here
to start connecting with the League.
Each day, League staff posts city and town news from around the state on the homepage. We do our best to find articles in local newspapers that highlight municipalities. If you haven't seen the daily news, you may access our website here.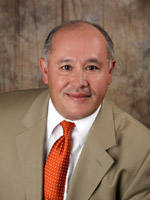 Name, title & city/town: Mayor Adolfo F. Gámez, City of Tolleson
Year elected to office: 1981
Years served as Mayor: 20
Hometown: Tolleson

City of Tolleson
Incorporated: 1929
Population: 6,545
Elevation: 976 ft.
County: Maricopa
Area within Limits: 6 sq. mi.

Why did you decide to serve in local government?
At the age of 17, I realized the power parks and recreation holds over the quality of relationships and leadership development among youth as a Little League Baseball coach. During those formative years my best friend, James Cardona, and I made an oath to each other that one day we would make a difference in the lives of Tolleson's children. Immediately upon graduation from Northern Arizona University, I returned to Tolleson to uphold our oath. In my first public service position as a social worker for the Tolleson Elementary School District, I began to harness the power of parks and recreation every day on the school playground by throwing footballs through the chests of so many children calling for the ball. Those children weren't just hoping to catch a pass; they sought acknowledgement and praise from a caring adult. Read more
Have news or photos to share?
If your city or town was recently featured in the news, has an interesting program or photos of events and travels to share, please send them our way! Story ideas and materials may be submitted to
swomer@azleague.org
.
Below is a list of training opportunities that may be of interest in the coming months.

GFOAz 2014 Summer Conference
August 6-8, 2014
Westin La Paloma
Tucson, AZ

2014 Rural Policy Forum: Empowering Rural Arizona
August 7-8, 2014
Bullion Plaza Cultural Center
Globe/Miami, AZ

Blinded by the Light: Night Skies Conference
August 18-20, 2014
High Country Conference Center
Flagstaff, AZ

League of Arizona Cities and Towns 2014 Annual Conference
August 19-22, 2014
Sheraton Phoenix Downtown
Phoenix, AZ

ASU School of Public Affairs
Graduate Information Sessions Available
University Center Building at the ASU Downtown Phoenix Campus
Phoenix, AZ

Ramsey Executive Education Program
Management & Leadership Institute
ASU Mercado
Phoenix, AZ

For more information and to register for these events, point your browser here.
For any training sessions that you have missed or cannot attend in the future, be sure to check our YouTube channel to stay in the loop.
---
Cities and towns across Arizona are accomplishing great things - read about cities and towns in the spotlight and their unique ideas to make their communities better by visiting the Arizona Cities @ Work Website. The blog is updated with articles that highlight the unique things happening in cities and towns every day.



League of Arizona Cities and Towns
1820 W. Washington St.
Phoenix, AZ 85007
Phone: 602-258-5786
Fax: 602-253-3874
http://www.azleague.org