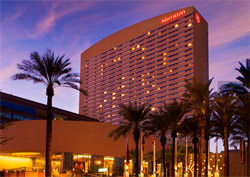 Sheraton Phoenix Downtown
Phoenix, AZ

Mark your calendar! The 2014 League Annual Conference will be held in Phoenix at the Sheraton Phoenix Downtown, August 19-22.

Hotel and conference registration information will be sent out to all cities and towns the week of May 19. The hotel block at the League conference rate of $109.00 will open on the week of May 19. You must be registered for the conference to receive a room at the Sheraton Downtown Phoenix.

If you have any questions about the conference, please contact us at league@azleague.org or 602-258-5786.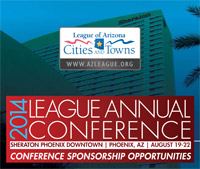 The League of Arizona Cities and Towns offers four levels of sponsorship through its annual conference. For more information on the sponsorship levels and benefits, please point your browser here.

For additional questions, please visit the Sponsor Information Kit or contact Matt Lore at mlore@azleague.org or by phone at 602-258-5786.
The Center for the Future has announced that nominations are being accepted for the 2014 Gabe Zimmerman Public Service Awards, a statewide competition created to recognize non-elected public servants who serve as a critical link between citizens and the people elected to represent them. Read more
Friday, June 6, 2014

Mesa Convention Center
Palo Verde Room
263 N. Center Street
Mesa, AZ 85201

This training is open to all city and town elected officials and staff. The cost of this year's program will be $60 per person. Program and registration information is available here.

Read more
Applications are now being accepted for the $100,000 Innovations in American Government Awards.

Offered by Harvard Kennedy School's Ash Center for Democratic Governance and Innovation, the Innovations Award is the nation's premier award for the public sector. It recognizes programs that demonstrate creative and effective government at its best. Read more
Follow the League on Twitter to receive up-to-date information
Point your browser here
to start connecting with the League.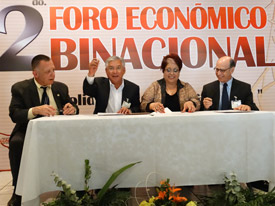 In an effort to build a globally competitive "megaregion," local government leaders in Arizona and Sonora signed a partnering agreement Friday to create the Arizona-Sonora Binational Megaregion. As outlined in the charter, the megaregion creates a means for the two states to "build mutual understanding, share knowledge, and develop social capital in the process of setting policy direction." In another historic event at the forum, municipalities in Sonora formed a governance organization similar to the League of Arizona Cities and Towns, the first of its kind for the Mexican state. Read more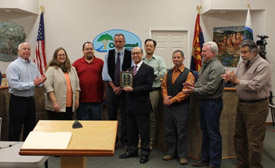 Earlier this month, League of Arizona Cities and Towns Executive Director Ken Strobeck visited the city of Cottonwood to present on the council-manager form of government. While at the council meeting, Ken was honored to receive acknowledgment from the Cottonwood City Council, recognizing the League for the work they do at the legislature and throughout the year. Read more
The League of Arizona Cities and Towns publishes Arizona City & Town semi-annually as a key part of its communication and education programs. This full-color magazine is distributed to nearly 2,000 city and town officials who direct millions of dollars in buying power.

If you are interested in advertising opportunities in Arizona City & Town, point your browser here.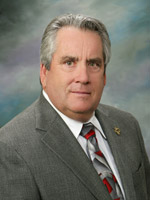 Name, title & city/town: Mayor Gail Barney of Queen Creek
Year elected to office: 2010
Years served as Mayor: 4
Hometown: Queen Creek, AZ

Town of Queen Creek
Incorporated: 1989
Population: 26,361
Elevation: 1,400 ft.
County: Maricopa/Pinal
Area within Limits: 26 sq. mi.

Why did you decide to serve in local government?
As a long-time farming family in Queen Creek, my family has been involved with the community for generations, however not at the local government level. When a development project came along that impacted our family farm, I realized that I could make a big difference in the community by getting involved. Now, I am proud of the way the community has grown over the years. Read more
Have news or photos to share?
If your city or town was recently featured in the news, has an interesting program or photos of events and travels to share, please send them our way! Story ideas and materials may be submitted to
swomer@azleague.org
.
Below is a list of training opportunities that may be of interest in the coming months.

ASU Annual Public Finance Conference: Understanding Options and Disclosure Requirements for Local Governments
May 8-9, 2014
Phoenix, AZ

GFOAz Quarterly Training: Government Finance Fundamentals
Thursday, May 15, 2014
Surprise Communiversity
Surprise, AZ

2014 ACAA Summer Conference
May 29-30, 2014
Little America Hotel
Flagstaff, AZ

Arizona City Government 101: What Every Municipal Official Needs to Know
June 6, 2014
Mesa Convention Center
Mesa, AZ

ASU School of Public Affairs
Graduate Information Sessions Available
University Center Building at the ASU Downtown Phoenix campus
Phoenix, AZ

Ramsey Executive Education Program
Management & Leadership Institute
ASU Mercado
Phoenix, AZ

For more information and to register for these events, point your browser here.
For any training sessions that you have missed or cannot attend in the future, be sure to check our YouTube channel to stay in the loop.
---
Cities and towns across Arizona are accomplishing great things - read about cities and towns in the spotlight and their unique ideas to make their communities better by visiting the Arizona Cities @ Work Website. The blog is updated with articles that highlight the unique things happening in cities and towns every day.



League of Arizona Cities and Towns
1820 W. Washington St.
Phoenix, AZ 85007
Phone: 602-258-5786
Fax: 602-253-3874
http://www.azleague.org