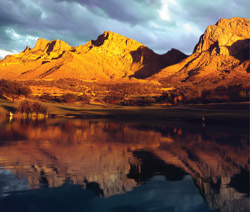 August 27-30, 2013
Hilton El Conquistador
Oro Valley, AZ

Mark your calendar! The 2013 League Annual Conference will be held in Oro Valley at the Hilton El Conquistador, August 27-30.

Hotel and conference registration information will be sent out to all cities and towns in May. This information will also be available online. Read more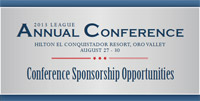 The League of Arizona Cities and Towns offers four levels of sponsorship through its annual conference. For more information on the sponsorship levels and benefits available, please point your browser here.

In preparation for the 2013 League Service Award Program at the Annual Conference in Oro Valley, we are asking cities and towns to complete the 2013 League Service Award form. The lengths of service that qualify for recognition are:

8, 12, 16, 20 and 24 years, and every four-year increment thereafter

. Service may be consecutive or cumulative. Please note: the elected official must have reached the required level of service by August 29, 2013.

Read more



The National League of Cities 2013 Congressional City Conference will be held March 9-13 in Washington, D.C. Listed below are two events planned specifically for the Arizona conference delegates. Read more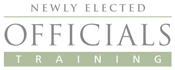 June 7-8, 2013
The Wigwam
300 Wigwam Boulevard
Litchfield Park, AZ 85340

This training is open to all city and town elected officials. The cost of this year's program will be $170.00 per person. This price includes materials and food (breakfast, lunch and a reception on Friday, and breakfast on Saturday). Program and registration information will be sent out to all cities and towns in March. Read more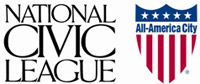 For 63 years, the National Civic League's All-America City Awards (AAC) program has celebrated the successes of communities in addressing critical local needs and challenges. This year AAC will have a special focus-communitywide efforts to increase access to jobs, housing, health care, education and other critical services for returning veterans and military families. Read more

The League is pleased to present Arizona Cities @ Work, an ongoing and collaborative effort to promote the services cities and towns provide the citizens of Arizona. For more information on this campaign and how your city or town can participate, please see this one-page sheet. To view the Arizona Cities @ Work website, visit www.azcitieswork.com.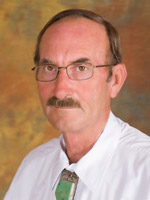 Name, title & city/town:
Tom J. Rankin, Mayor of the Town of Florence
Year elected to office: 2004 and 2012
Years served as Mayor: Four years as mayor and started my second term in 2012
Hometown: Town of Florence, AZ

Town of Florence
Incorporated: 1900
Population: 25,536 (2010 census)
Elevation: 1500 ft.
County: Pinal
Area within Limits: 52 sq. mi.

Why did you decide to serve in local government?
After working for the town for 15 years as the police chief, I wanted to help make positive changes. I am a lifetime resident of Florence and I want to make Florence a place that my children and grandchild will have the opportunity to work and live in the town they were raised. Read more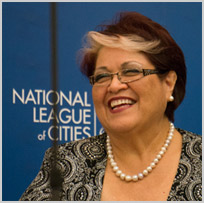 NLC President Marie Lopez Rogers

This new section of the newsletter will include updates on the National League of Cities President and Avondale Mayor Marie Lopez Rogers as she works in Washington D.C. and travels the U.S. promoting municipal issues. The article links below will feature monthly highlights and updates.

On February 12, Mayor Marie Lopez Rogers was asked by the First Lady to join her at President Obama's State of the Union Address.

President Rogers Attends State of the Union Address

This year, several Arizona leaders were appointed to NLC's 2013 committees and councils. These members will play a key role in shaping NLC's policy position while advocating on behalf of cities and towns. See below for a complete list: Read more


Follow us on Twitter!
Follow the League on Twitter to receive up-to-date information.

Point your browser here

to start connecting with the League.


Below is a list of training opportunities that may be of interest in the coming months.

Open Meeting Law
Wednesday, March 6, 2013
League of Arizona Cities and Towns, Room 101
Phoenix, AZ

National League of Cities Congressional City Conference
March 9-13, 2013
Marriott Wardman Park Hotel
Washington, DC

Arizona Equipment Safety Partnering Roadeo
March 26-27, 2013
Arizona State Fairgrounds
Phoenix, AZ

Ramsey Executive Education Program
Management & Leadership Institute
Please see website for dates
ASU Mercado
Phoenix, AZ

The Arizona Citizen Planner 101
Please see website for information
University of Arizona's Cooperative Extension

For more information and to register for these events, point your browser here.

For any training sessions that you have missed or cannot attend in the future, be sure to check our YouTube channel to stay in the loop.


Have news or photos to share?
If your city or town was recently featured in the news, has an interesting program or photos of events and travels to share, please send them our way! Story ideas and materials may be submitted to
aprice@azleague.org
.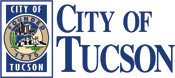 Tucson is one of just 33 cities worldwide to win the IBM Smarter Cities Challenge grant for 2013. A team of six top IBM experts will be spending three weeks with the staff at Tucson Water to help the department fully realize the customer service and conservation potential of its new digital water meters.

The cities of Scottsdale and Chandler have been ranked as the best run cities by 24/7 Wall Street. Scottsdale came in at no. 8 and Chandler followed at no. 9. Both cities made the list for their healthy economy and low unemployment rate. According to 24/7 Wall Street website, they reviewed the local economies, fiscal discipline and standard of living of the 100 largest cities by population to determine how well each is managed. Read more



The San Luis Public Works Department is starting a cleanup program where employees will go door to door picking up landscape prunings, old or broken furniture, inoperable appliances and other items residents want to get rid of. According to the Yuma Sun, the city will be collecting discarded items in its annual neighborhood cleanup program that will continue through March. To read more, point your browser here.


Arizona Municipalities Engage Citizens through Social Media
Many Arizona cities and towns are finding creative ways of encouraging citizens to share ideas and shape decisions that impact their community. To find out more what cities and towns are doing to get their communities involved, follow the links below.

City of Avondale: A Voice to Engage Citizens
City of Mesa: iMesa
City of Scottsdale: Speak Up, Scottsdale
City of Sierra Vista: Speak Up, Sierra Vista
Town of Queen Creek: Visit the QC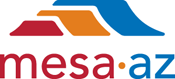 The city of Mesa is planning to hire its own doctors and open a clinic this year in order to cut high employee health costs. Similarly, the city of Goodyear has an on-site clinic and the cities of Chandler and Peoria have explored the possibility of future clinics as well. Part of Mesa's goal in opening this clinic is for employees tobuild a relationship with the facility doctor instead of just having a quick visit. The model has been very successful in Goodyear; the city estimates a savings of approximately $400,000 from what a traditional health plan would have cost. To read more in the Arizona Republic, point your browser here.



Glendale residents can follow the city of Glendale's budget through a comprehensive tool, "Follow Your Money," available on the website. This easy-to-use budget tool enhances transparency and allows users to access the city's expense and revenue financial data to see clearly what's coming in and what's going out. Read more



League of Arizona Cities and Towns
1820 W. Washington St.
Phoenix, AZ 85007
Phone: 602-258-5786
Fax: 602-253-3874
http://www.azleague.org