| | |
| --- | --- |
| | A Look at the Past |


National League of Cities Congress of Cities and Exposition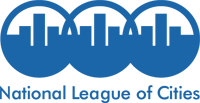 A number of Arizona cities and towns are in Boston this week attending NLC's Congress of Cities and Exposition. During NLC's annual business meeting, Avondale Mayor and League Executive Committee Member Marie Lopez Rogers will assume the Presidency of the National League of Cities. Arizona delegates and guests are attending a special reception to honor incoming NLC President Marie Lopez Rogers on Friday.



This month René Guillen, Jr. was appointed to League legislative director. René previously served as the League's legislative associate. Prior to joining the League in 2010, Mr. Guillen served at the Arizona Legislature as a research analyst for a number of committees including the House Banking and Insurance; and Water and Energy committees. He has also staffed the Appropriations; and Homeland Security and Property Rights Committees.To view the press release, point your browser here.



The League's 2013 Municipal Policy Statement, comprised of the legislative policy positions and action items collaboratively chosen by Arizona's 91 cities and towns, is now available. The 2013 Municipal Policy Statement was ratified at the Annual Business Meeting on August 30, 2012, at the League Annual Conference. A hard copy of the statement will be sent to all municipalities. You can view a PDF of the document here.


League's 11th Annual Cities & Towns Week

Thank you to all the municipalities that celebrated cities and towns week through an event or proclamation. This week is set aside each year to recognize the services that cities and towns provide, as well as to honor those who serve at all levels of municipal government.


Follow us on Twitter!
Follow the League on Twitter to receive up-to-date information.
Point your browser here
to start connecting with the League.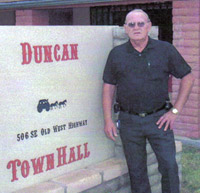 Name & city/town:
MC Holliday
Mayor, Duncan, AZ

Year elected to office: 2009

Years served as Mayor: 3.5 years

Hometown: Duncan, AZ

Why did you decide to serve in local government?
I decided to serve in local government because I saw a problem and wanted to correct it. Read more


League's 75th Anniversary: A Look at the Past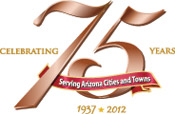 Interesting fact

In 75 years, there have been just five executive directors of the League of Arizona Cities and Towns. They include: Joe Furst, William Moeur, Jack DeBolske, Cathy Connolly and the League's executive director today, Ken Strobeck.


Have news or photos to share?
If your city or town was recently featured in the news, has an interesting program or photos of events and travels to share, please send them our way! Story ideas and materials may be submitted to

aprice@azleague.org

.


Below is a list of training opportunities that may be of interest in the coming months.

League Training - City Government 101: What Every Elected Official Needs to Know
December 6, 2012
Mesa Convention Center - Palo Verde Room
Mesa, AZ

ULI: The Annual Boards and Commissions Conference
December 7, 2012
Black Canyon Conference Center
Phoenix, AZ

The Arizona Citizen Planner 101
Please see website for dates
University of Arizona's Cooperative Extension

Ramsey Executive Education Program
Management & Leadership Institute
Please see website for dates
ASU Mercado
Phoenix, AZ

Read more

For any training sessions that you have missed or cannot attend in the future, be sure to check our YouTube channel to stay in the loop.

The cities of Scottsdale, Phoenix, Apache Junction and Tucson have all received awards in various LEED categories from USGBC. The "Heavy Medals" award was presented by the Arizona Chapter of the U.S. Green Building Council. There are four progressively higher and more demanding levels of certification: Certified, Silver, Gold and Platinum. To learn more about the LEED green building rating system, point your browser here.

To view a list of the winners and awards presented, point your browser here.

The annual WESTMARC Best of the West event, hosted at the Glendale Renaissance hotel, honored the cities several West Valley cities. WESTMARC's annual Best of the West Awards competition recognizes outstanding contributions to the image, lifestyle and economic development of the West Valley - the portion of Maricopa County west of Interstate 17.

WESTMARC also gave a special recognition award to Mayor Elaine Scruggs for her service to the city of Glendale as councilwomen and the first city's mayor in 1993. She was also acknowledged for the development of the University of Phoenix Stadium, the Loop 101's expansion, and protection of the airspace around Luke Air Force Base. Read more

The Center for Digital Government has ranked the town of Marana and the city of Avondale as two of the top cities in the country in its 2012 Digital Cities Survey. The award recognizes cities for their commitment to and innovations in digital government. Read more



League of Arizona Cities and Towns
1820 W. Washington St.
Phoenix, AZ 85007
Phone: 602-258-5786
Fax: 602-253-3874
http://www.azleague.org