Legislative overview
Today is the 96th day of the second regular session of Arizona's fiftieth Legislature. Today was also the deadline for conference committees to meet - until that deadline was extended by motion to next Tuesday, April 17. The purpose of conference committees is to reconcile differences between House and Senate versions of bills that have passed both chambers.
Read more...


Council procedures
HB 2570 (political subdivisions; proceedings; governing bodies) provides that a city or town council may not take action on a proposed ordinance until it has been publicly posted in its final form for at least seven days. The bill also prescribes a process for the adoption of emergency ordinances and exempts certain other ordinances from the bill's enhanced notice requirements.
Read more...


Traffic control
On Thursday, April 12, both the House and Senate appointed members to a conference committee to produce a consensus version of HB 2557 (NOW: intersection; definition). The measure, which arose as a strike-everything amendment in the Senate, redefines the definition of "intersection" in the transportation statutes to make it more difficult to cite drivers for red light violations.


Firearms
On Thursday, April 12, the Senate passed HB 2729 (state regulation of firearms) by a vote of 19-11. The bill, opposed by the League, requires governmental entities to permit guns into public establishments, unless armed personnel and metal detection equipment are installed at the entrances to such establishments. The measure, sponsored by Rep. David Gowan (R-Sierra Vista), further preempts municipalities from having firearms ordinances stricter than state law. The League has formally requested that the bill be rejected by Governor Brewer, to whom the legislation has been transmitted for signature or veto.


Revenue allocation districts
On Tuesday, April 10, the Senate passed HB 2469 (revenue allocation districts) by a vote of 22-8. The measure, sponsored by Rep. Rick Gray (R-Sun City), authorizes municipalities to form Revenue Allocation Districts, which can pledge increases in both property tax and sales tax revenue to secure bonds issued to benefit the district. The League supports the measure and has formally requested the Governor to sign the bill into law.


Animal cruelty
On Wednesday, April 11, the House agreed to accept the amendment of the Senate to HB 2780 (animal cruelty; ranching dogs) and approved the bill on final passage by a vote of 42-15. The bill was signed into law by the Governor on Thursday, April 12.

HB 2780 provides an exemption from animal cruelty statutes with respect to dogs involved in ranching and farming activities. The bill specifically preempts municipal ordinances involving abuse of ranching dogs.


Alarm installation
On Tuesday, April 10, representatives of the House and Senate met in a conference committee on HB 2748 (NOW: alarm business; alarm agent; certification). The measure provides for the establishment of a statewide certification requirement for alarm businesses and alarm agents, and preempts further local regulation of alarm installation. The measure was further amended in the conference committee to avoid dual registration requirements by the Registrar of Contractors and the Board of Technical Registration. The bill next proceeds to final passage votes in both chambers.


Politcal signs
On Tuesday, April 10, Governor Brewer vetoed SB 1200 (political signs; hazardous locations). The bill, sponsored by Senator Sylvia Allen (R-Snowflake), stipulates that a government agency must notify the owner of a political sign in writing if a particular sign is deemed to create a hazardous condition. It further provides that, for purposes of calculating the time frame for permissible sign installation, a primary election begins on the day that early ballots are first mailed out to voters.

The bill includes one provision that permits the installation of political signs along state highways and another that permits private property owners to remove political signs from rights-of-way adjacent to their property. Focusing on these provisions in rejecting the measure, the Governor expressed her concerns that the legislation could compromise both public safety and First Amendment rights.


Legislator profile - Representative Catherine Miranda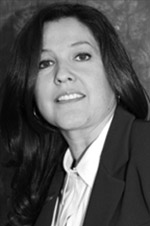 There is at least one Arizona legislator who can drive the lane as well as she can drive home a point. She can field a grounder with the same facility that she fields constituents' inquiries. And she can defend a goal with the same tenacity that she defends her policy positions and priorities on the floor of the Arizona House. Meet the Honorable Catherine Miranda (D-Phoenix), sports aficionado and state representative from Legislative District 16.

A native Arizonan who grew up in the heart of south Phoenix, Miranda explains: "Sports was my life. There were three girls and one boy in my family. My brother turned me into his little brother so he could have someone to play sports with. I was 100 percent tomboy."

The brother apparently picked the right sister. Miranda was the only girl who played baseball in her little league, where she: had a .500 batting percentage; made it a point to hit a home run in every game; and earned a position on the all-star team despite obvious male bias.
Read more...
Legislative Bulletin is published by the League of Arizona Cities and Towns.
Forward your comments or suggestions to league@azleague.org.