Legislator profile - Senator Robert Meza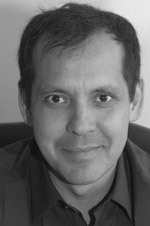 The B-2 Spirit, commonly known as the Stealth Bomber, is an American aircraft featuring stealth technology designed for penetrating dense defenses. It is able to deploy both conventional and unconventional weapons. The plane's "low observable" or "stealth" technology empowers it with the capability to penetrate an enemy's most sophisticated defenses to attack its most heavily defended targets. The bomber's stealth is largely derived from its reduced radar signature, making it difficult for opposition defenses to detect, track and engage the aircraft. The aircraft is sophisticated, sleek and effective.

This brief description of the B-2 also applies to a secret weapon in the Democratic caucus of the Arizona Senate. Meet Robert Meza, Arizona's very own stealth legislator.

Unlike many of his colleagues, Senator Meza, a third-generation Arizonan representing Glendale and Phoenix, affirmatively shuns the spotlight. He prefers to operate largely behind the scenes and underneath the radar. "The Catholic nuns of my youth advised us to do good deeds but not become braggadocios," remembers Meza. "I learned that you can be a person of great action and accomplishment without the need for accolades or the limelight."

He credits his powers of stealth for having helped engineer a number of legislative accomplishments, candidate victories and redistricting successes. With respect to many of these efforts, his involvement remains unknown to the public and his colleagues. Meza wears results-producing anonymity as something of a badge of honor.

Meza's ascension to the Senate was made possible, in the first instance, by the migration of his forebears from Guadalajara to Arizona circa 1896. They came both to pursue opportunities in the United States and to escape civil war in Mexico. His ancestors were mostly laborers, miners and field workers.

By the time Robert was born in St. Joseph's Hospital in Phoenix, his mother's side of the family had become highly educated and accomplished. Meza counts among his uncles a physicist, chemist and architect. His father, who hailed from a blue collar family, was a unionized sheet metal worker. The marriage produced three children, including Meza's older sister, Liz, and his younger brother, Michael.

Determined to give their children every opportunity for a good education and rich life, the Mezas were the first Latino family to move into an otherwise all-Caucasian neighborhood. As a youth in the Alahambra Elementary School District, Meza was a soccer enthusiast, a gifted student and a mean trombone player. He went on to attend Bourgade Catholic High School in Phoenix. At Bourgade, Meza was captain of the track and tennis teams.

Following high school, Meza was strongly considering college in California - either UCLA or Berkeley. He was heavily recruited by Notre Dame, however, so he went to South Bend to have a look. Visiting the campus, peopled by approximately 7,000 students, Meza was struck by its unusual warmth and beauty. He was captivated by the Golden Dome of the Virgin Mary, two campus lakes, the school's rich football tradition and the excitement of dormitory life.

Meza chose to associate with the Fighting Irish and dove headlong into the Notre Dame experience without so much as a trace of homesickness. "My parents had prepared me to be on my own," he gratefully recollects. "I had been exposed to many cultures and environments. We traveled a great deal as a family, and I had been to band camp and traveled with an interscholastic track team. I was where I was supposed to be - a traditional coeducational Catholic school - and I embraced the experience."

The young Meza found that there was no shortage of spiritual advisors or advice at Notre Dame. He regards Father John Jenkins, the 17th president of the university, as a "spiritual powerhouse." Meza admires how Jenkins demands that students take ownership of the school. "He admonishes students that they are not guests at Notre Dame," Meza says. "Once a student walks onto campus, he owns that school."

Taking stock of Meza's leadership qualities and his ability to bring people together, the fathers of Notre Dame recommended to Meza that he enter politics. Though he eventually took that advice, Meza regrets that he failed to heed another suggestion of his advisors. "They thought that I should study in South America," Meza recalls. "I went to Chile two years ago, and I immediately realized that I should have gone as a student. I was blown away by the country's majestic beauty, rich vineyards, and amazing people. I even had the opportunity to go horseback riding in the Andes with Pinochet's grandson."

Upon graduation from college, Meza was offered a lucrative post with a bank in Chicago. He chose to repatriate to Arizona instead. Of 200 applicants for a position at First Interstate Bank, he was ranked number two. He took a job as a commercial lender for the bank and proceeded to master negotiating skills and the art of risk assessment. The bank was, he observes, a great training ground for politics.

Meza left First Interstate in 1994 and immersed himself in Arizona politics, working on Sam Coppersmith's U.S. Senate campaign as the volunteer coordinator. Following Coppersmith's loss to Jon Kyl, Meza went to work as a fundraiser for the Muscular Dystrophy Association, where he shattered fundraising records for the organization. From MDA, he took his talents to the Phoenix Little Theater, where he doubled the amount of donations to the theater in less than three years. After his stint with PLT, he subcontracted as a professional fundraiser with various non-profit groups, and he made more time for politics.

Showing great leadership potential since his early youth, Meza served as his class president throughout elementary school, the treasurer of his high school and president of his dormitory in college. Consequently, when he was encouraged to run for a seat in the House in 2002, he was well-prepared. Having never lost an election, he began his first legislative campaign as the decided underdog. Emerging from the Democratic primary with 700 more votes than a friend who was also running, Meza earned a seat alongside Debbie McCune Davis, who moved to the Senate in 2006. In 2010, Senator McCune Davis and Representative Meza switched legislative seats and accompanying titles.

Having served on both sides of the Capitol plaza, Meza confesses that he prefers the upper chamber. "It is less complicated in the Senate. There's less havoc, and you can get more done."

A fierce advocate for local government authority, Meza believes that legislative interference in municipal affairs is unwarranted. "The State should stay out of city and town affairs," he explains. "Great cities cannot be micromanaged. To become a premier city, a municipality needs authority, flexibility and maneuverability. If we keep going after cities, we'll end up destroying them."

With a quick wit, piercing eyes and curious mind, Meza engages people with penetrating intensity. He is a pronounced spiritualist and keen student of human nature. Presently, he is completing the process of conversion to Judaism. "I have always identified with the Jewish people," he explains. "Persecuted and abused, they are ever creating new paradigms - often having to operate below the radar."

Senator Meza did recently abandon his stealthy ways as a competitor in the annual "Dancing with the Stars" fundraiser of the Arizona Kidney Foundation. The athletic Meza (a committed tennis playing, weightlifting cyclist) tripped the light fantastic all the way to first place in the gentleman's division. Moreover, he raised $47,000 for the foundation.

Endowed with a sixth sense that serves him well, Meza apprehends that enormous universal shifts are underway. "Karma is moving in a better direction," he observes. He opines that positive energy is slowly and quietly pervading the third rock from the sun - perhaps in much the same way that the subtle influence of Arizona's stealth senator is taking root in Meza's own beloved state and community.




Legislative Bulletin is published by the League of Arizona Cities and Towns.
Forward your comments or suggestions to league@azleague.org.