Legislative Update
Today is the 54th day of the second regular session of Arizona's 50th Legislature. While there was little apparent progress on the state budget (the subject of significant differences between the Governor and the Legislature) during the past week, the pace of legislative activity was torrid on the House and Senate floors. The House worked furiously to complete floor consideration of bills that originated in that chamber; likewise with the Senate. Reflecting House leadership's concentrated effort to clear bills, a rare Friday session was held today, March 2.
Read more...


Regulatory Tax Credits
On Thursday, March 1, the House of Representatives gave its approval to an amended version of HB 2815 (employment; incentives; regulatory tax credit) by a vote of 39-18. There was extensive debate on the bill, primarily focused on its "regulatory tax credit" section, which now allows a business entity (not an individual) to claim a tax credit for a regulation that it contends costs more than the benefit. The tax credit section applies to cities and towns as well as the state government, counties and special taxing districts. The League strongly opposes the regulatory tax credit section of the bill as a complex and unnecessary intrusion into local government matters.
Read more...


Consolidated Elections
HB 2826 (consolidated election dates; political subdivisions) passed by a narrow vote of 31-24 in the House on Thursday, March 1. The legislation requires all cities and towns to conduct their primary and general elections on fall election dates (August and November) in even-numbered years. The League is strongly opposed to the bill as an unwarranted infringement on a fundamental matter of local control. Furthermore, enactment of the bill would result in a host of negative impacts on: all-mail ballot elections; ballot size and length; special elections; and the cost, conduct and management of elections. The League will continue to actively oppose the bill as it moves to the Senate.


Highway User Revenue Fund
On Thursday, March 1, House Transportation Chairman Vic Williams (R-Tucson) held an informational hearing on HB 2771 (HURF monies; accounting; appropriation). The bill creates a ledger to account for past diversions of HURF money and includes a current year $20 million appropriation to cities, towns and counties. It also prescribes a payback system for the delivery of previously diverted monies when the Legislature deems there are sufficient funds to do so. Mayor Tom Schoaf of Litchfield Park testified on behalf of the League, detailing the importance of HURF dollars to municipalities and challenging the description of the transfer of money to the state general fund as a "sweep." It should be labeled a "re-allocation" of local funds, he told the committee. Mayor John Salem of Kingman also attended. The League is hopeful that its HURF-related concerns are addressed in the context of this year's budget negotiations.


Regulatory Reform
On Thursday, March 1, SB 1505 (s/e: municipal governments; rulemaking) passed out of the Senate Committee of the Whole. The strike-everything amendment was further amended to reorganize the bill and make additional changes. In its final form, SB 1505 would impose upon municipalities a regulatory process similar to that of the Administrative Procedures Act, which is utilized by the Federal Government for rulemaking. The League opposes the measure due to its complexity and onerous bureaucratic requirements. The measure now moves to third read.


Department of Water Resources Funding
On Friday, March 2, the House Committee of the Whole passed HB 2493 (department of water resources; funding). The legislation, sponsored by Rep. Russ Jones (R-Yuma) establishes a joint legislative study committee to determine alternative funding mechanisms for the Arizona Department of Water Resources (ADWR). Furthermore, it repeals the statutory authority of ADWR to impose an assessment on municipalities in two years.
Read more...


Alarm Systems
This past week, both SB 1306 (alarm system installation; contractors; municipalities) and HB 2748 (cities; alarm licenses; reciprocity) passed the Committee of the Whole in their respective bodies of origin. SB 1306 outlaws municipal regulation or licensure of alarm system installation. It further provides that municipalities in violation of the law will be penalized through a withholding of state shared revenues. The heart of HB 2748 is a reciprocity provision that entitles a person already licensed as an alarm installer in one Arizona municipality to obtain an alarm installation license from another if the person complies with certain requirements.
Read more...


Online Sales Tax Collection
HB 2466 (payment; local sales tax) passed by a vote of 56-0 in the House on the third read of the bill. The measure requires cities and towns that collect their own sales taxes to provide an electronic "portal" for the remittance of taxes online. The procurement of a vendor to provide this service will be managed by the Department of Administration.
Read more...


Water and Wastewater Delivery
HB 2416 (water and wastewater; denial prohibited) passed the House Committee of the Whole on Wednesday, February 29, but failed on its third reading the next day by a vote of 28- 30. As amended, the bill requires municipalities in Pima County to provide water service to areas outside of their corporate boundaries.
Read more...


Business Incentives
On Thursday, March 1, the Senate passed SB 1442 (prime contracting; manufacturing facilities; infrastructure) by a vote of 28-2. The measure allows municipalities and counties to recapture state transaction privilege taxes paid by qualified manufacturing facilities for public infrastructure necessary for those facilities. The League supports the measure as a tool for attracting manufacturing jobs to Arizona. The bill was amended in Committee of the Whole to further reduce the threshold for qualifying facilities in rural counties from $20 million to $10 million.


State Retirement Contributions
On Thursday, March 1, HB 2264 (ASRS; employee; employer contributions; rate) was discussed in Caucus. The bill, sponsored by Rep. Bob Robson (R-Chandler), provides for a 50/50 split between employers and employees with respect to contributions to the Arizona State Retirement System (ASRS). The measure effectively repeals the portion of last year's SB 1614 that moved ASRS to a 47/53 split between employers and employees, respectively.


Pension Reform
HB 2745 (defined contribution retirement systems) was passed by the House Rules Committee on Tuesday, February 28. The bill, including a strike-everything amendment adopted in the House Employment and Regulatory Affairs Committee, makes a change to the Alternate Contribution Rate (ACR) requirements of the Public Safety Personnel Retirement System (PSPRS). The change would preclude employers from paying the PSPRS ACR on a PSPRS-eligible position if the retired person was hired before the effective date of last year's pension reform bill, SB 1609 (retirement systems; plans; plan design), and the individual is enrolled in another state retirement system. This change will result in cost savings for some of Arizona's small cities and towns.


Liquor
HB 2606 (s/e: liquor omnibus) passed the House by a vote of 47-9 on Thursday, March 1. The bill's sponsor, Rep. J.D. Mesnard, agreed to entertain amendments to address League concerns. One such successful amendment, offered by Rep. Debbie McCune Davis (D-Phoenix), permits the State Liquor Board to consider municipal tax delinquencies in liquor license suspension and revocation proceedings. The amendment further permits a city or town to use the average of the last five years of the Consumer Price Index for fee increases (as opposed to just the previous year's CPI). Rep. Mesnard has also agreed to work with the League on other outstanding concerns as the bill is considered in the Senate.


Emergency Response
On Tuesday, February 28, the House passed HB 2094 (prepaid wireless E911 excise tax) by a vote of 55-0. The bill, sponsored by Rep. Bob Robson (R-Chandler), levies a tax of .8 percent on the retail sale of prepaid cell phone services to assist governmental entities with the maintenance, operation and capital costs associated with the 9-1-1 system. Arizona currently levies a tax of 20 cents for this purpose only on monthly wired and wireless services. The League supports HB 2094, as it will improve Arizona's aging 9-1-1 system. The legislation now proceeds to the Senate.


Firearms
HB 2729 (state regulation of firearms), opposed by the League, requires governmental entities to allow guns into public establishments, unless armed personnel and metal detection equipment are installed at their entrances. The measure, sponsored by Rep. David Gowan (R-Sierra Vista), applies to the state and all political subdivisions and preempts municipalities from having any firearms ordinance stricter than state law. On Friday, March 2, the bill passed the House Committee of the Whole by voice vote.
Read more...


Fireworks
SB 1364 (consumer fireworks; permitted regulation), sponsored by Senate Majority Leader Andy Biggs (R-Gilbert), passed the Senate by a vote of 24-6 on Thursday, March 1. The legislation includes provisions to: prevent municipalities from adopting an ordinance with a penalty greater than a petty offense for a person using certain consumer fireworks; permit the imposition of fees on fireworks sellers; address certain signage issues; and restrict the sale and use of consumer fireworks in Coconino and Yavapai Counties.
Read more...


Public Works Notification
HB 2350 (s/e: public works project; notice) passed out of the House Committee of the Whole on Friday, March 2. The strike-everything amendment was amended to incorporate an agreement between the League and proponents of the measure. As amended, HB 2350 requires municipalities to post their capital improvement plans (CIP) on their websites. Additionally, a utility may request that it receive copies of the CIP, along with information on any new public works projects that would have appeared in the CIP or projects in the CIP that have an accelerated start date. With the amendment, the League is neutral on the bill and would like to thank the proponents for their willingness to address our concerns.


Photo Radar
SCR 1029 (photo radar prohibition), sponsored by Senator Frank Antenori (R-Tucson), passed the Senate Committee of the Whole on Thursday, March 1, and will be third read on Monday, March 5. This measure, which would be referred to the state's voters if passed by the House and Senate, eliminates photo radar use for all law enforcement purposes, including recordation of red light and school zone infractions. The League opposes the bill on the basis that enforcement of local traffic laws is a matter best left to municipal government.


Legislator Profile - Representative Bob Robson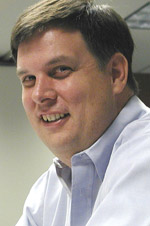 "Do not let loyalty and faithfulness forsake you; bind them around your neck, write them on the tablet of your heart." Proverbs 3:3.

Representative Bob Robson is nothing if not loyal. Indeed, loyalty is a fundamental propellant of his brilliant journey through life. His decisions and actions are largely guided by deep and abiding loyalty to family, to friends, and to country. It is a feature in his character that has served him well - as a kid learning the ropes of life in New York City; as a respected security professional; as a successful academic; and, currently, as a popular elected official.

Robson is living proof of the proposition that you can take the kid out of New York, but you'll never take New York out of the kid. Born in Brooklyn and raised in Queens, Robson is proud of his gritty urban upbringing. A product of the New York public school system, he easily and quickly rattles off the city schools of his youth: "P.S. 89; P.S. 150; Woodside Junior High; Long Island City High School, in an industrial area near the 59th Street Bridge." Though he was a conscientious and successful student, Robson was educated as much on the streets of New York as he was in the classroom. He fondly remembers his youth as a streetwise youngster spending hours with his pals playing softball on concrete. ("The bruises didn't hurt as much [as those caused by baseballs], but they were a lot bigger.")
Read more...
Legislative Bulletin is published by the League of Arizona Cities and Towns.
Forward your comments or suggestions to league@azleague.org.