Legislative Overview
On Monday, January 9, the second regular session of Arizona's Fiftieth Legislature convened amid celebration of the state's centennial year. Both chambers performed various perfunctory, ceremonial and housekeeping duties, including the election of leadership. As expected, Senator Steve Pierce (R- LD 1) was elected President of the Senate and Representative Andy Tobin (R- LD 1) was elected Speaker of the House.
Read more...


Municipal Water Assessment
The League is pleased to support the effort of Senator Gail Griffin to repeal the $7 million assessment imposed on cities and towns by the Arizona Department of Water Resources. The assessment (to which the League agreed last year as a

one-year

measure to help alleviate the state budget crisis) represents an inequitable burden on residents of cities and towns.
Read more...


Bill Introductions
As of 4:00 p.m. on Thursday, 605 bills had been introduced in the House and Senate. Well more than twenty percent of these are in the nature of "technical corrections" measures. These are often vehicles for striker amendments - a method by which new legislative initiatives can be considered after formal bill introduction deadlines have passed.

Included among the bills introduced to date are several that have direct impacts on cities and towns. Examples:
Read more...


Military Land Exchanges
Most legislative chairmen chose not to convene their committees during the first week of the session. An exception to the rule was Senator John Nelson, whose Committee on Natural Resources and Transportation met on January 9 to consider a pair of companion bills, SB 1001 (military preservation; land exchanges) and SCR 1001 (military preservation; land exchanges). Together, these bills provide expanded authority for the exchange of state trust lands for other public lands to preserve or protect military installations. (SCR 1001 is a ballot referral measure to amend the state constitution - a requisite to effect the provisions of SB 1001.)
Read more...


Monday Teleconferences
This year the League will be offering a weekly teleconference to report on the status and impact of various legislative bills in the 2012 session. The calls are scheduled for Monday mornings promptly at 10:00 a.m. (except the first one will be next

Tuesday

at 10:00 a.m. due to the Martin Luther King, Jr. holiday). Mayors, managers and other city or town staff who are interested in legislative activities are invited to participate. Call-in numbers and a brief agenda will be sent out prior to the calls.


Legislative Intern
The League is pleased to welcome Ashleen Piercy as its new legislative intern for the 2012 session. Ashleen is a junior at the Barrett Honors College at Arizona State University, studying Political Science and English. A resident of Mesa, Ashleen will be assisting legislative staff with bill tracking, as well as with preparation of the weekly Committee Agendas and the Daily Update.


Legislator Profile - Senator Nancy Barto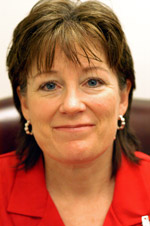 Legendary baseball manager Leo Durocher is credited with coining the phrase, "nice guys finish last." Leo Durocher never met Senator Nancy Barto.

Granted, Senator Barto is most decidedly not a guy, but she is exceedingly nice, and she has never lost an election.

Personable, soft-spoken and warm, Senator Barto represents Legislative District 7, comprised of Carefree and Cave Creek, as well as parts of Phoenix and Scottsdale. Although she serves as a freshman in the Senate, she is no stranger to the legislative process, having served in the House from 2006 to 2010.
Read more...
Legislative Bulletin is published by the League of Arizona Cities and Towns.
Forward your comments or suggestions to league@azleague.org.